Way back in the year a young student walked into Edlocate's Colombo office all by himself inquiring whether he could receive some information about studying for an undergraduate course in Australia. He being the first student since Edlocate commenced its operations the staff was so enthusiastic to chat with him. During this conversation it was revealed that he was a young lad of 19 years from Jaffna who has done the GCE A/L examination in 1999 and passed with four "A" grade passes & ranked 4th in the island in Maths stream.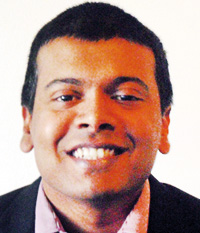 This was Piraveenan Mahendrarajah who had his primary education at Mahajana College Tellippalai and secondary education at Union College Tellippalai and seeking admission to an Australian university for the mid year intake in July 2000. He had passed the O/L examination in 1996 with distinction passes for all 8 subjects, ranked first in Jaffna District and awarded the Peoples Bank scholarship. He had made up his mind as to the specialisation he wanted in the field of Engineering and wanted guidance from Edlocate how to achieve his education goals.
Due to his remarkable achievements at secondary level of education Edlocate promoted him for a scholarship at The University of Adelaide in the School of Engineering. He was enrolled in the Bachelor of Engineering (Computer Systems Engineering) Honours degree in July 2000 with a ASI scholarship for international students which met his tuition fee for all 4 years in addition to a handsome living allowance too. He opted to live in a Residency College affiliated to the university using the full living allowance in order to utilise his time for educational purposes and Edlocate assisted him to gain admission to Lincoln College in Adelaide. Piraveenan stayed the full 4 years of his undergraduate course at Lincoln College.
Students who enter the work force of Australia must not only be well educated but also be all-rounders. Whilst doing his studies at the university well where he won a number of scholarships and awards, he also was involved with extra curricular activities such as being a member of the debating team. He has represented Lincoln College and the University of Adelaide at a number of national conferences. During his university career he also worked as a Vacation Student with the Anglo Australian Observatory, Sydney and was also a Vacation Scholar with ICT Centre, CSIRO, Sydney working on the NASA Ageless Aerospace Vehicle (AAV) Project.
Piraveenan graduated with First class honours with a high distinction average in the year 2004. He was employed immediately as a Software Engineer with Spectra Quality Engineering Software Tools, Adelaide from Dec 2004 – Dec 2005 and later worked as a Software Engineer, ICT Centre, Commonwealth Science and Industrial Research Organization (CSIRO), Sydney from Jan – Aug 2006.
He thereafter was selected for a PhD in the School of Information Technology at the University of Sydney under the University Postgraduate Scholarship, also obtaining a secondary scholarship from CSIRO. His research was on properties of complex networks which is a multi disciplinary project. He was awarded the Doctor of Philosophy in 2010.
During this period he was also lecturing at the University of Moratuwa, Sri Lanka Nov 2007- Aug 2008 and May - Dec 2010 teaching Bioinformatics course for final year students in the faculty of Engineering.
This only child of Mr Krishnar Mahendrarajah – the former Principal, Arunodhaya College, Jaffna and Mrs Kohila Mahendrarajah, Deputy Director of Education, Valigamam Education Zone, Jaffna who is a writer and psychologist too and is popularly known as Kohila Mahendran, is now married to Kayananthy – a Civil Engineer with degree from Peredeniya University and live in Sydney Australia. He is a lecturer in the Centre for Complex Systems Research & Project Management Graduate Programme in the Faculty of Engineering and IT at the University of Sydney.
Piraveenan is a credit to Sri Lanka. With humble beginnings in Jaffna he has achieved success at a comparatively young age of 30 years with determination, focus, correct guidance and above all valuable studies at tertiary level from a good internationally recognised university in Australia.
Edlocate is a premier University representative in Sri Lanka with official representation of 18 Australian universities. It has been operating since the year 2000 and is also a streamlined agent appointed by the Australian High Commission of Sri Lanka for student visa.
For more information and free counselling session please contact Edlocate on 4724735, 5235148 [Colombo] 081-5631583[Kandy] 021- 2228060 [Jaffna] or visit our web site www.edlocate.lk