The Model United Nations (MUN) is a realistic simulation of the actual procedures and proceedings of a general assembly conference, through MUN students are able to gain an insight in to the challenges faced by representatives and the actual discussions that take place. The MUN clubs are active within many schools, with strict preparation nerves run riot when the two conferences in Sri-Lanka come alive. One conference is the Colombo Model United Nations and the other is the Sri-Lanka Model United Nations. School teams or delegations participate at MUN, representing the members of the United Nations and debating on global political issues.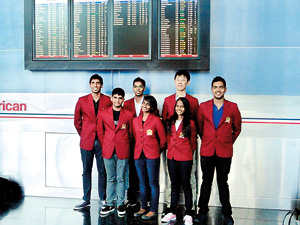 Buddesh De Silva, Dinesh Perera, Srinath Devapura, Senani Gunatilleke, Yang Li, Keshya Amarasinghe, Toshan Wickramanayake, Mehr Gunawardena (Not present)
The delegations are judged on their flair for public speaking and also the initiatives they take in leading discussions. The Colombo International School (CIS) is one such delegation that has a near perfect track record when it comes to bagging the awards and titles on offer. Speaking with the student co-ordinators of CIS-MUN, Buddhesh De Silva and Toshan Wickramanayake, they explained the immense competition that exists at the Sri-Lankan MUN conferences "each delegate wants to do their best, and it is an extremely competitive environment within the conferences, this was not a problem for the CIS delegation since at CIS we are competitive and we thrive through it."
CIS also had a rare honour, which is sure to be remembered in the history of the school as well as in MUN. The delegation was invited to participate at the fifteenth session of the John Hopkins University-Model United Nations Conference (JHU-MUNC) in Baltimore, United States of America. The delegation consisted of Toshan Wickramanayake, Buddhesh De Silva, Dinesh Perera, Srinath Devapura, Senani Gunatillake, Yang Li, Keshya Amarasinghe, and Mehr Gunewardena. Buddesh received the Outstanding delegate award (second out of 180 students) whilst Toshan received an honorary mention (third out of 150 students) at the JH-MUN conference.
Alumnus of CIS and former Secretary General of SL-MUN in 2010, Kithmina Hewage currently a student at John Hopkins University, made the connection and put CIS in contact with the JHU-MUNC staff and thus they were able to apply for the conference and were selected to participate in it. Toshan and Buddhesh were both in agreement that the perfect track record of the CIS delegates at past Sri-Lankan conferences played a decisive role in the delegation being selected to attend JHU-MUNC and for this they credited the past CIS-MUN delegates.
The conference was held from the 9th to the 12th of February 2012 and was a great source of experience and inspiration for the CIS team. When the student co-ordinators were questioned on their experience at JHU-MUNC; "it is extremely competitive, so much more than the conference in Sri-Lanka. All delegates are very flamboyant and have a very good command of the English language, so in that sense it is so much more competitive" said Toshan Wickramanayake. In addition, Buddesh De Silva said "we expected them to be much better, but the delegates at the JHU-MUNC conference were in another league. For us MUN is an extra-curricular activity and we enjoy what we do, but for the delegates from the US it is a subject and for them not receiving an award is similar to not receiving an A pass in that subject".
However, Buddhesh and Toshan together add that these delegates have a greater practice since they attend conferences almost every other week! Thus, they are immensely grateful that now Sri-Lankan delegates have the opportunity to participate at MUN conferences twice a year, whereas before it was just one annual conference. Both student representatives, however, agreed that participating at the JHU-MUNC forced them to take a huge step up, in terms of improving their overall skills, and this enabled them to be on par with the other delegates.
Toshan further added "it is a great honour for an international school to be invited to participate at JHU-MUNC; but it is a greater honour for us, as students of CIS and Sri-Lankans, that they chose a school from Sri-Lanka to attend the conference". Buddhesh added "we were successful in showcasing the talents of Sri-Lankans; many were taken aback by our fluency in English and our knowledge when it came to international affairs. So we were able to improve the image of Sri-Lankan students."
On a final note, one of gratitude, the students credited the staff of Colombo International School for encouraging them and always supporting them with the knowledge and skills they needed to succeed at an international platform like MUN. "Our teachers at CIS have always encouraged us to speak openly in class on important global issues, and this has definitely added to our confidence in participating and competing with students from various schools at local and international conferences" said Toshan.
In a message to all other MUN delegate hopefuls, they added "whatever you do, do it with a passion and have that confidence in yourself. It is not about how many things you do in school but how you do it and the effort and hard-work you put in to it. It is the hard work and courage of our entire team that enabled us to reach this international conference"
Joanne Kotelawala.