As part of its ongoing commitment to improving the health and well-being of communities, Fonterra Brands Lanka has partnered with international child development organisation, ChildFund to increase the capabilities of specialised health and nutrition services for underprivileged children aged 0-5 years and their families.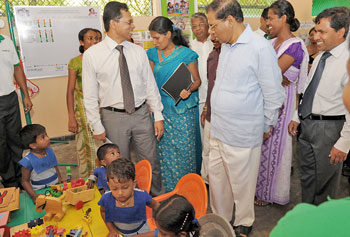 Minister Maithripala Sirisena, Fonterra Brands Lanka MD Achyut Kasireddy and other officials at an ECCD centre
The joint programme will support nutrition, children's health and educational activities at Early Childhood Care and Development (ECCD) centres, located in the Polonnaruwa district for an initial 12-month period.
This includes improving ECCD buildings and facilities through providing learning materials, equipment and meals, offering home gardening starter kits and advice, as well as support funding for staff to reach out to parents and support networks.
Volunteers from Fonterra Brands Lanka will also work closely with ChildFund's team of aid-workers in Sri Lanka to exchange knowledge and resources around the areas of nutrition, pediatric and maternal health to create a network of best practice that benefits communities.
Fonterra Brands Lanka and ChildFund staff joined together at the Sirimavo ECCD Centre in Polonnaruwa to launch the partnership with Minister of Health Maithripala Sirisena the Guest of Honour, at the event.
Managing Director of Fonterra Brands Lanka, Achyut Kasireddy said, "Fonterra Brands Lanka aims to continually contribute to the nation in the areas of nutrition, community development and farmer development. We are delighted to be able to strengthen our commitment to mothers and children across Sri Lanka through our relationship with ChildFund."
Mr. Kasireddy, added, "ChildFund has an admirable track-record for its work in Sri Lanka and we hope that through our support, the organisation will be able to further develop the ECCD services it offers to children and their caregivers to change the lives of more people in Polonnaruwa."
Sri Lanka is one of the 54 countries that ChildFund International operates in, delivering comprehensive programmes incorporating early childhood care and development, health, nutrition, education, youth career guidance and skills development. ChildFund's programmes currently assist 33,650 children and youth in 12 districts across the country.
ChildFund's Country Director, Mr. Guru Naik stated, "At ChildFund we work for the wellbeing of all children in the communities we operate in. This includes assisting in the physical and cognitive development of children while also educating and training parents and caregivers. We are pleased that Fonterra Brands Lanka has partnered with us in this initiative and are supporting our efforts to ensure the all-round growth and development of children in the project areas."
Multi-speciality health centre in Jaffna
An 80-room modern multi-speciality private health care centre was opened at Thinnavely in Jaffna by its Chairman S.P. Samy last Sunday. Northern Central Hospital is to have two operating theatres, two labour rooms, an eight bed ICU, eye clinics among other facilities.
A cardiac unit is scheduled to be opened in 2013 under the direction of Oxford surgeon Dr. Ravi Pillai.
S. Kesavaraj, Managing Director of Northern Central Hospital said that the private hospital would add to the existing health care facilities in the Northern Province and provide the people of the north advanced treatment and facilities for tests without the need to travel to Colombo.
Easter Sunday service cancelled
The regular 2nd Sunday service of "Praise and Worship" conducted under the banner of the ministry of 'Peace For All' at the Cathedral of Christ the Living Saviour, Bauddhaloka Mawatha, Colombo 7, will not be held next Sunday, April 8 (Easter Sunday). Nevertheless, the services will continue to be conducted every 2nd Sunday of the month, with effect from Sunday, May 13, according to a release from the organizers.
Sarath Kongahage at reception for ambassadors in Berlin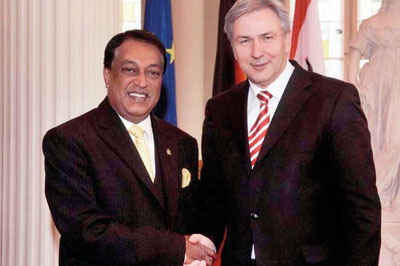 Ambassador for Sri Lanka in Germany Sarath Kongahage is seen greeting the Governing Mayor of Berlin, Klaus Wowereit, at a reception held in Berlin Town Hall on February 22. The reception was organised by the Governing Mayor of Berlin for the newly accredited ambassadors in Germany.
New president of College of Medical Administrators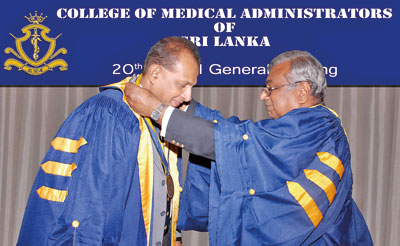 Surgeon Rear Admiral N.E.L.W. Jayasekera, Director General, Health Services of the Sri Lanka Navy was inducted as President of the College of Medical Administrators of Sri Lanka by outgoing President Dr. Sarath Samarage at the 20th Annual General Meeting of the College, held on March 22, at the Hotel Janaki, Colombo. The College of Medical Administrators, established in 1982 is a professional body that caters to the development of the health services in Sri Lanka and has a membership of over 175 medical professionals.
AGM of Conference of Sri Lankan Malays today
The 12th annual general meeting of the Conference of Sri Lankan Malays (COSLAM) will take place today at the YMMA auditorium in Dematagoda at 10 a.m.
Healing touch: Dr. Seth returns to conduct treatment and training
By Hiranthi Fernando
Dr. Shashikant S. Seth, a specialist in Touch Healing Therapy from Mumbai, is in Sri Lanka once again to conduct a course of treatment and training. A regular visitor to Sri Lanka over the past 20 years, Dr. Seth is the recipient of several awards of excellence. Dr. Seth has treated a large number of patients in Sri Lanka for various ailments.
On this visit he says he has a natural therapy for blocked vessels. He recommends a mixture consisting of a cup each of lemon juice, ginger juice, garlic juice and apple vinegar or apple juice, which can be made at home.
The ingredients are mixed together and boiled over a low heat for about half an hour until it reduces to three cups. After cooling it is mixed with three cups of honey and bottled. Two teaspoons of the mixture are recommended daily. Along with this Dr. Seth dispenses a few drops of special oil to be taken daily.
Another specialty Dr. Seth says he has embarked on is to dispel the evil influences from a house or premises.
"Some people go to the extent of breaking down sections of the house to be rid of evil influences. This is not necessary. With a remedy involving the use of a pyramid which can be affixed to the affected areas, all bad influences can be got rid of."
In addition to the touch healing, Dr. Seth uses herbal and home remedies which are commonly used,such as saffron powder. According to him the remedies he uses are natural materials and can do no harm.
Office bearers
Alumni Association of University of Peradeniya (AAUP) Colombo Chapter office bearers - 2012/2013
President: Mr. C. Sooriyaarachchi
Immediate Past President:
Mr. D. Priyalal Dias
General Secretary:
Dr. D.M.D.V. Jayampathi
Vice Presidents:
Mr. S.C. Samarasinghe, Mr. Godwin Perera, Mr. G.P. Piyasena, Mr. Jinith de Silva
Assistant Secretaries:
Mr. S.T.P. Samarasooriya, Ms. Fareeza Ghazzali
Treasurer: Mr. S.M. Gnanarathna
Assistant Treasurer:
Mr. M.P. Premasiri
n Co-Editors: Mr. P. Balasingham
Mr. Wimal Sapukotana
Mr. Rauff Reffai
Co-ordinator: Mr. Daya Jayasekara
Auditor: Mr. S.C. Mayadunne
Executive Committee:
Mr. Nimal Gunaratne
Mr. Sunil de Silva
Mr. G.A.T.D. Kodikara
Mr. D. Abeysinghe
Mr. D.G. Dayaratne
Mr. G.H.P. Dharmaratna
Mr. Dissanayake Randika
St. Anthony's OBA erects statue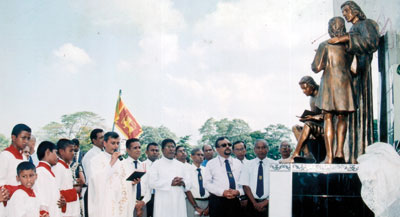 The Old Boys Association of St. Anthony's College Wattala has erected a statue of St. Anthony. The picture shows OBA President Ranjan de Silva, Secretary John Emmanuel, Principal Rev. Fr. Mahal Fernando, Rev. Fr. Granville and other committee members at the opening.
Asia-Pacific regional meeting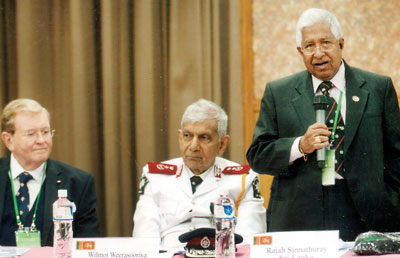 St. John's Ambulance and Brigade Chairman Rajah Sinnathuray addressed the 14 countries participating in the Asia-Pacific Regional Meeting held in Hong Kong. Also in the picture is Dr. Wilmot Weerasuriya, Commander.
Lanka-Japan Friendship Society unveils photographs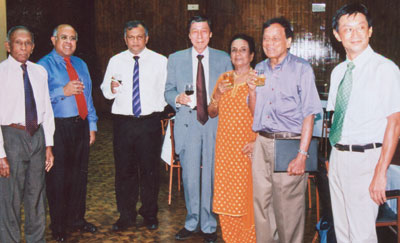 The Lanka-Japan Friendship Society unveiled photographs of two of its past Presidents and a General Secretary-Dr. Pandu Liyanage, Dr. Frederick Medis and Ananda Weerasinghe at the office of the society. The Japanese Ambassador Nobuhito Hobo (fourth from left) is seen with officials of the Society after he unveiled the photographs.
Recognised for her work with refugee and migrant women in Australia
Dr. Chandrika Subrama-niyan, Principal Solicitor, Success Lawyers & Barristers has received the commended award for the 2012 Women of the West Award for her commitment to helping women from refugee and migrant backgrounds settle in Australia.
Dr. Subramaniyan received her award at a ceremony at UWS Auditorium. She runs her own law firm, Success Lawyers & Barristers and has also recently founded a support organisation for migrants advocacy (SONA) which provides a free legal service for women.
Guest lecture by Prof. T. Ramakrishna
A Guest Lecture on 'Challenges to the Access to Medicine in the Post -TRIPS Era' by Professor T. Ramakrishna, IPR Chair Professor & Chairman, PG Council, National Law School of India University, Bangalore & Visiting Scholar, Faculty of Law, University of Colombo will be held on April 2 at 4.30 p.m. at the NLTI - Faculty of Law Building, University of Colombo.
This lecture is organized by the newly-established Centre for Contemporary Indian Studies (CCIS) University of Colombo in Collaboration with the Faculty of Law. For more details please contact Secretary/CCIS Tel. 0112591610.