Are you a rock maniac? Or are you crazy about pop? Trinity College London, in a ground-breaking move has introduced a new syllabus to its repertoire. Rock and pop is now available at the Trinity College London and this syllabus is suitable for students of all ages and abilities.
The launch took place at Park Street Mews on March 16 with several local artists including Ashanthi de Alwis, Dimitri Gunatileke, the Menaka Singers, Monique Wille and the Sinfonia Band and Ricky Bahar performing.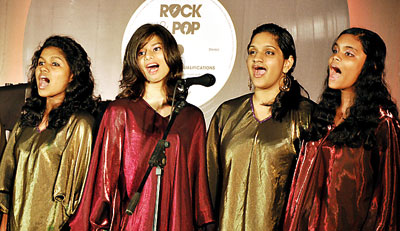 Musicians performing at the launch. Pix by Amila Prabodha
Trinity College's Country Representative, Ramola Sivasundaram said that for anyone- whether self-taught or taking lessons, learning for fun or heading for a career in the music industry, these new exams for guitar, bass, drums, vocals and keyboards will help develop valuable playing skills that will help achieve their musical ambitions. She also said that the syllabus includes extensive graded song-lists from the classics to recent releases including the Rolling Stones, David Bowie, the Kinks, Kings of Leon, Radiohead, Muse, Rihanna, Jessie J and many more.
Song-lists have been revealed as well as the first glimpse of the song books available from January 2012. Some sample audio and sheet music are also included. "The books will include six songs for each grade (initial to Grade 8) with professionally recorded backing and demo tracks, helpful background notes and performance hints and tips," said Ramola.
The first part of the early grade books went on sale from late January in stores and online via the new Rock and Pop download store. The books for the higher grades will be available during the first half of this year.
The audio tracks were done by a team of experienced musicians and recorded at The Lime House Studios in London.