It is a far cry from what it was awhile ago – not only have the buildings been improved but the mindset of the staff has also changed.
Where once there was stigma and adverse information with regard to the Angoda Mental Hospital, with its evolution as the National Institute of Mental Health (NIMH), an all-round development has taken place, the Sunday Times learns.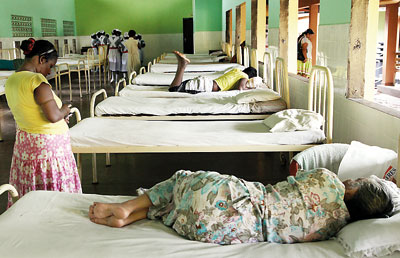 The hospital has seen a vast improvement since the early 2000s. Pix by M.A. Pushpa Kumara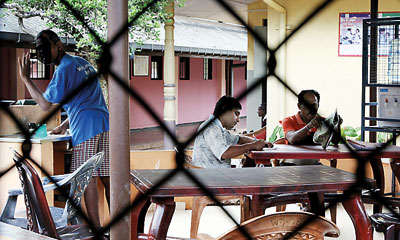 "Now this is not just a hospital which is treating people suffering from mental illness," says Director Dr. Jayan Mendis, who has been instrumental in expanding services in different aspects to make it a true institute.
The NIMH works as an umbrella for four types of services, explains Dr. Mendis who has been associated with Angoda since he was a "podiyan" (junior doctor) in 1986. The services at this largest tertiary care hospital in the country dealing with mental health include clinical care, specialized care, training and mental health research, it is understood. Daily more than 800 patients receive "in" treatment here while a similar number receives follow-up care from the outpatient clinics.
While clinical care is provided to anyone seeking help at the outpatients department and also those who need admission for psychiatric issues, the NIMH also extends specialized care ranging from forensic psychiatry to peri-natal psychiatry to geriatric psychiatry and those who have learning disabilities. Recent additions are the Centre for the Prevention of Gender-based Violence and the Media Unit for Mental Health, says Dr. Mendis.
The other two aspects that the NIMH deals with are training and mental health research. Doctors, nurses, occupational therapists, social workers, teachers, police officers and counsellors are being trained in mental health while the NIMH has also embarked on mental health research to deal with questions such as: What is psychiatric illness? What is its epidemiology? What is the incidence? How do we handle it?
A good research foundation would go a long way, stresses Dr. Mendis. He takes a look at the past and points out how in those days restless patients brought to the hospital, would run around, sometimes without a stitch of clothing on them.
Things are different now, he explains, adding that restless patients are sedated, monitored and transferred on a trolley to the Intensive Care Unit. Clinical care has been "refined" to acute (with the hospital stay being a month), intermediate (between a month to six months) and long-term (more than six months) care, according to him.
Recalling the early days, Dr. Mendis says when he took over as Director in the early 2000s, the "hospital was in bad shape". The therapy was to assault patients, as was the thinking then and the Consultants were tired of suggesting changes.
There was also a dearth of staff. There was only one doctor on call during the day and one at night. There were eight Psychiatrists, only 24 Medical Officers and about 140 nurses.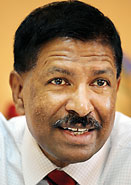 Dr. Mendis
Now in addition to the eight Psychiatrists, there is a Physician, a Microbiologist and a Haematologist, he says, pointing out that earlier to do an ECG a patient would have to be transferred to the National Hospital.
Number-ratios have also changed, the Sunday Times learns. Where a Psychiatrist had only three Medical Officers then, now there are six and the nursing cadre has been augmented to 335.
Referring to restless patients, Dr. Mendis says earlier they were all kept together in one hall and the fights and injuries would be numerous, with the doctors' time being spent on suturing their wounds.
Currently, there are seclusion rooms, although it is not ideal for they are without air-conditioning, automatically-locking doors, lighting that may be regulated and CCTV facilities to monitor patients. However, patients who used to sleep on the floor have been given mattresses.
The laboratory has also been renovated and expanded, the Sunday Times learns, where earlier it could conduct only three simple tests such as blood counts and blood pictures, now about 60 investigations can be carried out here.
Many other Asian countries are sending teams to study the rehabilitation psychiatry programme that has been undertaken by the NIMH, he says.
Going a step further, the NIMH has also been responsible for initiating a Diploma in Mental Health at the Post-Graduate Institute of Medicine since 2008 to train doctors to take up duties as Medical Officers of Mental Health (MOMH) in different areas. Two mental health nurses have been appointed to each and every district including Jaffna since 2010, to go into homes and give injections where necessary when the patient does not come back after initial treatment. This will help prevent relapses.
The next step, according to Dr. Mendis, is to move into emergency psychiatric care by having an ambulance in every district to bring patients who need urgent help including those with suicidal or homicidal tendencies, to the NIMH.