Paris, Brussels, Geneva have long lured the chocolate lover. You don't go to Chennai for chocolate. And you don't go to Chennai for Easter, you'd think. Think again. Or don't think. When it comes to chocolate, one shouldn't!
Hyatt Regency, Chennai: This newly launched number has taken upon itself the chocolate crusade. Easter is about resurrection. But the highly hyped Hyatt in Chennai does you in with death by chocolate.
But the hotel's artwork counts amongst those "Things to See Before You Die." So do note top Indian and international artists have collaborated to make Chennai's Hyatt a veritable live-in art gallery where antiques and the avant-garde flirt. Posed by the gate is perhaps Asia's largest monolith ceramic sculpture looking like milk chocolate. Inside, stalactites of intricately carved antique poles rain down from ceilings, constructions contort fascinatingly. The hotel even comes with its own curator.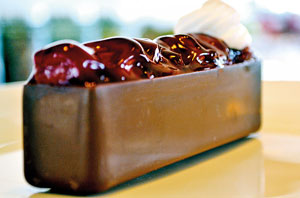 Sweet indulgence: Chef Robert's Black Forest
Stop before that lethal dose to contemplate, "To Bee or Not to Bee". Because the hotel is a labour to resurrect the fast-evaporating bees. Indeed, all the art work is an intriguing homage to bees, be it in form, shape, content or association. The hotel is certainly buzzing, a hive of the hip and happening.
C for Chocolate. But since it's Easter, we believe one might be indulged a chocolate over-indulgence. And Chef Robert, the hotel's Paris-trained executive pastry chef, has all Chennai condemned.
The hotel's Spice Market restaurant exudes over 9000 ft and yet it is the sweet sensations that are ever aswarm with avid guests. Begin the chocolate onslaught with Chef Robert's delicate macaroons which, like little blobs of snow, melt in the mouth. They better Le Nôtre's, where monsieur trained in Paris, and are second but to those legendary Laduré macaroons.
The "French cake," decadence incarnate, is a ravishment of intensely dark chocolate, richer than a sultan, smoother than sin, more unavoidable than, well, chocolate... Little dark chocolate cones twirled with an unction of mandarin-laced chocolate mousse is the apotheosis of Chef Robert's repertoire. The remorseless allurement of chocolate continues with a most piquant cherry chocolate cake. Then there is elegant chocolate fudge and then double-decker chocolate cake where silken milk chocolate embraces dark chocolate on a bed of chocolate mud. Chef Robert also has yet another, eminently different, scrambled chocolate mud cake. He also effectuates super sacher torte and nut-encrusted chocolate tart, whilst the velvet textured chocolate cheese cake is simply the best I've ever had. The Black Forest is the classic version.
Classier still are the adventurous chef's "designer" desserts, his creativity best exemplified in the redefined and rarefied interpretation of the Black Forest: this construct is a cube of the most fragile chocolate, fine like a finger, in a swoon of cream studded with cherries. The dessert is so light it floats like cherubim. As for those adorable little chocolate coffee pots- a profundity of chocolate, a marvel so lissom on the palate. Extraordinaire! And should that not suffice, wallow away in sumptuous warm dark chocolate pudding. So very naughty, but oh-so-necessary, sigh…
Chef Robert, this miracle of chocolate-making, confesses he dislikes chocolate. Imagine! But then, it is all the more impressive that his chic hand-crafted chocolates can rival the daintiest on the Continent. The chocolate is as smooth as satin sheets, each mouthful swaddles the tongue in silken cocoons. The presentations are so heartbreakingly beautiful, adorned in curlicues of chocolate and creamy swirls. French flamboyance manifests in startling flavours, be they terrific truffles or ganaches so ethereal.
As Chennai's palate evolves and more European expats establish themselves in the city (everyone wants a piece of the prosperous pie- preferably topped with chocolate), Chef R is considering experiments with the celebrated Chettinad masalas and spices. Not that unusual when one recalls the Aztecs and Mayas originally consumed spiced chocolate.
At Biscotti, the hotel's delicatessen that looked like it just walked out of Milan, Chef Robert weekly overwhelms with a plethora of confections on a theme: coconut, pineapple etc, And for Easter- find out yourself! But miss not Biscotti's signature speciality- the crumbliest Italian biscotti. Try pistachio and chocolate.
But if you have had an overdose of chocolate, then there is no escape from chocolate even in your rooms where curtains like molten white chocolate flow down by wooden bars that evoke milk chocolate, whilst the enormous bathrooms are in mocha coloured tiles. Indeed, even that masterful 1000 Mandapa art installation at the hotel entrance with its 1000 antique wooden pillars resembles carved chocolate sticks. Heralding that you have entered the Celestial Chocolatedom!
Seeking a one-way ticket to chocolate heaven? French-owned, India-based Shanti Travels opened in Colombo. Call Catherine in Colombo (114654500/contact@shantitravel.lk) and she can pack you off on a chocolate pilgrimage.
Tuscana: If Chef R can better the French, then Kiwi Chef Willi can instruct the Italians on making gelati. The homemade chocolate gelati in permutations and combinations from the light to the dangerously dark are exhibited in unabashed loveliness. And the Italian food at the tratorria is conveniently middling (and ludicrously over-priced) so there's the excuse to hit the deli and console over gelati- six scoops (at least).
Sandy's: He is rich. Awfully so. But Sandy bored of Daddy's millions and at 22 the engineer decided chocolate is a passion, even a compulsion. Well, he has infused everything at his two cafes with chocolate- including savouries. And it's all very well beating the French and the Italians at their gastronomic game, but what makes Sandy's creations outstanding is an incorporation of indigenous ingredients. Actually, all the ingredients are all-Indian. From cocoa beans grown in Kerala, which he turns into chocolate at his chocolate laboratory. Embark on epicurean excursions this Easter. What else is Chennai's proximity for?