The local mobile unit of UAE-based telco Etisalat recently announced its launch of "Sri Lanka's first ever online eBook store 'Book Hub' and eBook reader.".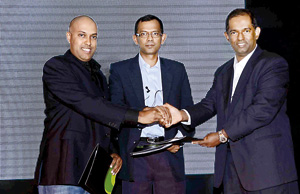 From left: Harsha Purasinghe - CEO of Microimage, Prassanna Obadage - Managing Director, M.D.Gunasena Pvt Ltd and Etisalat CEO- Dumindra Ratnayaka
This product, according to Etisalat's announcement, "will see Sri Lankan literary works published electronically for the very first time and made available for direct purchase through any Personal Computer, Android or Apple mobile device. This eBook store will be available to all users free of charge and regardless of their mobile carrier."
Additionally stated; "eBooks bought through the online store will be priced lower than the physical copy of the book... Books will be paid for through an e-wallet; money can be inserted into the e-wallet using Etisalat reload cards and credit cards, regardless of your mobile service provider."
The announcement also added that the "eBook store will host English, Sinhala and Tamil locally published works in an electronic format. Users can shop through the portal, choose the books they want, and directly download them to their smart phone, tablet or any PC. The content will go beyond novels, potentially including any locally published material such as educational publications, magazines, children's books, religious texts, business journals, etc."
The mobile operator further commented that this product was conceived in partnership with two local companies, publisher M.D. Gunasena and mobile solutions developer Microimage, and that, in the future, there was the "possibility of adding newspapers and school textbooks to the eBook store."