The much-awaited construction of Shangri-La hotel in Colombo costing US$500 million began on Friday with the ground breaking ceremony held under the auspices of Economic Development Minister Basil Rajapaksa at the Galle Face site.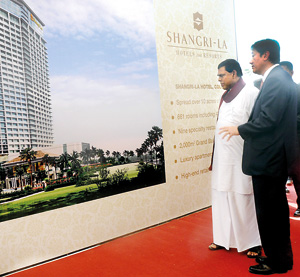 Minister Basil Rajapaksa and Shangri-La Asia Chairman Kuok Khoon Ean looking at a wide screen picture of the proposed Shangri-La hotel Colombo at Friday's ground breaking ceremony.
Hong Kong-based Shangri-La Hotels and Resorts, one of the world's premier hotel companies, says it foresees immense potential in tourism industry in Sri Lanka. Shangri-La was one of the first to grab this opportunity, said Madhu Rao, Executive Director and Chief Financial Officer.
Speaking to the Business Times, on the sidelines of the event, Mr. Rao noted that the company has taken a strategic decision to invest this money in this hotel project under the group's ongoing expansion plans to link the Indian subcontinent and the South East Asian developments.
In response to a question, he said that they are not worried about the leasing out of the block of land adjoining their site for another hotel project as Sri Lanka needs more hotel rooms to cater to the growing demand.
He pointed out that all their concerns have now been settled and the project will go ahead as scheduled. The Colombo development will feature a multi-use complex with high end retail facilities, deluxe apartments and a 661 roomed key luxury hotel to be opened in 2015. He said that these apartments will be sold outright or leased out for prospective buyers.
Shangri-La Lanka has already invested US$ 125 million for the land facing the Galle Face Green promenade.
OZO hotels in Sri Lanka will operate over 400 rooms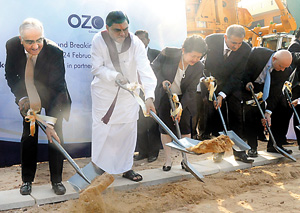 Picture shows the Minister and directors of the company cutting the first sod. Pix by Saman Kariyawasam
Thai-based hotel management company, ONYX Hospitality Group is joining with Sino Lanka Hotel Holdings to launch three hotels in Sri Lanka with 400 rooms at a cost of Rs 4.5 billion.
The first project, the 150-room OZO Colombo located at the Marine Drive was launched on Friday with Basil Rajapakse, Minister for Economic Development and Tourism officiating at the ground breaking ceremony at the site.
The 3-star hotel will cater to a segment of business and leisure travelers by providing stylish accommodation and features which are pre-requisites of such guests. The company is a joint venture between veteran business personality Bob Kundanmal and hotelier and former managing director of the Confifi Group of Hotel, Stefan Furkhan and its Singaporean investors, Rajan Bharvani and Manu Bhojwani. Sino Lanka Hotels will launch two other properties, in Galle and Kandy within the next three months.
The company said it has so far acquired six sites in Colombo, Galle, Kandy, Seenimodera, Chilaw and an island in Beruwela for the purpose of developing hotels and resort properties.