Jayasooriya House emerged champions at the annual inter-house sports meet of Prince of Wales' (PoW) College Moratuwa outsmarting five rivals last Tuesday (January 31). They gathered 199 points while having the closest competition from houses Lewis and Gunawardena who were placed second and third respectively.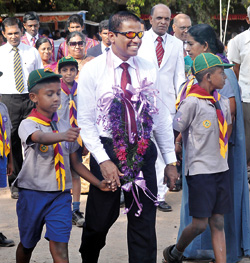 Cub Scouts of Prince of Wales' welcoming the chief guest, Wasanthalal Fernando in the presence of the principal W.P. Jayasena.
Lewis House came close to winning the championship but fell short by three points as they completed with 196 points overall. Gunawardena House collected 189 points. Other houses, Rodrigo, Mendis and Founders followed next to each other collecting 180.5, 176 and 175.5 respectively after displaying the greatest battles on the day.
Under-17 athlete Tharindu Dilshan was adjudged the most outstanding sportsman at the competition while Prutvi Soorya Kashyapa, who competed in the Under-15 age category, was named the emerging sportsman. Dilshan represented Founders while Kashyapa was from the winning house. Jayasooriya House also won the overall field championship while Lewis House won the overall track events.
Founders House won four age categories of the individual awards presented to the outstanding athletes of each age group. In the Under-21 age category, Tharindu Dilshan of Founders, Sahan Perera of Lewis, Gihan Sarinda of Gunawardena and Lakitha Budwin of Mendis shared the prize. In the Under-19 age group, Madushan Asantha and Supun Chathuranga of Lewis House were adjudged the best. Founders House swept the other three age groups. J. Tharindu Dilshan (Under-17), Prameeth Chanuka (Under-15) and Binara Tharangika (Under-13) won the respective age categories.
In addition, Jayasooriya House won the team events of judo and badminton. Gunawardena House bagged the chess, cricket, basketball and volleyball team awards.
The carom and swimming team events were won by Founders House. Mendis House won the rowing title in addition to claiming the overall championship of the Under-17 track and field events. The table tennis event was won by Lewis House who also won the overall Under-19 track and field events. The Under-15 overall track and field events were won by Rodrigo House while Founders claimed its Under-13 championship. Rajitha Maduranga of Lewis House won the road race while his team mate Srimal Wickremasinghe won the third place. Sachendra Ramesh of Mendis House was placed second in the road race.
Two relay events were held for invited schools and the Under-19 4x100 team of Royal College Panadura won the boys' championship. The girls' race was won by the Under-19 4x100 relay team of Princess of Wales' College Moratuwa. In addition, few races were held for invitees of the sports meet. Asith Nilanga won the Old Boys' race while Romesh Chathuranga and Maheesha Warusawithana were placed second and third respectively. Uresh Indika won the Parent's Race as Ranga Ratnasuriya and Anura Perera completed at second and third positions. In the race for the teachers of the school, Thilaka de Soyza was the fastest amongst the rest as she sped her way to beat Yunita Priyanthi and Kamani Herath. The sports meet was well attended by the students, parents, teachers and old boys of Prince of Wales' College. – Naushad Amit