The Asia e University is an Asia Cooperation Dialogue initiative funded by the Government of Malaysia and is also a member of the Association of the Commonwealth Universities (ACU) and recognised by the University Grants Commission (UGC), Sri Lanka. It is also a member of the European Foundation for Quality in E Learning (EFQUEL), International Council for Open and Distance Education (ICDE) and the International Consortium for Teaching and Learning Centre.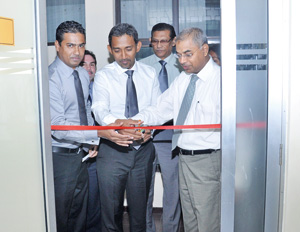 Picture shows from L to R: Snr. Tutors at Strategy Lewie Diasz and Yasas Hewage, Managing Director, Phoenix Business School (Private) Limited Dr. Ranjan Madanayake, and President AeU, Prof. Dato Dr. Ansary Ahmed participating in the inauguration of the new lecture halls and library facilities.

The Executive MSc (Strategic Marketing) awarded by AeU is conducted by Strategy College of Business and Marketing in Sri Lanka. It is a unique programme designed to promote Marketing as a strategic business function in Sri Lanka.
The Program includes 6 core modules such as Strategic Brand Management, Marketing Finance, International Marketing Strategy, Developing Strategic Marketing Plans, Strategic Marketing for Competitive Advantage, Innovation and Product Management and a work based Dissertation. Over a hundred students have enrolled for this programme currently.
Commenting on the success of the programme Prof. Dato Dr. Ansary Ahmed, the President of Asia e University, Malaysia who visited Strategy, Sri Lanka mentioned that "the Executive MSc (Strategic Marketing) would deepen the understanding of core Marketing theories and concepts and attempt to balance theory with practical application". He was delighted with the progress made by Strategy in association with Phoenix Business School the partner of AeU in Sri Lanka.
For further information on this release, Please Call Mahendra from Strategy College on 0727599282