In the summer of 2012, thirty-three enthusiastic Sri-Lankan students will attend the "Leadership in Action" summit to be hosted at Harvard University in the United States of America. The Leadership summit, as the name suggests develops students to be effective leaders in the future, whilst providing students with first-hand experience of life in university.
Participation in the leadership summit gives students an advantage when it comes to university applications, as these students receive credit marks and preferential admission and scholarship to leading universities in USA, UK etc. Past participants have received admission to ivy-league universities as well as to other leading universities. The Leadership in Action summit is hosted by People to People International, which was founded in 1956 by U.S. President Dwight D. Eisenhower with the purpose of connecting citizens of different nations to increase international cultural understanding. The program aims to develop educated, broad-minded leaders for the future who have a thorough understanding and respect for international cultures, whilst being firmly rooted in their own.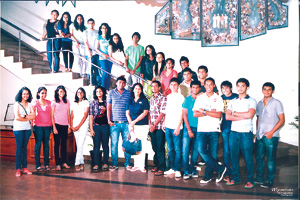 SRI LANKAN student leaders selected to attend the 2012 Harvard University leadership summit seen at an orientation with Delegation manager Ms.Rochelle Melder.
The seven-day-program achieves this by conducting sessions based on topics such as challenging oneself, setting goals, taking action, making a difference and preparations on leadership action projects. The summit also hosts several respected personalities as featured speakers, some past speakers include; Laura W. Bush (former first lady of the United States), Sean Covey (author The 7 habits of highly effective teens), General Colin Powell (former U.S. Secretary of State), Condoleezza Rice (former U.S. Secretary of state) and Eli and Peyton Manning (NFL champions). All participating students will receive on-campus accommodation at the university. It is also a learning experience for the students as they learn what it is like to be away from home and out of their comfort zone. Through this students will also learn to adjust to their new environment whilst participating in sessions at the same time.
A special program as such would require equally gifted students as participants. It was evident, during the conversations with the participating students, that they already had the traits of leaders within them and this summit would help them to identify and develop their own strengths. Though the participants are quite young, it was a pleasant surprise to see how aware they were and how strongly they felt about representing Sri-Lanka at the leadership summit; Taryana Odayar of Stafford International School said "As a Sri-Lankan delegation we are very united and portray a unique set of values, and we want to show this to the other countries. For example we are family oriented, warm and open as Sri-Lankans; and this is how we would like other participants to see us" and "Most western countrymen and women think that Sri-Lanka is a part of India, we want to make ourselves known as Sri-Lanka" said Nayanthi Peiris of Bishop's College.
Many students have interacted with previous participants of the program and had received good reviews, which was what prompted the students and their families to embark on this journey. They had observed, first-hand, the exposure previous participants had received and how the lessons learned at the summit helped them in their academic as well as professional futures.
The students were asked as to how they felt about being chosen to attend the program and which aspect of it they think would be most valuable, these are some of the responses; "it is a good opportunity to cultivate the whole person and leadership skills" said Nikhita Mendis of Overseas School of Colombo; Thulith Hewage of Royal College had this to say "Leadership is an important quality in a job, it is essential and through this programme I hope to achieve this", Lara Muttiah from the British School in Colombo said "It is a once in a lifetime opportunity to go to another country and gain experience".
The criteria of selection for the summit was based on students who were all-rounders, who were strong academics and showed commitment to extra-curricular activities as well. Shivani Gunewardena of Colombo International School, who is a student who has excelled in both academics as well as sports, had this to say about how being an all-rounder has prepared her as a participant for the leadership summit "I was involved in a lot of sports like water polo, swimming but I did not forget my studies, doing all this gave me experience. Being a captain of the water polo team, I learnt not only to be responsible for myself but also for other people around me"
The students chosen to participate at the 2012 Leadership in action summit are – Udesh Dharmadasa, Thavisha Tudawe, Musaab Kassim, Amrit Alles, Natasha Nethicumara, Huzefa Gulamhusein, Vinuri Dissanayake, Isha Dedigama, Sajid Wasik, Amresh Selvaskandan, Revatha Shah, Shivani Gunewardena, Takesh Kariawansa and Dewni Thilakawardena from Colombo International School; Uvin Athukorale from Ananda College; Nayanthi Peiris from Bishop's College; Dinuka Ariyaratne and Thulith Hewage from Royal College; Minuri Tissera from Wycherly International; Lara Muttiah, Imashi Fernando and Hasini Assiriyage from the British School in Colombo; Ramesh Fernando, Nelaka Dayawansa, Ashen Joseph, Pratab Naidu, Natasha Alwis, Thivaedee Narayana and Gowtham Gunasekeran from Asian International School; Taryana Odayar, Sachin Parathalingam, and Danushika Sivanathan from Stafford International School; Nikhita Mendis from the Overseas School of Colombo.
Rtn. Ananda Rajapakse, the Sri-Lankan representative of the Harvard University Leadership Summit, said "this program is grooming the next generation of corporate leaders in our society. We look for students who are above average in their academics and who have demonstrated leadership qualities". Students also need to have a good command of the English Language as this is the working language of the summit. Registration for the 2013 Leadership in Action Summit is now open.
visit www.futureworldleader.org
Joanne Kotelawala.