MATRIX Institute of information Technology (Pvt) Ltd. was established in year 2006 and is in the forefront of the ICT and Management training industry. The company is headed by the well known veteran in the ICT industry Dr. Viraj Pinto Jayawardena who has over 15+ years of teaching experience and was also involved in Software Development as a Project Manger.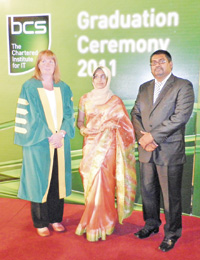 Ms. Rina Mohammed Faisal
BCS – Sri Lankan and World Prize Winner – Certificate Level

The institute focuses on the students who sat for the G.C.E A/L examinations to further support them in higher education aspects and also the students who just completed their O/L exams. It is a must that any student needs to know IT since it is the future and further IT is required for any industry. The institution has a specially designed program which enables the student to obtain the knowledge of ICT and its vast spectrum.
The Diploma, by the name MATRIX Diploma in Information Technology ( MDip in IT) would therefore be an ideal foundation program. We have identified the job opportunities and the current and future demands in the local and foreign markets and thereby introduced a dual diploma a few years back, which enables the student to obtain an IT Diploma and at the same time a Diploma in Business Management, stated the chairman Dr. Viraj Pinto Jayawardena. If you are interested about the MDip – Dual Diploma program please call on 0714317925 for details.
This dual Diploma will pave the way for the students to continue with a world recognized IT Degree in the form of the Bachelor of Information Technology (BIT) of the University of Colombo(UCSC) or even obtain B.Sc Hons Equivalent qualifications which is the BCS Chartered Institute of Information Technology(CIIT) Higher Education Qualifications(HEQ).
BCS Higher Education Qualifications (HEQ) in IT- Complete your Degree in 2 years
BCS Chartered Institute for information Technology (CIIT) – Higher Education Qualification (HEQ) formally known as the British Computer Society Professional Examinations is currently offered in three levels namely Certificate in IT, Diploma in IT and Professional Graduate Diploma in IT. The HEQ examinations are offered twice a year and students can complete the full examination in just two years of study including the professional project.
Entire program can be completed in Sri Lanka. Since this is approved by UGC(University Grant Commission) as a degree equivalent, the recognition is high in the IT Job market and also the students can easily pursue their Masters study in IT or Business Management.
The above brief introduction was given for you as parents or guardian to obtain a basic idea of the global IT examinations. BCS CIIT HEQ examinations are ideally suited for students just after their A/L examination and who are not eligible for university entrance. Interestingly university undergraduates also follow this examination to add value to their profile. Since there is no age limit even those who are employed can enroll for this program. Even the students who just completed the O/L examinations can start BCS HEQ after following the MATRIX Diploma in IT program. We are proud to say that we have a very young child Chayu Damsinha who sat for our aptitude test and after that who followed our MATRIX Diploma program. He is now studying for BCS HEQ and he has successfully completed the first level of BCS HEQ at the age of 14.
As parents or guardians your main interest would be to ensure an excellent future for your child, therefore you will want to provide them the very best education and training at any cost. The BCS CIIT HEQ examinations provide you to achieve this very easily. CIIT – HEQ exam gives your child the same or even a higher recognition than any other program or degree in IT due to its recognition locally and overseas. The most important advantage of this examination is the total tuition fee the institution charges from each candidate is very less compared to other UK degrees, which is LKR240,000/-
Registrations are now on. Call today on 0715356536 /0714317928 to the BCS Coordinator and fix an appointment for interview.
If your Son/Daughter succeeds in the interview you can immediately register with the institution by filling the application form and making the first installment of LKR 40000/- The balance payment can be made in 16 equal installments of LKR 12,500 each.
We will provide your child with the very best education for IT and further at the end of the program will award 6 other certifications in C#.net, JAVA, Web Designing, Web Development, Vb.net, Networking and Hardware Engineering. Also there will be a free revision session with a comprehensive revision kit.
MATRIX is very popular for the BCS HEQ in IT mainly due to Dr. Viraj Pinto Jayawardena and his team of industrial and academic experts. Their collaborative experience is over 50 years.
Another main reason that candidates prefer MATRIX for BCS is due to the very reasonable course fee that is offered with sparkling benefits. The part-time program offered by MATRIX is very popular among the employed and further university undergraduates. The main reason would be the flexible class schedules, which is on Saturday or Sunday and the discounts that the company offer to undergraduates and further to the corporate sector. The initial fee to start BCS Part time with MATRIX is only 19,000 Sri Lankan Rupees.
For other details please call our student counselors on 0714317929. For Kandy branch you may call on 0718756756