The death of the youth who was in Police custody in Dompe was due to an assault with a blunt weapon, the Gampaha Judicial Medical Officer Dr. S.P.A Hewage has ruled. The JMO's report was submitted to the Gampaha Magistrate Mohammed Macky by the CID on Friday. The CID also informed Courts that a cricket stump and a large ladle made of kithul used as weapons for the assault have been recovered.
In the incident Gayan Rasanga, 29 of Pelahela, Dompe, a father of one died while in Police custody on September 29. Following the death the police station came under attack.
Dompe Police Crime OIC Manjula Sampath Kumara Mayadunna who is a resident of Pugoda was produced along with Aruna Kumara Indrajith of Neelamahara, Don Saman Sisira of Ganemulla, Sarath Premalal of Ihala Yagoda and Ranjan Saman Kumara. They were attached to the same police station.
Excerpts of the statements made by the witnesses follow:
Appuhamilage Leelananda, the father of the victim.
On the day of the incident my wife called me to say that our son had been arrested by the police.
On the previous day my son told me that another person had told the police that a stolen water pump had been transported in my three-wheeler. I called the OIC Prabath who was known to us and even takes our cab for emergencies and told him. He said he was not handling the matter and it was handed by OIC Mayadunne and would check about it.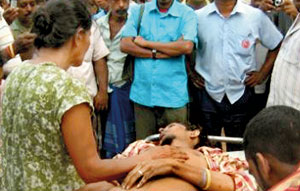 File pic: Family members of the victim Gayan taking him on a stretcher to the front of the Dompe police station as a mark of protest
When I went to the police station that day they said he was off for the day. A friend who went with me said Mayadunne's house was close by and we could go there and check with him. When I went he and his wife were there. He was drinking beer and we were given tea. We spent 45 minutes and when I asked him about the incident he said there was an issue about a water pump. I told him if there is a doubt I can bring my son. He said it was not necessary.
I have even supplied timber for the construction of the Dompe police station. Its personnel are well-known to me.
After I heard about the arrest when I went to the police station my son's wife and family members were present. I asked my daughter-in-law who was doing the inquiry. She told me it was OIC Mayadunne. I said not to worry as I had spoken to him about it.
Around 7.30 p.m. I went to the police station again and sent my friend Nimal to see if my son was in the cell. I sat in the three-wheeler outside. I heard cries of 'budu ammo gahanna epa' (do not assault). I ran past the barracks and went closer to the canteen. I saw my son hung by his legs and being assaulted. I saw Mayadunne entering the canteen with a black pole. There were about four or five others. I went back to the three-wheeler. Nimal who had returned told me since we had already told Mayadunne we should not worry as the police may be questioning my son. I went home and thought about it but since I had spoken to the police officer I thought there was nothing to worry. Therefore I went to sleep.
The next morning I was told that my son had been killed. I called the OIC and he told me there was a problem. I tried to proceed in my cab, but could not drive it and got some one else to drive.
Magistrate: You said your son was being assaulted on the previous night and you did not do anything about it?
Witness: I trusted the police. They even take my vehicle and go to Kataragama. I thought they will not trouble my son.
When I went to the police station I asked the officers what they had done to my son. The OIC told me his fellow officers did not listen to his instructions.
I rushed to the location where my son was assaulted the previous day. I fainted at that point.
Later I saw the body of my son at the mortuary. He had bled from the nose and mouth.
Gampaha ASP Devapriya Jayasinha:
I was informed about the incident around 12.10 a.m. that a suspect had fallen off a jeep and was admitted to hospital. I visited the police station and questioned IP Mayadunne. He told me that a suspect who was being taken for an investigation had tried to jump off the jeep.
He said that police officer Thushara had tried to prevent him jumping off but he kept squeezing the neck of the police officer. He said he had got off the vehicle and assaulted the suspect with a pole and thereafter proceeded for the investigations.
He said when he was returning the suspect could not get off the vehicle and he was taken to the Dompe police station where he was pronounced dead.
Magistrate: When six policemen are taking a suspect is there any possibility of a suspect escaping.
ASP Jayasinha: Very little chance. Though I was told that the suspect held policeman Thushara by his neck there were no injuries on his neck nor did he want to get himself admitted to hospital for treatment.
Police driver Hewawasam Padmasiri:
I was told by OIC Mayadunne that there was a trip to be made. He sat in the front and PC Thushara and others got in from behind. At one point some one from the rear shouted and I stopped. OIC Mayadunne got off and went to the rear and came back in five minutes. I did not see anything happening there.
Magistrate: Did you know as to why Mayadunne got off?
Witness: No. Thereafter we proceeded and collected a water pump from a house. By that time about three others were taken and put into the vehicle. There were four outsiders. We returned to the police station around 10 p.m. At that time I saw a person dead inside the jeep. OIC Mayadunne told me that we should go to hospital. At the hospital the body was taken in a trolley. Chalitha Supun (26) A suspect who was in custody with the deceased:
I was on the road around 8.30 p.m. at Katulanda when the Police picked me up. Gayan was seated in the rear. I saw one of the constables had a cricket stump in his hand. The police asked me about a motor. Thereafter we went to the garage of Gayan and another garage. We went to another location and collected a water pump. At another location a boy in a three-wheeler too was taken and put into the jeep saying he was a suspect in robbing a radio set-up. A short while later a motor cyclist went to collide with the jeep and its rider too was taken and put into the jeep.
We returned to the police station around 10.00 p.m. Gayan asked for water. He was given some water.
Magistrate: Was he taken out of the jeep?
Witness: He was dragged by his hair and put into the cell. My father had sent me a food parcel I shared that with Nuwan and went to sleep.
The next morning a group stormed the Police station asking for Gayan. A constable and two women constables took us to another house. That night we were brought back and I was released.
Later I heard that Gayan had passed away.
Gayan's wife and several others gave evidence at the inquiry.
The next hearing is on November 11.