The Ceylon Electricity Board (CEB) was breathing a sigh of relief this week with the hydro-catchment areas receiving rainfall and the Meteorology Department predicting more showers would continue.
But the rains were not sufficient to dispel the worries of the Public Utilities Commission of Sri Lanka and the Treasury on how to bridge the increasing deficit of the CEB.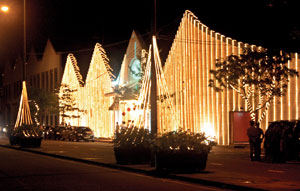 Power wastage: A casino in Fort all lit up. Pic by Nilan Maligaspe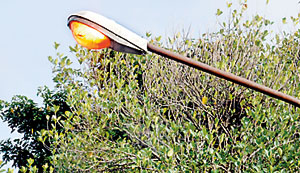 A street light on in broad daylight along Nawala Rd in Narahenpita. Pic by Susantha Liyanawate
The Public Utilities Commission of Sri Lanka (PUCSL) was continuing discussions whether it should decide on a tariff increase or whether the Treasury would have to step in to prevent the burden being passed on to the public. The decision of the Commission is expected before the end of the year.
CEB Chairman Prof. W. Abeyewickreme told the Sunday Times that the Board was running at an annual deficit of around Rs. 40 billion with a recurrent expenditure of Rs 186 billion per year. The losses are expected to increase to Rs. 50 billion next year.
He said that the drop in hydro power generation has led to its thermal power cost increasing. The hydro power generation had dropped to less than 15 per cent during the drought period, though the figure this week increased to over 20 per cent.
On Thursday the hydro power generation was 21 per cent and the rest of it was thermal power. According to the Chairman with the increased thermal power use the losses too have been increasing.
He said that daily loss of the Board was around Rs. 176 million.
He said that fresh steps also have been taken to recover money due from various State institutions with the arrears from these institutions now running up to over Rs. 300 million. He said the health, education and security forces are among the sectors which owe the CEB.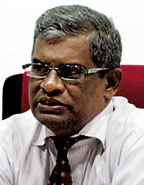 CEB Chairman Prof. W. Abeyewickreme
"We have told our Additional General Managers to look into the problems of non payment of the arrears. We are in the process of resolving the issues", he said.
He said that among the plans to cut down the losses is that to ensure that the coal power plant in Norochcholai is in full operation.
The next two phases which could add 600 more Mw to the existing 300 Mw from the plant are expected to be completed by 2013.
He said that the Sampur coal power plant is to be commissioned in 2016. In addition the Upper Kotmale project which could generate 150 Mw is to be commissioned in January next year, but it would depend on the rainfall to achieve the full benefit of the project.
The final phase of the hydropower complex – the Broadlands project is also due to commence.