The deadly snake bite that was largely confined to rural areas is now slowly creeping into urban areas, with residents being stricken ill by the virulent venom or sometimes even succumbing to it.
It was a dream come true for Lal Dissanayake and wife Chamindani when they recently moved into the house they built in Battaramulla along with their little bundle of joy, three-year-old Thinugi.
Mr. Dissanayake (38), Deputy Principal of D.S.Senanayake College, Colombo and former Acting Principal of Ananda College, Colombo met his wife Chamindani(37) Assistant Manager at the State Mortgage Bank head office while they were reading for their degrees in Economics at the Colombo University and they got married in 2007.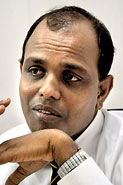 Lal: Today a grieving husband. Pic by Susantha Liyanawatte
Their happiness of moving into their new house was short-lived as Chamindani's life was felled by a saw-scaled viper (Veli Polanga in Sinhala).
Recalling the events of that fateful day on September 12 (Monday), Mr. Dissanayake said, "Usually our front gate is open when I come home. But that day it was closed and as I drove up in the car my wife came running out to open it for me. Suddenly she shouted that an insect had bitten her. I saw it was no insect but a small Veli Polanga and I killed it. As I knew it was poisonous I rushed her to the National Hospital."
Despite getting her to the hospital by 8.30 p.m, Mr. Dissanayake said her treatment started only around 11.30 p.m. When she complained of a headache she was given paracetamol. When she started vomiting blood and was finding it difficult to breath she was taken to the neurological Intensive Care Unit (ICU) as there was no room at the Medical ICU. However the following day when her condition became critical she was taken to the Medical ICU he said.
"On Wednesday at around 3 a.m. a nurse informed me that my wife had passed away. I never thought that having been at the hospital for two days she would die. Our little girl thinks that a snake took her mother away and she would be returning soon," he told the Sunday Times with tear-filled eyes.
After her death it was found that a plot of unoccupied land bordering their house had been breeding these deadly creatures—with 12 vipers being found when it was cleared.
Padmakumara Jeewandara (60) from Malabe, was fortunate to survive a Russel's Viper bite after receiving treatment at the Sri Jayawardenapura Hospital ICU for three days.
Mr. Jeewandara was also bitten while he was closing the gate to his house around 10.30 p.m on October 16. The Russel's Viper that attacked his ankle was hiding in the grass when he trod on it. Several viper bites had been reported from the area, the Sunday Times learns
In another incident, a university student boarded in Nugegoda was bitten by a viper when he had gone to the Gamsabha Junction to buy some dinner.
He was immediately rushed to the Kalubowila Hospital and was still undergoing treatment.
Well known herpetologist Dr. Anslem de Silva, who did the first epidemiological study on snake bites in 1965 said Sri Lanka recorded the highest number of deaths from snake bites during the latter part of the '70s.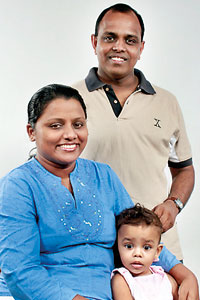 Happy family portrait: Lal, wife Chamindani and Thinugi
"Snakes were previously found in dry zones and were only limited to rural areas. But now we see an increase in the number of the Russell's Viper and Cobra in suburban areas that are surrounded by marshy lands, shrubs or border paddy fields," he said.
According to Dr. Silva, the destruction of the natural habitats of snakes for development projects and housing schemes have sent reptiles into residential areas and even the houses. He said snakes also get attracted to places where there is an increase in the rodent population due to poor garbage disposal.
Most snake-bites occur when the snake is trodden on, either in the dark or in undergrowth, by someone who is bare-footed or wearing only sandals.
"The first thing one must be aware of is that even if you are bitten by a venomous snake - it does not mean that you are envenomed - as more than 50 percent of bites are what is known as 'dry bites' and only about 10 percent of them can kill humans. But it is important to rush the victim to the nearest hospital," he said.
He said it was important not to tie above or below the area of the bite or apply any kind of tourniquets. He also said some people invariably resort to traditional method of incising the bite, which is not recommended. He said this was a waste of time and could even do more harm to the patient.
At present the Anti-snake venom serum(AVS) used in Sri Lanka is imported from India. It is prepared from the serum of hyper-immunized horses using the venom of the Indian Russell's Viper, Indian Cobra, Indian krait and Saw-Scaled Viper.
"The imported AVS not only costs the country a lot of foreign exchange but some patients even get severe reactions. For the AVS to be more effective it should be made from our indigenous snakes. I have made several detailed proposals regarding this to the relevant authorities over the past 30 years and I did a consultancy for USAID and submitted a proposal for the manufacture of our own AVS. I believe we can save more lives and foreign exchange if we prepared our own AVS," he said.
He said during the past decade several medical papers on the high rate of allergic reactions from the currently used imported anti-venom have been published in leading medical journals. "Manufacturing anti venom for local snake bites is not a difficult task. The Peradeniya University is working on it. Our country has the raw materials, technical expertise and veterinarians. Health authorities should give their support to accelerate this process,"he said.
However Health Ministry secretary Dr. Ravindra Ruberu said there was no specialized facility to manufacture the anti-venom at present and that the Ministry was depending on more research in the area.
"We will manufacture AVS once it has been well researched," he said. Snake-bites is included in the World Health Organization's list of Neglected Tropical Diseases. The latest statistics available with Health authorities indicate there were 58 deaths and 38,323 hospital admissions in 2008.
Professor of Forensic Medicine and Toxicology Ravindra Fernando said the acceptance of Western medical treatment for snake bites has resulted in an increase in the number of snkae bite victims seeking treatment at hospitals.
"The bites usually cause bleeding, pain, swelling, headache, nausea, vomiting, abdominal pain, weakness, drowsiness, visual disturbances, dizziness, faintness, collapse, shock and hypotension," he said.
The Russell's viper bite can cause abnormal bleeding and delayed clotting blood stained vomit, bleeding from the rectum and gums. Bleeding into the brain or other organs may be fatal, he said.
The patients may also exhibit neurological manifestations, such as drooping of eye lids, visual disturbances, double vision and difficulty in moving the eye balls.
A bite from a Cobra or Krait can also cause neurological manifestations such as drooping of eyelids, facial muscle weakness, difficulty in swallowing and drowsiness.
Our deadly five and not so deadly others
Of the 93 species of land and sea snakes in Sri Lanka, five of the land snakes are considered potentially deadly. More than 70 species of snakes found in Sri Lanka are not dangerous to humans. However all sea snakes are venomous.
Polmal Karawala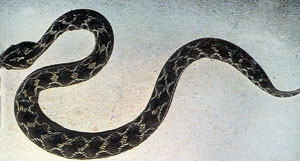 Saw scaled viper: Veli Polanga
A midly venemous snake: Pala polanga
The venomous five consists of: Common Cobra Naja naja naja (Sinhala Nagaya, Naya; Tamil Naga pambu, Nalla pambu), Common krait, Bungarus caeruleus (Sinhala : Thel karawala, Maga maruwa; Tamil: Yennai panayan, Yennai viriyan, Yettadi viriyan), Ceylon Krait, Bungarus ceylonicus (Sinhala: Dunu karawala, Polon karawala; Tamil: Yennai panayan, Yennai viriyan, Yettadi viriyan), Russell's viper, Daboia russelli russelli (Sinhala : Thith polanga, Dhara polonga; Tamil: Kanardi viriyan) and Sawscaled viper Echis carinatus (Sinhala: Veli polanga; Tamil: Surattai pambu, Pal surattai)
Some of the moderately or mildly venomous snakes found in Sri Lanka are: Merrem's hump-nosed viper Hypnale hypnale (Sinhala: Polon thelissa, Kunakatuwa), Sri Lanka hump-nosed viper, Hypnale nepa (Sinhala: Mukalan kunakatuwa), Green pit viper Trimeresurus trigonocephalus (Sinhala: Pala polanga; Tamil : Pachai viriyan, Kopi virian)
The most number of deaths are from the bite of the Russell's viper, Cobra and Krait.
When a snake bites
According to Prof. Fernando the following steps should be taken in case of snake bite, until the patient is taken to hospital:
It is important to re-assure the patient and keep the bitten part immobilized to prevent absorption of venom and reduce the pain.
Do not perform suction or slitting of the wound.
Remove accessories such as rings and anklets in case swelling occurs.
The patient should be given paracetamol 1000 mg to relieve pain.
Aspirin or aspirin containing analgesics or alcohol should not be given.