A continent famed for its colour, feistiness and the tastiest, multinational cuisines in the world come alive, when we celebrate a week of 'Latin Fiesta' at the Governors Restaurant from 1st -7th November.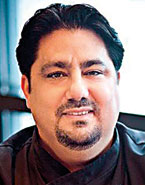 Carlos Gomez Melendez Latin American Chef
Latin American cuisine showcases bold and exciting flavors and is sure to inspire interest and enthusiasm of all the diners who would be patronizing this event during the promotion. Experience, a fusion of Nuevo Latino flavors with global food trends.
Items on the promo are Chocolate Tres leches, Plantain bread, Roasted pear, Sugarcane tuna with malanda puree and dried shrimp salsa and Guava glazed roast turkey with chorizo corn bread stuffing. A range of beverages will also be on offer, Mojitos, Cortadito, Patria Colada, The Rumm-Ba, Banana Ginger Fling, Mangini to name a few.
Latin American cuisine is expansive and diverse. The food is robust, flavoured and always inventive thus adding its own salsa and sizzle and comes up with an array of flavors and cuisine all its own. This richness is no surprise, considering Latin cuisine which pulls from a colorful cultural background. These regional treats are what make Latin American food so much fun to explore.
For Reservation please call 2711711 ext 430.