Rohan Dassanayake, a manager in a leading company with his concept and production took the initiation of making teleplay 'Amarapura' (Immortal City) a story of immeasurable value of mediation.
Rohan entered the telescene with an extraordinary idea of promoting meditation which was said to have emerged in the east but unfortunately not cared or used much.
Highly influenced by the book, 'One Night Shelter', an autobiography of an American Buddhist monk Ven. Bhante Yogacara Rahula who described his transformation from a drug dealing hippie to an ascetic contemplative in the Theravada tradition of Buddhism in Sri Lanka, Rohan was determined to spread this good news through popular audio-visual medium.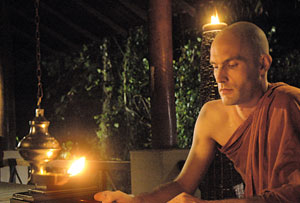 A scene from 'Amarapura'
"In addition to the story of Ven. Rahul, I was also influenced by my visit to Kanduboda mediation center where I observed lots of people engrossed in meditation and yearning to get rid of the rat race and chaos of this society," Rohan told TV Times. Not only locals there were a large number of foreigners who travelled to this place to gain the knowledge of mediation and Dhamma," he added.
The teleplay 'Amarapura' tells how a wealthy businessman comes to the realization of the futility of wealth in the presence of mediation and the invaluable state of mind a human can reach.
"There are a many films and teledramas made on Lord Buddha and Buddhism but there are hardly any one film to highlight the value of mediation, an important path to develop one's mind," says Rohan.
However meditation does not belong to any religion and it can be practised by anyone, Rohan explains.
Mediation has been practised for centuries in this region and Sri Lanka is in abundance with its knowledge. Most parts of the world know Sri Lanka only for its war and horrible outcome but now it is time to show the world the rich treasures like meditation we have in this tiny land.
Rohan's concept was developed into a story by Ajith Mendis and well-known teledrama director Bertram Nihal who converting it made a teleplay and it is now being telecast on ITN every Sunday at 8.30 pm.
"However this is not an attempt to market meditation but instead to reap the great benefit it could bring about to humankind and share our knowledge with the world in this specialized area,"
An arden lover of cinema and art Rohan developed his interest in movies which a student of Wesley College, Colombo and later at the University of East Anglia, UK where he did his MSc, and BSc. Married to Nanditha Dassanayake and father of three daughters, Rohan has a number of plans to make and promote mediation through audio-visual medium.