LONDON, Oct 21 (Reuters) - London's landmark St Paul's Cathedral closed its doors on Friday because of hazards posed by hundreds of protesters encamped in front of it in a demonstration inspired by the Occupy Wall Street movement.
Dean Graeme Knowles, a senior cleric, wrote an open letter to protesters asking them to leave the square peacefully, which they have occupied since last Saturday after initially targeting the nearby London Stock Exchange.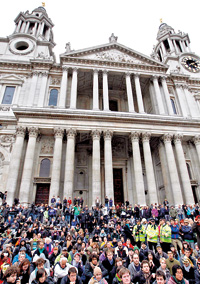 Demonstrators outside the landmark St Paul's Cathedral which was closed on Friday because of hazards posed by an Occupy Wall Street-inspired protest. Reuters
"We have done this with a very heavy heart, but it is simply not possible to fulfill our day to day obligations to worshippers, visitors and pilgrims in current circumstances," Knowles said in a statement.
Fire and health hazards posed by the camp - which has been steadily growing through the week - make it impossible for the cathedral, a popular tourist attraction, to legally remain open, he added.
In response, protesters issued a statement saying they had made every effort to facilitate the cathedral's concerns, and asked for clarification on what more they could do.
"We will continue," protester Ronan McNern told Reuters. "The fight has got to go on." Camp organisers called an emergency assembly to discuss the future of the demonstration. What had started as a few dozen tents on Saturday soon grew to a self-styled city - with its own university, library, canteen and toilets - governed by a burgeoning bureaucracy.
The colourful camp, on paved stones in front of the sweeping cathedral steps, puzzled tourists visiting the 17th century landmark, whose dome is a familiar part of the London skyline. 'Church liasion officers' were elected to mediate between the camp and the cathedral, rearranging tents into orderly lines and clearing a path to its fire exit in response to church concerns.The church's support had been a decisive factor from the start of the protest.
The camp was initially spared from clearance when church authorities told police officers to back off and allowed the protest to remain for its first night. That decision - and a sympathetic sermon by Reverend Giles Fraser at services attended by protesters on Saturday - raised spirits in the camp, protester Don Court told Reuters.
"When we heard that the reverend had given us permission to stay, and indeed that he preferred to have protesters on the steps than the police, it was a huge turning point," he told Reuters earlier this week.
However, church officials appeared to grow uneasy about the camp as the week wore on.
In its open letter asking the protesters to decamp, Knowles praised the peaceful nature of the protest.
Anti-Wall St protesters march with Verizon workers
NEW YORK, Oct 21 (Reuters) - Anti-Wall Street protesters joined Verizon Communications workers on Friday in a march to denounce corporate greed as the company and 45,000 employees negotiate a new labor contract.
The march by about 500 people to a Verizon store in Lower Manhattan coincided with the top U.S. mobile provider reporting a third-quarter profit of $1.38 billion, more than double its profit for the same quarter last year.
Support from unions across the United States has helped boost the ranks of the Occupy Wall Street movement against economic inequality, which began five weeks ago and sparked protests nationwide and globally.
"We're all in this together," Verizon worker Steven Jackman, 53, from Long Island, said of joining forces with Occupy Wall Street. The unionized workers negotiating a new contract, who went on strike for two weeks in August, represent roughly half Verizon's wireline workforce.
"Until we get money out of politics, nothing will change," said Occupy Wall Street protester Richard Fisher, 55, who joined the Verizon march. "I haven't had a job since 2008. My unemployment ran out. There are no jobs." But some people are asking what will happen next with the Occupy Wall Street movement, which critics say does not have a clear message.The protesters say they are upset that the billions of dollars in bank bailouts during the recession allowed banks to resume earning huge profits while average Americans have had no relief from high unemployment and job insecurity.
They also believe the richest 1 percent of Americans do not pay their fair share in taxes.
"Many people around the world, including many Christians, identify with the injustices and inequalities which you believe our financial systems perpetuate and support," the letter read.