3TUNIS, Oct 22 (AFP) - Political parties swarmed the streets of Tunis on the last day of campaigning Friday for the country's first democratic elections on Sunday, as thousands flocked to a rally of the Islamist Ennahda party punted to win.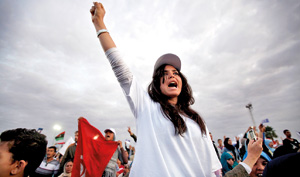 Campaigning closed at Friday midnight, with Ennahda poised to dominate a 217-member assembly that will rewrite the constitution and pave the way for a new government.
In the city centre, stalls manned by Ennahda volunteers pumped out party music over loudspeakers and generously distributed flyers in a bid to capture the undecided vote, estimated by pollsters at more than half of some seven million eligible voters.In the poorer Ben Arous suburb, thousands of men, women and children quickly filled a large clearing where ushers said some 15,000 seats had been set aside for people to hear party leader Rached Ghannouchi, who the crowd welcomed as a hero.
"God gave me a sign to vote for Ennahda," Lalifa Kaobi, 53, told AFP amid the festive crowd waving party flags and chanting. Like the vast majority of the women assembled, she wore the Islamic hijab, or headscarf.
"We will recognise the results of the elections, we will congratulate the winners, no matter Ennahda's score," Ghannouchi told supporters. Ennahda was banned under the 23-year dictatorship of Zine el Abidine Ben Ali, ousted in a popular uprising in January which sparked the Arab Spring uprisings that claimed its latest victim with the killing Thursday of Libya's Moamer Kadhafi.
The party, expected to win up to 30 percent of the vote, had warned on Wednesday of vote-rigging and vowed new uprisings if it detects electoral fraud.
Interim Tunisian Prime Minister Beji Caid Essebsi urged Tunisians to vote "without fear" and sought to give assurances that the poll will be fair.