Australia's British-born Prime Minister Julia Gillard was forced to defend herself on Thursday for failing to curtsey when she greeted the Queen, explaining 'it's just not me'.
Miss Gillard, who strongly supports a republic for Australia, chose instead to bow her hatless head and shake the Queen's hand when the royal visitor arrived in Canberra ahead of a demanding 11-day tour.
The 50-year-old prime minister, leader of Australia's Labor government, when asked on a Sydney radio station today whether she believed curtseying was demeaning, said: 'Some things are you, some things aren't.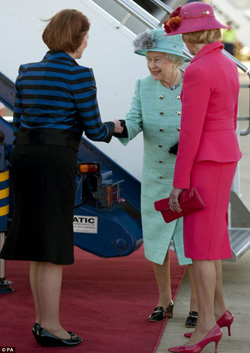 Look, no hat: Julia Gillard fails to curtsey and shakes the Queen's hand as the monarch arrives in Canberra at the start of her 11-day tour
'I made a choice and I thought I would feel most comfortable with bowing my head. The advice was - do what comes most comfortably and naturally.' Miss Gillard, who was born in Wales and was taken to Australia with her parents when she was four, said she was an admirer of the Queen and believed many Australians held her in a great deal of affection and respect - 'and so do I.'
She added: 'I mean, what a life, what an incredible life she's lived over so many generations of change and to see someone play such a steadfast role over so much change, I think, is remarkable.'
Australian Governor General Quentin Bryce, the first woman to hold the position, who was also there to greet the monarch, did curtsey to the Queen.
But while Miss Gillard insisted she had not shown disrespect, Mr William Hanson, a British etiquette and protocol expert, told Sydney's 3AW radio that not only should she have curtseyed - she should have worn a hat.
He said: 'She is your prime minister, she is representing the people but the Queen tops her, the Queen is the top of the tree, so as a sign of respect, whatever her opinion on the monarchy is, she should have curtseyed.'
Mr Hanson continued: 'Whatever you believe about the monarchy, if you don't curtsey, you don't bow, it's not going to bring down the monarchy. You're not suddenly making some grand gesture that's going to shake it to its core.
'It's just a bit churlish for people not to do it, so whatever you believe, it's just a sign of respect.'
© Daily Mail, London