CANBERRA, Oct 22 (AFP) - Australia's top military training college today turned on full pomp and ceremony to welcome Britain's Queen Elizabeth II, who presented it with new colours for only the fourth time in her reign.
Hundreds of white-coated cadets stood to attention at the Royal Military College at Duntroon as they were inspected by the queen who is in Australia for a 10-day tour culminating in a Commonwealth summit beginning Friday.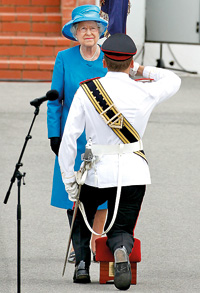 Britain's Queen Elizabeth attends the Presentation of Colours at the Royal Military College in Canberra yesterday. Reuters
As a band played, more than 500 cadets and staff paraded for the queen, who was accompanied by her husband Prince Philip for the ceremony which her father once presided over during a 1927 visit to Canberra.
"The college has held an esteemed position in the training of Australian officers for war and peace time service over the past 100 years," the 85-year-old monarch told the crowd of some 5,000. "The dedicated and outstanding service your graduates have provided to the nation is a milestone to be celebrated."The silk colours, which the queen has now presented to the college four times since her first tour to Australia in 1954, are a symbol of a military unit and a treasured college possession.
"They represent the faith of the monarchy in an institution that has for one hundred years produced Army officers and leaders who have served Australia on the world stage," college commandant Brigadier David Luhrs said.
The queen has a strong connection to Australia, becoming the first reigning monarch to visit the former British colony in 1954 and travelling here on 15 previous occasions, most recently in 2006.
Thousands of Australians have so far turned out to see her as she visited a Canberra flower show and cruised along its Lake Burley Griffin, amid speculation that this could be her last tour Down Under.
In her first speech of the visit on Friday, the queen recognised Australia's achievements, describing it as a "prosperous, energetic and dynamic nation" and noting the commitment and valour of its troops.
"We are all conscious of the sacrifices made by the Australian armed services in international operations," she told a gathering at the Great Hall of Parliament House, noting in particular their efforts in Afghanistan. "I also share the grief felt by those families, friends and colleagues of the 29 service personnel who have been killed during this conflict," she said.
Prince Philip has also been warmly received in Australia, with both Prime Minister Julia Gillard and opposition leader Tony Abbott praising his lifetime of service. "You have brought humanity and irreverence to what might otherwise be a stuffy institution," Abbott told the prince on Friday.
The queen will spend the weekend in Canberra before heading to Brisbane to meet with those affected by devastating summer floods which brought the city to a standstill, flooded thousands of homes and left more than 30 people dead.
She will tour Melbourne next week before heading to Perth to open the Commonwealth Heads of Government meeting.