A racket involving an armed gang that seized vehicles at gun point and got away with brand new Defender jeeps while being cleared from the Port, has been busted by the Colombo Crime Division (CCD).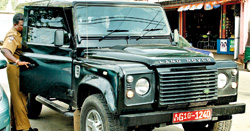 One of the Defender Jeeps that were tracked down, now at the CCD. Pix by Indika Handuwela
The breakthrough came after the CCD tracked more than 500 telephone calls and arrested a suspect who was involved in recovering vehicles from defaulting customers for a finance company. He was based in Kandy.
On information given by him six more were arrested leading to the recovery of at least seven vehicles that had been seized when they were being cleared from the port or running with garage numbers.
According to CCD Director D.R.L. Ranaweera the gang had prior information of the times and the names of persons involved in clearing vehicles from the port.
"The gang usually hired a Prado or an intercooler and replaced the registration number with a garage number. Thereafter they would track the vehicle which is being released from the harbour and seized it at gunpoint," he said.
One of the Defender vehicles had been removed at gunpoint at Park Road in June in broad daylight.
The driver of a car sale was driving the jeep valued at Rs. nine million when a gang had pointed pistols at his head and made away with the vehicle.
Investigations have revealed that the gang had set up a security firm as a front that provided a range of services such as supplying bodyguards, security personnel for residences and business establishments, to transport cash, seizing vehicles and ousting people from houses.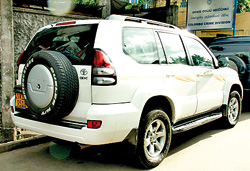 One of the Prados that the gang used to rob vehicles, now at the CCD
The owner of the company Upul Kariyawasam was arrested after one of the seized Defender vehicles was found parked in his house at Nelumdeniya in Kegalle. "They usually take the vehicle outstation and hide it for about six months before trying to sell it. Thereafter they change the numbers and make fake registration papers," he said.
The racket had been in operation for about a year. Deputy Inspector General Anura Senanayake who is in charge of Colombo told the Sunday Times that following the incident Defence Secretary Gotabaya Rajapaksa has ordered that all security firms be checked to see whether they are registered.
"We have information that illegal security firms are carrying out illegal activities including abductions," he said adding that orders have been given if any registered security firms were found to be involved in violating the law their licence be cancelled.