Sixteen-year-old Ridmi Nimesha Fernando, a student of Sri Dharmaloka Vidyalaya Kelaniya was to sit for the G.C.E (Ordinary Level) examination at the end of the year. She was not a bookworm but participated in many literary activities of the school with dancing being her favourite. She was also a member of the debating team of the village daham pasele.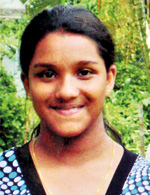 Ridmi: A young life felled too soon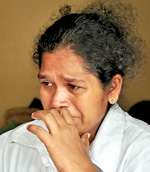 Grieving mother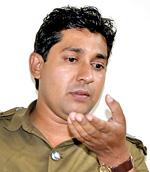 Suranga: People must play a role in keeping area clean
But sadly this young bright life was felled by dengue early this month. For the Fernando family from Himbutualgoda, Dalugama in Kelaniya, Ridmi and their 10-year-old son were their future hope.
"On September 28 my daughter complained of a headache and she did not attend school. That evening we saw a doctor and obtained treatment. But there were no signs of recovery in the following couple of days. We went back to the doctor who advised us to get a blood report done," Ridmi's mother Niluka Fernando told the Sunday Times.
"The report showed that the platelet count had dropped to 124,000 and the doctor advised us to admit her to hospital. We admitted her that night to the National Hospital and she even walked to the ward after admission," the 40-year-old mother recalled sadly.
"That night she had problem passing urine and the problem persisted the following day too. We were told although she should be transferred to the Medical ICU, we would have to wait for the following day for a bed to fall vacant," she said.
"Next morning the platelet count dropped still further to 65,000. As the Medical ICU where dengue patients are usually transferred to was full she was then taken to the ICU of the Neurosurgical ward," Mrs. Fernando said.

"We spoke to our daughter even at this point and she asked us why we were not taking her home. We assured her that we would be doing so soon." October 4 was Ridmi's birthday and the family took some of her favourite food and drink although they were aware that she may not be able to enjoy any of them.
"On her birthday her platelet count dropped to 24,000 and it was only then that she was transferred to the Medical ICU. Even then she asked us when she could go home. We assured her she would be alright.
"That evening the platelet count dropped to 5,000 and she was in a critical condition. From that time onwards Ridmi was on a life support system. She never recovered and she passed away on October 8," the tearful mother said.
She believes that if there had been better facilities her daughter would have survived. "The Hospital staff themselves told me that she should have been taken to the correct ICU initially," she said. Mrs. Fernando also said that several people living in their area had been hit by dengue.
The Sunday Times learns that at least seven dengue related deaths had been reported from the Dalugama area from May this year upto date. Mrs. Fernando said the stream running close to their house was a breeding ground for mosquitos.
"The stream was clogged with garbage and was an ideal breeding ground for mosquitoes and no authority took any action to clean it," she charged adding that no official had visited the area despite a number of dengue cases in the area.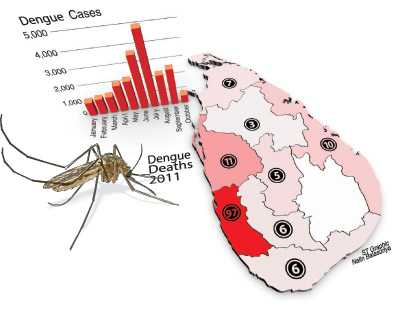 However, soon after Ridmi's death Public health officers had filed action against a neighbour for not cleaning up areas that could breed mosquitos and was fined Rs. 2,500. The Public Health Inspector for the Dalugama area, Suranga Kuruwita told the Sunday Times that despite warnings about areas that breed mosquitos people ignored the warnings.
"We had to get volunteers to clean up the area. Some people do not clean up the gutters and leave small objects lying around that can breed mosquitos," he said. He said since May upto date 80 Dengue cases were reported in the PHI division of Dalugama.He said since the death of Ridmi action was filed against 24 residents in the area with the latest being one of Ridmi's neighbours who had some abandoned tanks that had earlier been used to breed fish.
Since the rains have started he said the people should be mindful of keeping the environment clean.
"My advice to the people is to check their gardens at least once every week to see that there are no breeding grounds for mosquitos so that we can minimize the incidence of the deadly disease," he said.