The shocking news of a 33-year-old woman dying after going to a beauty parlour in Negombo for a facial recently has acted as an eye-opener to authorities involved in the industry.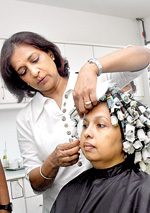 Nayana Karunaratne works on a model in her salon
Though the autopsy report is still pending and forensic tests are being conducted by the SoCo (Scene of Crime Officers), the suspect, the owner of the beauty parlour, My Salon, had reportedly told police that her client had complained of an itchy and burning sensation on the face after creams used to bleach the face were applied, but had insisted that they be kept on.
Cosmetic Devices and Drug Regulatory Authority Director Dr. Hemantha Beneragama told the Sunday Times that from the first of next month all beauty parlours would be inspected to check whether approved cosmetics were being used. He said action would be taken against those using smuggled beauty products.
Unfortunately only cosmetics can be inspected by Food and Drug Inspectors according to the 30 year-old Cosmetics Devices and Drug Regulatory Authority Act
There is no regulatory body to register or check on beauty parlours, the qualifications of beauticians, or inspect hygiene practices.
Following the death of Sreeni Ameratunge an English teacher, Health Minister Maitripala Sirisena has instructed that more Food and Drug Inspectors be recruited. Though the required number of inspectors stands at 100 presently there are only 50 islandwide which makes it two inspectors for a district. According to Dr. Beneragama once the cadre is increased, regular raids would be conducted on beauty parlours.
With a collective membership of about 5000, The Sri Lanka Association of Hairdressers and Beauticians (SLAHAB) and Professional Hairdressers and Beauticians Association (PHABA) constitute the industry's leading organizations.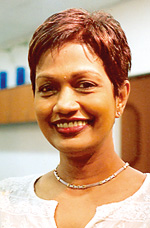 Ramani Fernando
SLAHAB president Nayana Karunaratne said the increasing demand for personal care products and services have led to the mushrooming of beauty parlours.
"This is a profitable industry that also provides self-employment opportunities. But beauty parlours have to be registered and those employed in them should be well-trained. It is therefore important to strengthen and streamline cosmetics education," she said adding that state vocational authorities go by the National Vocational (NVQ) standards of 2005 set by SLAHAB.
"We have said we would support the government to introduce the most current syllabus at vocational training institutes where many outstation youth learn beauty treatment. It is important to set standards in this industry. However sometimes we find qualified bridal dressers doing facials for which they are not qualified. They should be registered only in the field they are qualified in," she insisted.
She also said beauticians are not qualified to treat skin problems or recommend any pills for oral consumption. "We should have some knowledge about the structure of the skin and be able to identify skin diseases and allergies. However beauticians are not qualified to remove warts or treat skin diseases. Some beauticians treat Rosacea, a chronic skin condition similar to acne with acne prevention creams. This can aggravate the problem," she said.
Commenting on another mushrooming industry she warned that a number of unregulated 'spas were coming up around the country with issues of hygiene, and even underhand activities associated with them going unchecked.
Another well known beautician in the industry Ramani Fernando said most people are unaware that a skin test should be done prior to trying any cosmetic product.
"It is important that the product applied be removed at the first signs of any allergic reaction such as itching, burning or redness," she said adding that stipulating basic qualifications and experience for those who want to operate beauty salons would help give them a basic knowledge in identifying skin reactions.
Meanwhile National Hospital's Consultant Dermatologist K. Sathgurunathan, said the market was flooded with over-the-counter cosmetics with some not even being dermatologically tested.
"Most skin whitening creams in the market contain strong skin lightening steroids and bleaching agents that can damage the skin thereby making the skin vulnerable to skin-related illnesses like pimples, darkening of the skin, skin-allergy and disfiguration," he warned.
He said that some beauticians even remove warts although they are not qualified to do so.
"Dermatologists know when using an instrument on the skin what is beneath the skin's surface and remove the warts without causing harm to veins or blood vessels," he added.
Professor of Forensic Science and Toxicology Ravindra Fernando said about five percent of hair dye users develop allergic reactions of redness and itchiness on the head. "Even eye liners contain chemicals such as propylene glycol, triethanolamine, oleyl alcohol, magnesium aluminum silicate, glyceryl stearate, butylparaben and titantium dioxide. All these chemicals are known toxins if ingested. Therefore it is important to be cautious before applying any cosmetic on the skin," he said.