DIMO recently opened the most modern lighting demonstration studio in Sri Lankaat No. 50, Jetawana Road, Colombo 14. This state-of-the-art studio will demonstrate various modern concepts in lighting, technical demonstrations and visual mood selection rather than ordinary product displays.
Improvements in lighting quality can yield high dividends for businesses. Gains in worker productivity may result by providing corrected light levels with reduced glare. In retail spaces, attractive and comfortable lighting designs can attract clientele and enhance sales.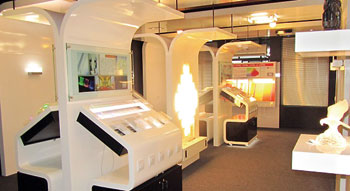 Inside the DIMO Lighting Studio
A thorough understanding of lighting fundamentals is essential for top decision-makers who are evaluating lighting options and upgrades. DIMO Lighting Studio has been developed to fulfill that need. The lighting concepts visualized include color washing, cove lighting, up lighting, spot lighting, feature lighting, signage lighting and application specific lighting. The technologies displayed include color dynamics of LEDs and controlling methods, LED retrofit lighting, fluorescent lamps and electronic control gears, compact florescent lamps, halogen lamps, discharge lamps and fiber optics. The fundamentals of lighting which are colour temperature and colour rendering are also explained and displayed in detail in the studio.
The effects of light on human beings are many and varied, and not all the effects are fully known. They go far beyond the simple process of recognizing objects. Light gives rise to moods and emotions and affects our biological rhythms. Recent studies have shown however that there is another dimension to light, namely its considerable influence over our well-being.
Mr. Channa Weerawardena (Director-DIMO) commenting on the DIMO Lighting Studio said, "This will add a new dimension to the creativity process of architects and interior designers in Sri Lanka. This allows them to virtually "play" with light and equipment before deciding on their requirement." DIMO Lighting team consists of a top team of engineers and lighting specialists who are trained in Germany by world class principals. Not only are they exposed to the best technologies and innovations in the world, they also have access to the latest software which allows you to simulate situations.
The DIMO Lighting Studio is powered by the world's best engineered lighting brands - Osram, Siteco, Vossloh Schwabe, Siemens, RZB and Davis. This studio will mainly cater to architects, contractors, constructors, facility managers, maintenance engineers and anybody else who has as interest in lighting, including university students. Interested individuals and organizations who are keen to experience the Lighting Studio can contact manager of DIMO Lighting, Damith Meegahage on 0773184632 to make an appointment to visit the studio.
DIMO lighting studio is capable of providing you the expertise on selection of appropriate lighting for your applications. The service offered extends to design, supply, installation, testing and commissioning of energy efficient lighting systems. They also provide the energy management analysis, energy audits services to have most efficient electrical installations at your factory or building. Few recent milestone projects of DIMO lighting would be the flood lighting systems at two main international cricket stadiums at Pallekele and Kettarama, Custom HeadquartersBuilding and Aitken Spence Main Administration Building.
DIMO is catering the replacement lamp requirements of most of the high rise buildings in Colombo and hotel chains around the country by having a ready stock of energy efficient fluorescents, LED , halogens, discharge lamps and electronic control gears etc.