Sri Lankan quality biscuit market leader, and the country's premier biscuit manufacturer, Maliban Biscuit Manufactories Limited, has achieved world class excellence in its performance in large scale manufacturing sector with the clinching of Global Performance Excellence Award (GPEA) this week.
Maliban Biscuit Manufactories has become the 1st Company in Sri Lanka to win the Global Performance Excellence Award (GPEA)-2011 "Best in Class Award" organized by the Asia Pacific Quality Organization(APQO). This prestigious award was presented to the Chief Executive Officer of Maliban, Mr. D L Weerasuriya by the Chairman of the APQO, Dr.Charles A. Aubrey. In its eleventh year running, the award acknowledges Maliban's outstanding work and capabilities as a global entity, said Sarath De Silva (G.M. Factory) in an interview with Sunday Times ' Better Living' section .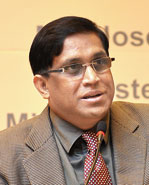 D.L.Weerasooriya CEO of Maliban Biscuits addressing the Business Excellence Global Conference in Singapore
The awards ceremony was held at the Marine Bay Sands - Singapore in the presence of a gathering of Leaders of Premier Business Excellence Initiatives around the globe.. Minister to State, Finance & Transport of Singapore,Mrs. Josephine Teo, graced the occasion . Further Mr. Sarath De Silva pointed out that The company has placed a thrust on research and development and stringent quality controls, which has accorded market leadership status to the company today. In a bid to ensure world-class technology and systems and processes, the Maliban factory has acquired a range of ISO certifications, namely, ISO 9001: 2008, 14001: 2004 and 22000: 2005, which certifies that the company's quality management, system requirements, environmental controls and food safety policies are in line with globally accepted norms.
Mrs. Varana Fernando (AGM - QA &RD) revealed that for the first time in the Biscuit industry and Sri Lankan History Maliban Biscuit Manufactoris (Pvt) Ltd was awarded prestige best in class of global performance excellence award for large scale manufacturing organization presented by, APQO at the Business Excellence Global Conference held in Singapore on 17th October 2011.
The GPEA is the only formal international recognition of performance/business excellence. She pointed out that Maliban has bagged this award undergoing a stringent process of assessment by APQO in the field of quality from a focus on product and services to a strategic focus encompassing overall organizational performance termed performance / organizational / business excellence. He pointed out that the receiving of this prestige award will help strengthening the strategies and performance of Maliban to succeed in the fast evolving competitive environment.
"We are one of the few major food businesses that have the ISO 22000 certification that relates to food safety management system. We were also the first biscuit manufacturer to be awarded Super Brand status and today we have been rated the top biscuit manufacturer; The House of Maliban has indeed proved that it can withstand the test of time and we are confident of bettering our performance, expanding our product range and continuing to cater to all our customers".
Also we have established implemented and maintaining Integrated Management System which includes Quality Management System, Environmental Management System and Food Safety Management System along with other quality concept such as Cleaner Production, Quality Circles, and effective 5 "S" System etc. to enhance consumer delight by delivering what we promise to the consumer, she said..
The company has gained local and international acclaim by winning world recognized quality awards, adhering to its founder's concept of "quality is our religion, "she said adding that Maliban was a pioneer in introducing quality assurance concept in Sri Lanka . The Present Chairman of the company is also highly concerned on maintaining quality standard of Maliban Biscuits. She emphasized that these achievements were possible due to the company's focus on six areas, which is followed by all sections of the Maliban Biscuit Manufactories Limited These factors includes best performance in productivity, quality, reduction of costs, on time delivery, managing the work place safe and maintaining high morale of work force. Maliban accords priority to innovation and quality equally to gain performance excellence through leadership, strategic planning, customer focus, measurement analysis and knowledge management, workforce focus and process management. She noted that Maliban consistently adopts measures to ensure that the superior quality and taste of its products are maintained throughout. "Inspection and testing are conducted on a regular basis and we take great care every step of the way - from choosing our raw material to production and packaging - to maintain our quality standards," she said.
"The World Class Award is recognition of all the hard work that has gone into building the company into the global organisation that it is today. The journey to business excellence is not one that is undertaken by just the management, but requires commitment from every employee in the Group. This Award will certainly inspire and motivate us to continually innovate our business to meet our consumers needs in today's ever-changing business climate."said Bandula Perera , Group General Manager-HR/Admin.
| | | |
| --- | --- | --- |
| | | |
| Bandula Perera , Group General Manager-HR Admin | Sarath De Silva (G.M. Factory) | Mrs. Varana Fernando (AGM – QA &RD) |
Further Mr.Bandula Perera, Group General Manager - Human Resources/Administration, highlighted that Maliban Biscuit Manufactories, plays a crucial supporting role to ensure that the employees at Maliban are provided with an optimal and conducive work environment. Keeping employees happy is no mean feat. "Manpower planning, absorbing talent from the market, training and development are part of the comprehensive HR strategy at Maliban. This is further underscored by the fact that worker welfare was put at the core of our operations decades ago by the founder chairman, and this ethos has strengthened over the years. Today, we have a negligible percentage of staff turnover, which reflects the high morale and satisfaction of our employees in our employ," Which help us to maintain high quality standards he points out.
Furthermore, the company makes a substantial budgetary allocation for employee training managers, executives and staff grade employees are even sent abroad apart from local in-house and external training. "At Maliban we recognize the need to be abreast of global manufacturing technologies and to train our key personnel in the latest advances, so that Maliban can sustain its world-class product offered at affordable prices in Sri Lanka," he said.
Maliban follows a bottom-up HR approach, engages closely with workers on the factory floor, up to the top management. "We sit down with factory workers, learn about their families, their stresses and strains and see how we can solve them. This close relationship forges bonds and gives a sense of ownership to employees," he emphasized.
"We do everything in our power to keep the lines of communication open between the management and staff. Our approach is a humane one tempered by common sense and has held us in good stead over the years!" he said. Rather than following high brow practices and new fangled ideas, the company practices a back to basics approach and drives employee satisfaction. The top management too practices a top down approach, guiding the team towards achieving the targets for the company. We maliban team take the household name "The Maliban" inspired by goodness for many years simply and very steadily said Mr. Bandula Perera.