Ms.Charitha Ranasinghe, a Nursing student of IIHS (www.iihsciences.com), recently participated in an International Conference to present her research paper titled; 'Burden of Drug Accumulation in Households: An Analysis of Data from a Developing Country' was held in Berlin, Germany and she won the Award for the "Best Presentation of the Day" on the 03rd day of the conference. She is the 1st Nursing student to represent Sri Lanka at this Research Forum and is the first to win an award.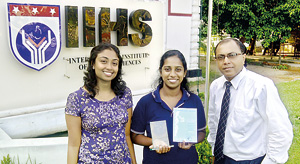 Charitha with Nishani Kulatunga- Campus Director of IIHS & Dr.Kthsiri Edirisinghe-Deputy Chairman of IIHS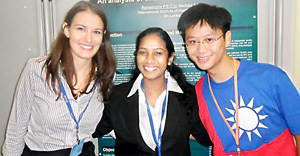 Charitha at Charité University-Berlin, Germany with the final contestants.
European Students conference is an annual conference held in Berlin since 1989. This year the conference took place from 21st to 24th September 2011, at the Virchow Klinikum Campus of the University Teaching Hospitals (Charité Universitätsmedizin) in Berlin, Germany. Over 700 participants from all over the world presented their current projects on tissue engineering and cell-reprogramming as well as their various potential applications in different clinical fields. Ms. Charitha Ranasinghe is one out of 20 researchers whose work has been selected under the Pharmacology category from submissions received from all over the world. Charitha made a poster presentation on the research done by her in this international research forum on the final day of the conference, and her presentation was selected as the Best Presentation of the day out of nearly 200 presenters representing different categories in the Medical field. This is the first time a Sri Lankan Student Nurse has attended this international research forum and she became the 1st to win an award for the country.
Her research titled 'Burden of Drug Accumulation in Households: An Analysis of Data from a Developing Country' has addressed a current issue which prevails in the third world countries and Charitha has experienced this personally at her own house, and this has prompted her to do a research on this subject. With the guidance of Dr. Ishara Maduka, a lecturer at IIHS, Charitha has executed this research with a sample of 57 houses in the Western Province, and the findings of the research have been interesting. From the sample, 26.55% of left over medication in households have been purchased for self initiated treatment and of that 70% belonged to the 'prescription only' medication category. This is a very useful finding to reduce the wastage of medications and also prompts to take evasive action to reduce this accumulation which might cause negativities.
Dr. Kithsiri Edirisinghe, a Consultant Medical Administrator and the Deputy Chairman of IIHS, commenting about the importance of research said that research has become an integral part of nursing education internationally and that it has become a critical factor in determining the quality of a nursing degree and that it also determines the extent of knowledge gained by a nursing student. He also said that Charitha's achievement proves, that the Sri Lankan Nursing students have the capability to do international level research and to compete with the best in the world, even amongst all the difficulties they have faced in Sri Lanka during the war and after. He also added that this will be a great boost for all other Sri Lankan students who are in the Medical and Para-medical fields to show off their talents and capabilities to the world. Ms. Nishani Kulatunga, the Campus Director of IIHS noted, "IIHS has a unique academic programme which trains students to perform well in an international healthcare environment. A modern day nurse uses both nursing theory and best practice derived from nursing research to enhance the quality of service towards patients. IIHS understands that a nursing student should be exposed to the research environment from the start of their career to develop the scientific thinking that is necessary to practice professionally." She further added that the academic staff of IIHS is the backbone of the organization and stand strong behind the students, motivating them to perform exceptionally within the course and outside as well.
Charitha is a student of the 1st batch of the Australian TAFE Diploma of Nursing (Enrolled) programme conducted at IIHS. She is expected to go to TAFE South Australia at the end of this year to complete her Diploma in Nursing. The TAFE Nursing programme at IIHS is a two year programme, whereby the students could study the 1st year at IIHS and then transfer to TAFE South Australia to complete their Diploma. Those completing this high quality training programme can look forward to starting their career as 'Enrolled Nurses' and could continue to study up to the Doctorate level in the Nursing field.
Charitha speaking on her experience said, "It was a great pleasure to participate in a globally recognized forum such as ESC. It was a turning point in my life and I'm happy that I was able to obtain credit to my country as well. At the conference I had the opportunity to participate in many key note speeches, workshops and social activities which enhanced my knowledge. I visited many important places in Berlin such as Berlin tower, Wall and Dome. I was lucky enough to make many new friends from all over the world."
"I take this opportunity to thank those who encouraged and supported me to do the research, especially to Dr. Ishara Maduka the co-author and great pillar behind this success. I'm also thankful to Dr. Edirisinghe, Ms. Nishani, Ms. Miriam Josiah, Ms. Dilini Tanner, and all other well wishers, my loving parents, sister and all my friends who supported and encouraged me."