It is said that reading as an activity is losing popularity. In this scenario, where popular newspapers and magazines are finding it difficult to get readers, what chance do college magazines stand? Brought out entirely by the college students and staff members, the essential college magazine mirrors the events and happenings of that institution. In addition, aspiring writers get a platform to write and be read.
However, not every student reads the college magazine. It appears that mostly those who have an interest in contributing articles actually read it. For others, it is just another book that they have to accept but not necessarily read. The Hindu EducationPlus spoke to some students in Bangalore to find out what they think of college magazines.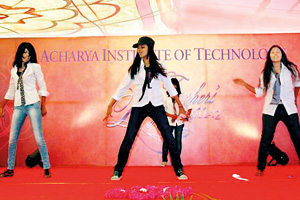 Different Strokes - It's ok, but we need more jazzy stuff
Nikhil S.G. (fifth semester BBM, Sheshadripuram College): I do read the college magazine but I don't contribute articles. It usually contains articles about happenings on campus. It is not very interesting, and can do with some improvement. It should be attractive to the students and others. There are yearly magazines which includes all types of articles and updates. There are also different magazines for different streams in our college. I mostly read business magazines. The cost of the college magazines is included in the college fee collected.
Akriti Agarwal (third B.A. Journalism and Psychology, Surana College): I read college magazines as they are quite interesting. I also contribute articles. Like most others, our college magazine also contains articles contributed by students and they highlight happenings on campus. It keeps us updated and has some interesting content. I do not think there is need for any changes to make it interesting, I like it the way it is. There is nothing like different magazines for different streams or associations but there are different sections for different streams in the same magazine.
Vinay Raju (fifth semester B.Com., Vijaya College): I do not read the college magazine in detail. I just go through it randomly. I don't contribute any articles either. I do know that the magazine contains recent happenings and a few interesting articles and photographs related to the college. The magazine is not very colourful, so it makes the readers a little indifferent to it. Probably, if it is made more interesting by adding things which interest the youngsters, such as the latest trends in education and even entertainment news, more people will read it. There is only an annual magazine in our college.
Manasa K. (fifth semester, JSS Institute of Technology): I do read the college magazine. It is informative, but a little monotonous to read as the content is not very interesting. Contributing articles on the achievements of the present and old students, interesting photographs and other informative content attract the readers. If the content is boring, not many people will go through it. I do contribute to it.
Like all colleges, our magazine also has articles on the happenings on campus such as the fresher's party, ethnic day, college day, and inter-college competitions. The magazine is published once a year, there are no special magazines for any stream.
Vinitha S. (second year B.A. Journalism, Vijaya College): College magazines are fun and I do read them. I do not usually contribute anything to them. Like other college magazines ours too contains all the happenings on campus. But these reports are not that interesting to read as we would have been there.
I just go through the magazine once and see if there is anything interesting. If the magazine needs to be made interesting, it should include more topics that attract students, just like other magazines.
Since it is published once a year, everybody would be expecting something interesting out of it; there are no different magazines for different associations/ subjects. Students are not charged for the magazine, they only have to contribute articles.
Shreyas Jadav (second B.A. Communicative English, Vijaya College): I do read the college magazine and even contribute articles to it. It is published once a year. It is usually at the end of the academic year because all the college festivals and other activities like fresher's party, teacher's day celebrations, ethnic day, etc., would have been done with by that time and the magazine would contain detailed reports of those events. It also contains articles contributed by the students.
Selected students and department lecturers make a team and edit the articles and they decide what goes into the magazine. The photograph section is attractive and the mind-twisters, riddles and puzzles are interesting to solve. I feel contributing interesting articles to different sections should attract students of all streams.
hindu.com