The award ceremony of the Association of Professional Sri Lankans (APSL) essay competition was held in collaboration with the Institute of Research and Development (IRD) at the conclusion of the "Solar Asia 2011" Conference at the Institute for Fundamental Studies (IFS) in Kandy recently. The contest conducted islandwide saw schoolchildren aged 16 -19 writing on the five most important issues relevant to their districts.
Each winner received a trophy, a certificate and a Rs 10,000 cash prize. The winners were congratulated by a large group of international scientists present at the conference.
APSL was represented at the ceremony by its Immediate Past President Prof I.M. Dharmadasa, Vice President Dr. Indrajit Coomaraswamy, and members, Ajith Weerasinghe and Dr Chesmal Siriwardena. IRD & NIE. were represented by Dr. Godwin Kodithuwakku, Aruna Walisundara, Charmali Jayasinghe and Dr. Anushka Adhikari.
The islandwide essay competition was widely publicised by the Sunday Times, Veerakesari and Lankadeepa newspapers. Eight winners were selected from all three media (Sinhala, Tamil and English).
Winners list
English:
Shehan Mohammed St. Sylvester's College, Kandy
Tamil:
Miss Thamodhiram Ghaanaroobini Sri Ganesha Tamil Maha Vidyalayam, Koslanda
Miss M. H. Fatima Hasna St. Joseph Balika Maha Vidyalaya, Kegalle
V. Kobishanth St. Sylvester's College, Kandy
Sinhalese:
Miss E. M. T. Eshani Ekanayake Ibbagamuwa Central College, Kurunegala
Miss H.A. K. Eshani Hettiarachchi D S Senanayake Jathika Pasela, Meerigama, Gampaha
T.H. Maduranga Talakotuna Vijitha Madya Maha Vidyalaya, Pulasthigama, Polonnaruwa
Miss R D E Muthumali Wijendra Ibbagamuwa Central College, Kurunegala
Gypsies and Nadiya fashions at HFC PPA variety show
The Past Pupils' Association of Holy Family Convent Bambalapitiya will present a Variety Entertainment Show at the Hotel Taj Samudra on Saturday, October 1, from 7 p. m. onwards.
The "Gypsies" will be the highlight of the show, while the versatile Clifford Richards will be the host of the evening. There will also be a fashion show presented by Nadia Iqbal of "Nadiya Fashion Studio".
A souvenir comprising song lyrics will be available for Rs.100 at the entrance. This book will contain over 100 well-loved songs of yesteryear and can be kept and re-used.
The profits from this annual HFC PPA fundraiser will be utilised for school development projects and for other specific projects identified by the PPA. Tickets are priced at Rs. 3000 including a snack buffet and are available with PPA committee members and at the school office.
A plateful of indigenous cuisine from Publis
'Sit upright in a comfortable chair. Free yourself from envy, anger, fright, sadness, vengeance and concentrate on food. Eat in silence,' writes Chef Dr. T Publis in his new book 'Authentic Sri Lankan Cuisine.' The book, which was launched this week at a glittering event in Mount Lavinia, was published by Sarasavi Publishers. Accompanying the book is a new website devoted to Chef Publis (http://chefpublissilva.com.) Together the two may very well woo new fans to his culinary tradition, which as the title of the book reveals, is grounded in the country's indigenous cuisines.
One of the great pillars of the Mount Lavinia Hotel, Chef Publis has his own rags to riches story to tell. "I joined the hotel as an unskilled worker who fetched charcoal to the hotel ovens," he recalls in the biography that serves as a prologue to his collection of recipes.
Despite a spell in the Maldives, Chef Publis chose to return to Sri Lanka and in 2004 he was made the Director of Culinary Affairs & Promotions at Mt. Lavinia Hotel. As a chef he has made an impressively diverse contribution to the field, from creating a standardised curry powder that is now sold in the U.K., Dubai and Australia to his Guinness Book Record for cooking the largest and longest Kiribath. (The slab of traditional Sri Lankan milk rice was made with 1020 kg. rice and presented on a 600 ft. long table accompanied with 240 kgs of Katta Sambol hand pounded by 12 chefs.)
He has cooked for the late Sir Oliver Goonatileke, Ex-Governor General of Ceylon, and the late Sir John Kotelawala, former Prime Minister of Ceylon and is famous for venturing into the cuisine of Sri Lanka's Veddah community. 'Authentic Sri Lankan Cuisine' will join his other published work, namely 'Sinhala Bhojana' in 1992 and 'Hela Ratawata Iwum Pihum' in 2005. It is divided into 3 sections: in Part I, Chef Publis opens with 'Beginning of the art of cookery' and ends with an introduction to 'Our flavourings.' In Part II he presents a series of his own 'experiments' with recipes and a miscellaneous assortment of old and new Sri Lankan dishes. In Part III, he discusses the standardisation of food and suggests guidelines for preparation.
Among the 330 recipes are those appropriate for every hour of the day. From soup to rice and curry and onto dessert, the collection even includes a selection of recipes for beverages. Recipes such as that for Dandilla Yam Soup with Celery, Leeks, White Rice and Dandilla and Karapincha Dalu Aanama in which curry leaves are cooked with red onions and shrimp in a thick tamarind juice until tender, are sure to find favour. Under meats, Chef Publis offers a simple recipe for fried crab meat and a delicious sounding Pork Vinegar Thiyal among many others. His recipe for Chicken Chutney Roast includes a dollop of mango chutney, along with hints of lemon grass and cinnamon. In particular, he does justice to the rich abundance of seafood on the island with a number of recipes.
Counted among the distinguished audience at the launch of Chef Publis' book were a Member of Parliament, a former Speaker of Parliament and a contingent from the Gangaramaya temple. However, Sanath Ukwatta, the Chairman of Mount Lavinia Hotel, was clearly given a place of honour by Chef Publis himself.
Chef Publis sees his success as being possible only because of the support successive chairmen have provided him: 'It is due to their graciousness that I now own a Nissan Sunny though when I began working here I could not even afford a bicycle," he says.
Enjoy some quality music with VIP
By Shalomi Daniel
Entrance to their concerts is always free of charge. However, that is not the only reason why you should make a note of a concert by 'Voices in Praise.' Stopping by at the Salvation Army Church Hall last Tuesday, I found the 'Voices in Praise' practising for their next concert on September 24 at the Bible House auditorium. What a treat they proved to be!
The voices of the 20-member choir - boys and girls, men and women of all ages blended in perfect harmony, sounding as one golden voice, as they brought to life songs from the 'Sound of Music.'"Our choir started out with my family of three brothers and two sisters singing at family functions," said Johnson Gnanadass, the choir's co-ordinator. "That progressed to singing at other special occasions and in 2003, we decided to expand," he said adding that at this point his brother Wilson who is the Choir Director began training the members.
As they sing always in praise to God considering their voices a God-given gift, they christened their choir 'Voices in Praise' unwittingly giving it the abbreviation VIP!
Thus VIP continues to grow and expand and has around six to seven supportive musicians to back them.
'Voices in Praise' which holds an annual concert during August and September have presented seven concerts since their inception. This year, they hold their concert on September 24 at 6.30 p.m. at the Bible House Auditorium, Galle Road, Colombo 3. So drop in, sit back and enjoy some quality music.
Two new books from Dr. Hettiarachchi
Saukyaya Dakeema Saha Vindeema' and '90.8 Adambaraya', two new books written by Dr. Shantha Hettiarachchi were released recently.
Published by Wijesooriya Publishers, the two books written in Sinhala cover many important issues. '90.8 Adambaraya' (Pride of 90.8) consists of 42 articles targeting current social, political and health issues, based on the weekly column 'Sivvani Maanaya' in the 'Irurasa' newspaper.
Drug abuse, alcohol, tobacco smoking, stress, qualitative life, diabetes mellitus, medically unexplained symptoms, food security, food and water borne diseases, drug consumption, flu, thalassaemia, leprosy, immunization, psychological counselling, medical laboratory testing, blood transfusion and the way of identifying the correct healers are the topics discussed in 'Saukyaya Dakeema Saha Vindeema' (Seeing and Feeling Healthy).
Special punyakarma to celebrate 34th wedding anniversary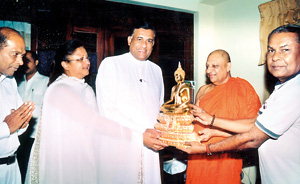 The Maha Nayake of the Malwatte chapter Most Ven. Thibbotuwawe Sri Sumangala Maha Nayake Thera is seen presenting a Buddha statue to former Foreign Minister and chief organizer of the SLFP Rohitha Bogollagama. A special punyakarma almsgiving to the Sri Dalada Maligawa was held to mark the 34th wedding anniversary of Mr. Bogollagama and his wife after which the Maha Nayake blessed them and presented them with the statue.
Sri Lankan Ambassador to Germany presents credentials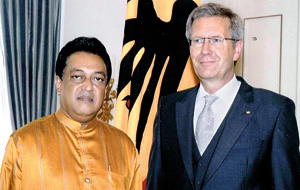 The newly appointed Ambassador of Sri Lanka to the Federal Republic of Germany, Sarath Kongahage, Attorney-at-Law, presented his credentials in Berlin to the President of the Federal Republic of Germany, Christian Wulff, on September 2. Ambassador Kongahage who was accorded a ceremonial guard of honour is seen here with the German President.
Statue of Our Lady of Sorrows unveiled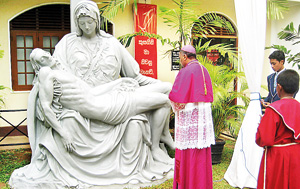 The annual Church Feast of Our Lady of Victories of Matara was held last weekend. The new Bishop of Galle Rt. Rev. Dr. Raymond Kingsley Wickremasinghe unveiled a statue of Our Lady Of Sorrows with a prayer and blessing.
Events diary
Coin talk: From era of Alexander to Pakistan
"Coins from the era of Alexander the Great found recently in Afghanistan and Pakistan", a talk by Dr. Osmund Bopearachchi will be held today, September 18,(Sunday) from 2 p.m. to 4 p.m. at the Board room of the Royal Asiatic Society of Sri Lanka (Mahaweli Centre, Green Path, Colombo 7). The talk is open to the public.
Dr. Bopearachchi is a historian and numismatist who has been specializing in the coinage of the Indo-Greek and Greco-Bactrian kingdoms. In 1991, he published an extensive work on Indo-Greek and Greco-Bactrian coinage, Monnaies gréco-bactriennes et indogrecques Catalogue raisonné, which received the Prix Mendel (Mendel prize) for Historical Research in 1992.
The Sri Lanka Numismatic Society meets every third Sunday of the month at this time at this venue.
Music for Alzheimer's Day
For the fifth consecutive year, the Lanka Alzheimer's Foundation celebrates World Alzheimer's Day with an evening of music at St. Andrew's Scots Kirk on Wednesday, September 21 at 7 p.m. This year's programme includes performances by the Cantando Cello Quartet, Voice Print, Melanie Bibile and Norma de Silva.
Melanie Bibile will perform 'She Misses Him', a song written by Tim Rushlow. This powerful song plays over the images of a couple struggling with Alzheimer's showing photographs of their happier days. Norma, a music teacher for 23 years had to leave her job due to recent memory loss. Norma will end the evening's programme with a rendition on the piano of 'How Great Thou Art'.Entrance is by programme priced at Rs. 500.
PMRP AGM
The Annual General Meeting of the People's Movement for the Rights of Patients (PMRP) will be held on Saturday September 24 from 10 a.m. at the hall of the Centre for Society and Religion (Fatima Church premises) No. 281, Deans Road Maradana.
National Languages and Social Integration Minister Vasudeva Nanayakkara will be the chief guest and he will speak on the need for a National Medicinal Drugs Policy.All are welcome.
Bouwwa show for crossbreeds
To acknowledge and celebrate the charming yet undervalued pooches, the Blue Paw Trust, a non-profit animal welfare organisation, together with the Colombo Municipal Council Veterinary Department, is organising a dog show exclusively for crossbreed dogs.
The Bouwwa Show 2011 on Sunday, September 25 from 10 a.m onwards at the Sathutu Uyana, Viharamahadevi Park, Colombo, will be a fun experience for dogs and dog-lovers alike. Entrance will be free of charge.
Held for the third consecutive year, this event will bring together dog owners and animal lovers for competitions, games and displays. Free dog training tips, a guest performance by the Service Dogs, a Police Dog Display, a Breed of Bouwwas exhibition, a Sri Lankan Breed Circus Show, a dogs' fancy dress parade and raffle draws are among the events planned.