"It's a work of genius, this play," says director Haig Karunaratne. He is speaking of the 'The Blinding' a play written by the late Regi Siriwardena and set in the aftermath of the insurrection of 1988/89. We are at Haig's home in Bambalapitiya.
Adjoining the main house is a smaller set of buildings which serve as a dedicated rehearsal space and the site of Haig's frequent drama workshops. In there, they've been rehearsing 'The Blinding' for several months now – serendipitously, the space replicates the dimensions of their formal stage. Haig intends to stage the play at the British Council, the same venue where it made its debut. Haig and Regi produced the play there together in 1995, and now 16 years later, Haig believes the play is more relevant than ever and stands as an enduring tribute to Regi's brilliance.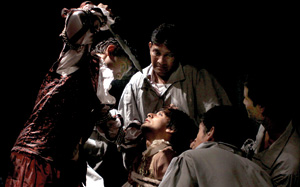 Play within the play: Incorporating the blinding of Earl of Gloucester from King Lear. Pic by M.A. Pushpa Kumara
'The Blinding' explicitly addresses the spate of disappearances, killings and violence that broke out during the 1980s in Sri Lanka. Experimenting with the idea of a play within a play, Regi cleverly incorporated scenes from Shakespeare's 'King Lear'.
In particular, the blinding of the Earl of Gloucester was used to dramatic effect. "It is a play about violence and the roots of violence," says Haig, explaining that he sees 'King Lear' as a play that has a similar mandate to penetrate the very source of violence and the nature of evil. "If fathers could be divided from daughters what could you expect from the rest of society?" he asks, adding, "Regi had taken the core of King Lear - which was the blinding of Gloucester who is a friend of Lear - and very skilfully related that to our times."
The creation of the play was very much an organic process, evolving everyday through conversation with Haig and the rest of the cast. In his production note, Regi himself would write: "Though my name stands as the author of the play, I am not its only 'begetter'..It was developed collectively through rehearsals – so much so that during the first weeks I would go back home each evening after a rehearsal and re-write part of the script. It was very exciting for me to work on a play in this fashion." For the playwright, this was also something of a personal revelation. "Regi wrote this play very late in his life; he once told me that had he become a playwright earlier instead of just a critic and a journalist, he might have been happier," says Haig.
Created in his maturity, the play Regi wrote was a searing condemnation of how much society was willing to accept in the interests of the greater good. "There are perhaps those who can reconcile themselves to the necessity of a blood bath every 15 or 20 years to preserve the stability of the social order. I am not one of them," Regi stated categorically.
The success of the play, as far as Haig is concerned lies in that it draws its audience deep into the action. This is as much a result of experiments in format as in actual stage layout. As with many of Haig's previous productions, the audience is situated on intimate terms with the actors. "When you perform among people, there's an immediate relevance," says Haig, "You're not cut off." This was a deliberate decision, as was the structure of the play itself which was designed so that people are forced to identify themselves within the play.
For Haig, this return to 'The Blinding' is bittersweet. "I had greater confidence then, because Regi was there. As the author he could tell me if I was distorting something," he explains, adding that nevertheless having grown in experience himself, he has incorporated many elements that were not there the last time. "As a piece of theatre perhaps, this is better, but the seeds were sown by Regi. I had the advantage of knowing that the structure was perfect and so I could add to it."
Haig believes that Regi approached him to direct the play in the first place because of a previous production. In a 1979 staging of Julius Caesar, Haig reinvented it, choosing to have Mark Anthony be portrayed a Fascist. (Swastika flags were even carried onstage.) The two men soon realised they had a great deal in common, primarily the conviction that theatre was not meant just to entertain but essentially to educate.
This was an experience intended as much for the audience as for the cast themselves – today, Haig says that he loves working with young people from multi-religious, multi-ethnic backgrounds. He believes social revolutions can be born through simple theatre such as this.
As with the first staging, the cast this time around is made up of a young, enthusiastic group of players. 'The Blinding' features: Agash Mudalige, Amal Siriwardena, Amith Udara Weerasekera,Azra Ashraff Ali, Bhagya Chandrasiri, Chalana Wijesuriya, Chehara Amaratunga, Dinuwani Chandrasiri, Galagama Nanayakkara, Gayathri Abeywardena, Jagath Chandrasiri, Kumidithe Perera, Mithila Mudalige, Nilmini Perera, Ninel Fernando, Oshadha Hiran Madugalle, Punsara Fredrick Amarasinghe, Ranjan, Rashika Botejue, Ruvini Katugaha, Ruwantha Katugaha, Sabrina Niles and Sujan Amaratunga.
At the end of the play, is a discussion, something that Regi believed was essential. "Regi's idea was 'let's have a discussion about the play. Tell us what you think of the play and what you think of our message,'" says Haig, explaining that it is a tradition he intends to continue. "There is a great silence in this country today," he says, "And all those questions are being asked in this play. Why are you silent?" They would like to hear your answers.
'The Blinding' is on at the British Council on September 26. Tickets are priced at Rs. 500 and are on sale at the Vijitha Yapa Bookshop at Unity Plaza, Lakehouse Bookshop, at Liberty Plaza and Casa Serena opposite Police Park. Ceylon Biscuits has provided part sponsorship.
A book that resonates with memorable characters and incidents
By Shalomi Daniel
Bernadette Graceline Hay fondly known as Bernie has many stories to tell. But she does not stop at just telling stories, she writes them as well. In fact as Bernie says, she has been writing "since [she] could put two words together."
Bernie believes that there is a story behind everything. When she glimpses the headlines on scraps of newspapers in the trash, she finds herself thinking about the people involved and what they go through.
"Some incidents remain etched in people's minds.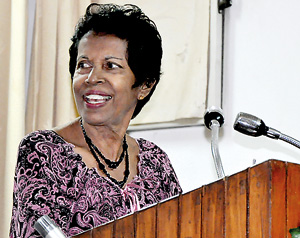 Bernie Hay speaking at the book launch. Pic by Mangala Weerasekera
It's just that not everyone writes about it," she says. Whenever an incident struck a chord in her, she would immediately jot it down and that explains the scores of notebooks she has filled with notes and even stories. Times when she was forced to stay at home due to illness or other reasons, Bernie would spend writing.
Now, the notes and stories lovingly woven in her mind and in her beloved notebooks have been published - "Lives That Touched My Own" was launched on August 30 at the National Library Services auditorium.
However, Bernie confesses that there was a point during her teenage years when she had felt that her writing would never be good enough to be published. While at school, at St. Agnes Convent, Matale and Good Shepherd Convent, Kandy she wrote articles to the school magazine and occasionally to newspapers but on entering University where she lived on a regular diet of Shakespeare, George Eliot, Chaucer and Austen, the young Bernie was simply overawed by these giants of English literature.
"I thought how could I, measure up to such great authors," she says. Discouraged Bernie decided that she would just write for herself but as time passed and she discovered the works of Afro-American and Commonwealth writers she says she was inspired anew."It was then that I realized that I need not be like someone else. I can write as Bernie Hay!" she says smiling.
Meanwhile equipped with a Bachelor of Arts from the University of Ceylon, Peradeniya, a Postgraduate Diploma in Ed. T.E.S.L at the University of Colombo and a Master of Philosophy in Ed. Linguistics at the University of Colombo, she taught English language and literature at Ave Maria Convent, Negombo and following her postgraduate work became a lecturer in linguistics and English teaching methodology in the University of Colombo.
After a period teaching English as a foreign language (T.E.F.L) in Oman (which also provided material for her writing), she returned to Sri Lanka and wrote two books on Professional English for the Open University. She also compiled a radio course in Basic English Literature for the British Council and the Sri Lanka Broadcasting Corporation.
Two years ago she was thrilled when her short story 'The Falage' appeared in the September 2009 issue of the Asia Readers' Digest. "Not only was I encouraged I also learnt a lot from writing to an international magazine," says Bernie.
Spurred on by her friends, she then began contributing to newspapers in the country and what followed seemed a natural progression. "I realized that I can reach out to people and make someone smile. It was a responsibility," says Bernie.
So how did she decide which stories to include in the book? The 21 stories in the book are arranged in the order in which the people concerned entered her life - from her childhood to date - and portray the impact they had on Bernie's life.
"I have received many calls with people inquiring after Sena!" she laughs referring to her childhood playmate she mentions in the book, whose character is an engaging mix of mischief and kindness.
It is apparent that the people in her book are tucked away in a very special corner in Bernie's heart. She smiles as she reminisces about what a 'special person' Marihamy Ammey was and about her grade eight teacher (Miss Tissera) who allowed one of Bernie's friends to correct her English mistakes and even thanked her for it.
"Today it is accepted that one can learn from anyone - even from a young child. But for Miss Tissera to be willing to learn from her students in that day and age shows what a wonderful teacher she was," says Bernie who has never forgotten the valuable lesson in humility that she learned so long ago.
Vividly presenting the scenes from various periods in her life ranging from her childhood spent in the picturesque tea estate in Matale to the warm affection of her Omani students to the antics of the incorrigible Sena, Bernie keeps her readers entertained.
Prominent personalities such as Professor Ediriweera Sarachchandra, Rukmani Devi and Susanthika Jayasinghe also make their appearance. Bernie's book which is available at many of the leading bookshops is priced at just Rs. 375. Bernie explains that she hopes that the low price and the colourful cover of the book will encourage young readers (her special target group) to purchase it, and take to heart the values and ethics that she has subtly woven in to her stories such as Brother Alfred's dedication, Marihamy Ammey's wisdom and a little boy's honesty.
Currently conducting courses in Advanced English for groups of professionals while pursuing her other interests in flower arrangement and photography, Bernie encourages budding writers to have the courage to publish.
"You do not have to publish a book but just something small," she says earnestly, urging that this can often be the stepping stone to greater heights. "Lives That Touched My Own" is available at the Lake House Bookshops stalls at the Colombo International Book Fair.
'LC Proms' to feature popular music by SOSL
The Symphony Orchestra of Sri Lanka (SOSL) will present LC Proms - a concert in aid of the Ladies' College Old Girls' Association (OGA) Trust Fund for Care and Support, on September 24 at the College Hall with Ajit Abeysekera as the conductor.
For this special concert, the SOSL will deviate from its usual classical fare to provide a sparkling repertoire of light classical, Latin American favourites as well as popular showtunes.
The programme includes such well-loved classical works as "Voices of Spring" by Johann Strauss, Pietro Mascagni's "Intermezzo" - better known today as the music featured in the movies "Raging Bull" and "The Godfather III" and Leroy Anderson's quirky, yet delightful "Syncopated clock".
Also on the programme are Latin, jazz, folk and rock favourites. The audience may need to fight the urge to dance to the strains of the evergreen Jewish folksong "Hava Nagila" and to swing to Mancini's classic "Pink Panther" and samba down the aisles to "Latin Gold"-- a medley of popular Latin American dance tunes.
The show tunes are from well-loved musicals and promise to introduce a nostalgic note to the musical repertoire. The LC OGA Trust Fund for Care and Support was set up to assist retired teachers, staff, support staff and old girls.
The recent decline in interest rates has resulted in a drop in income, which makes it difficult for the Trust to keep its commitments towards the sick and elderly beneficiaries, who have spent their lives in service to the school.
The box plan is available at the school office from 8 a.m. to 3 p.m. from Mondays to Fridays.
Look Back in Love; an adaptation of Jean Cocteau's film Orphee
Mark Amerasinghe presents his eleventh monodrama Look Back in Love, an adaptation of his translation of Jean Cocteau's original script of the black and white French film Orphée (screened in 1950) on September 23 at 6.30 p.m., in the Alliance française de Kandy.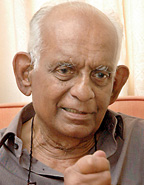 Mark Amerasinghe
According to Grecian legend, Orpheus, that celebrated musician of Thrace, followed his recently dead wife, Eurydice, to the other world and obtained her release on one strict condition. He must not turn back, to take even a fleeting glimpse of his beloved, until they were both safely home. Unfortunately, Orpheus did look back and he lost Eurydice for evermore.
In Cocteau's modern version, while the young lovers finally rejoin each other to live happily ever after in this world, Orpheus is a celebrated poet, [some Greek sources consider Orpheus both the leading poet and musician of his time] hated by the avant-garde and feminists of the day; and Other World characters, not mentioned in the original legend, are introduced.
Chief among these are an agent of Death, the Princess, who loves Orpheus, her chief aide, Heurtebise, in love with Eurydice and a young poet, Cegeste, who writes incomprehensible poetry, is the favourite of the avant-garde and is being promoted by them as challenger to Orpheus. He has been recently recruited into the service of the Princess.
The sorceress-like Princess, accompanied by her aides, flits in and out of this world through solid mirrors, in pursuit of the handsome Orpheus who, under a spell woven by the Princess, is mesmerized by her ethereal beauty, until realizing the futility of their forbidden love, she releases him to rejoin his beloved wife; while she and Heurtebise, for transgressing the laws of the Spirit World, are banished, from an eternal existence in their world, into oblivion.
Cocteau gives a distinct 1950's flavour to this ancient tale by introducing 'talking' cars, leather-jacketed assassins on high-speed motorcycles, revolvers and machine guns. Throughout the production, there prevails an overarching manipulation of space-time and an all-pervading atmosphere of mystery and magic – a modern Wonder-land!
Rugger like politics, says Hon. Pusswedilla
"Thank You for Voting' – Part 3 of the hilarious political satire featuring the exploits of Chaminda Pusswedilla directed by Feroze Kamardeen will be staged at the Lionel Wendt on September 29 and 30 and October 1 and 2. Here's an update from the Pusswedilla office:
ArsikLand Royter Service News (ARSNEWS) Saptemberr, Capital City ArsikLand (Thursday 15th Saptamberr): His Glorious Honrable Excellency Chaminda Pusswedilla personnaly colled up oll world leaders and is invyting them to come for the World Peece Summit. ARSNews was privileged to be the "embedded reporters' when the colls actually happened.
Oll colls were recorded and were to be reprinted word for word. Due to a small technical fault in the recording device we are unable to do so at this time. Nevertheless we are happy to report that oll colls made by Hon. Pusswedilla to world leaders were sucksesfull and the main delegates will oll be there at the Pusswedilla Arsikland Nashnel theatre for the world peece summit.
Cyril Nitharamasuffering, sectary to Hon. Pusswedilla made an announcement that they have started issuing visas for the peece sumitt. Oll peoples wanting to come for the peece sumitt will need to get a visa and there will be a smoll charge. Visas are avaylabel at the Lynel Went.
(Friday 16th Saptamberr) - Hon. Pusswedilla visists New Zealand. In a surprise development Hon. Pusswedilla dramatically appeared at the Rugby World cup opening ceremony and opened the world cup before taking a flight back to ArsikLand. Speaking to ARSNews, Hon. Pusswedilla said " I iking the rugger a lot. People taking the boll, other people tackling them, and then putting them on the ground, then fighting, the refreee trying to stop the fighting, oll players are bigger and stronger than the refree. Rugger is just like politics. That is why I like it"
On the way back from New Zealand Hon. Pusswedilla made some quick stops at some importance places and met with some importance peoples olso.
(Saturday 17th Saptamberr) Peoples in india have colled Hon. Pusswedilla asking for addice on how to stop hunger strikes and oll. Hon. Pusswedilla has told them "When you are having comonwelth games I colling and giving addivce, you are not lissening and then full adagena naama. Now you are colling, after the strike is over. In future have some biscut packets ready and olso for any strike make shure that it takes place near a road that needs urgent repares"