His disciples asked him, "Rabbi, who sinned, this man or his parents, that he was born blind?" "Neither this man nor his parents sinned," said Jesus, "but this happened so that the works of God might be displayed in him." John 2: 2-3 (NIV)
These words from the Bible constantly inspired Margaret, mother of Don Patrick Mervin Weerakkody to be positive about her youngest son's blindness. Though he could perceive light and make out obstacles at birth, his sight deteriorated fast and left Patrick, more popularly known as Wimal completely blind. "It was like her slogan," Wimal, better known as Prof. Weerakkody to the fraternity at Peradeniya chuckles as he recalls his childhood.
Margaret and Wimal's father Johannes, were both educators by profession and so strove to give their youngest an education equal to that which their three older children received. Their home was an environment conducive to learning and Wimal picked up fast from what his brothers and sisters brought home from school. Their young uncle, Julian Perera (now nearly a 100 years old) a master violinist and music teacher, created in Wimal his special passion, an early love of music.
In 1954, at nine years of age, he entered the School for the Blind at Ragama, where he gained his elementary education as well as basic musical knowledge, mastering the piano, accordion and violin. He also acquired skills essential for the visually impaired academic – reading Braille script and typewriting – at this school.
By the time he entered Christ King College in his hometown Tudella, Ja-Ela for his secondary education, the young Wimal was well equipped not only to work on par with his sighted classmates but even to top his class. He left school in shining glory, having passed the Advanced Level Examination at the very top of the national rank.
"Most of the responses I had from people in my young days were matter of fact about my blindness," he reflects. "At university it was different," he shares, describing snide remarks about karma and such. "The fact that I am a Christian has helped me a lot, my outlook is more positive because of that."
And this positive outlook he inherited from his mother has helped Wimal Weerakkody achieve amazing feats in life. Going through university and getting a BA and PhD he says, have been his greatest achievements.
He admits the task was difficult since he did not have the convenience of facilities visually impaired students now have as study-aides. "I had to depend on sighted readers," he explains. Nevertheless in 1971 he obtained his BA with First Class Honours in Classical Languages.
After getting a scholarship he then commenced studies at the University of Hull, obtaining a PhD in Classics in 1977. Upon returning to Sri Lanka, Wimal Weerakkody joined the staff at his alma mater, the University of Peradeniya, and was subsequently made Professor of Classical Languages; a position he held for nearly ten years, until his retirement just over a year ago.
Among his academic achievements are translations of famous Greek and Latin texts 'Phaedo' and 'The Republic' by Plato, Hesiod's 'Works and Days', works by Cicero, plays by Plautus and Terence as well as 'Louise Braille: A Touch of Genius' by Michael Mellor among many others. He is also a Vadya Visarad, (B.Mus.) of the First Division from Bhathkanda Sangeeth Vidyapeeth, Lucknow, India, and has won many international academic awards and scholarships including those awarded by the Commonwealth as well as SAARC.
Though his academic achievements are great, it is the gentle and compassionate person Prof. Weerakkody is, and the high values that motivate him, which his students and those who know him appreciate most. "My inspiration has always been my desire to help other persons with disabilities," he says unassumingly, "I try to acquire skills that help them and then impart it to them."
He has truly done much more than has been expected of him as a voice of the visually and otherwise impaired, and as Coordinator of his brain-child; the Special Needs Resource Centre (SNRC) at the University of Peradeniya.
Every year, Prof. Weerakkody conducts a number of workshops which he hopes will provide the visually impaired with skills for a better life. Although the workshops are geared at educating and providing specialized skills, the participants have immense fun in the learning process. Prof. Weerakkody is an entertaining and enthralling teacher, and his lectures and teaching sessions are coloured with jokes and anecdotes. Among these unforgettable workshops number those on Braille Music notation for teachers and students as well as on special IT skills for the visually impaired, all conducted at the SNRC.
"I feel information is primary, that's why we started the centre," explains Prof. Weerakkody as he describes how he once very informally approached a representative of the World Bank and was able to secure a donation of 50,000 USD for each national university that was willing to utilize it to help the handicapped. Though the fund was allocated for use over two years, Prof. Weerakkody and his staff of unconditionally dedicated volunteers managed to stretch the funds over four years. "Now we have trouble maintaining the centre, " Prof. says, explaining that funding is very hard to come by. The centre takes on projects such as the recording of the pansiya panas jataka and school syllabi for grades 9-11, which are funded by organisations such as the Buddha Shasana Madhyasthanaya and the American Embassy.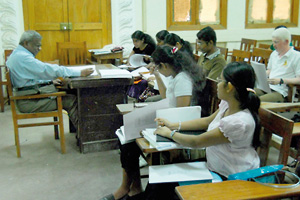 Teaching Contracted Braille to visually handicapped students
Prof. Weerakkody believes that Sri Lanka has sufficient resources to provide visually impaired students with a good quality tertiary education, but that "attitude changes are necessary". The attitude of the general public towards the handicapped population is also "mixed" he says, adding that despite the fact that "people are sympathetic", there exist in our culture "age-old prejudices" regarding mental and physical handicaps.
He recalls the incident of a fellow undergraduate who went back to his room, because the blind 'apala' student Wimal Weerakkody had stepped onto his path while he was heading for an exam. Such incidents and attitudes are not only sad and embarrassing but also detrimental to the creation of a positive environment for the visually impaired within our country. But Prof. Weerakkody has not allowed such incidents to deter him from achieving his goals and dreams.
Since retiring, Prof. Weerakkody has been catching up on what he mischievously calls "outstanding work that lies on my table and my conscience." He looks forward to completing a Sinhala translation of The Oresteian Trilogy by Aeschylus and quiet hours in his house hidden in the cool hills of Gampola. "I haven't decided on anything yet," he smiles, "I'll just take things as they come." Typical, one would feel, of how he has lived so far, grappling with immense obstacles and never faltering in his walk to bring glory to his Maker.