John Perera was born into a middle-class family in Matara and moved to Matale during the coffee boom of the 1880s and settled in Udasgiriya. The family bought a few acres of land close to High Walten Estate, Matale - some 450 acres of rubber. High Walten was owned by a European, the Oxford educated R. Hurbert Anderson who was so impressed by the young John that he invited him to assist in running the estate having obtained permission from his parents.
John travelled from home to the estate to assist Mr. Anderson on the payment of Rs. 25 per month (a reasonable salary at the time). Working under Anderson was no problem since he was a kind and understanding boss. In 1910 Anderson left for England to get married leaving the management of the estate to John, after appointing him acting superintendent.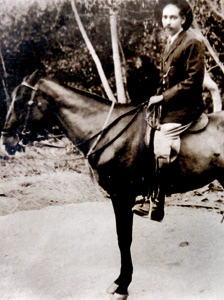 John Perera on his field rounds and (left) a watercolour sketch of High Walton
Anderson returned to Sri Lanka after six months with his bride and was given a hearty welcome by the staff. He was well satisfied with the manner in which John had managed the estate during his absence. But as the climate in Matale did not agree with Anderson's new wife, after appointing John as superintendent the couple returned to England following the birth of their first baby.
John's monthly pay was Rs. 100 which was a tidy sum then. He was provided with two horses on which he rode on alternative days round the estate doing his supervisory rounds. A strict disciplinarian and taskmaster, he was known to whip labourers found drunk and having family quarrels.
John married Rose Koralage in 1897 and they had six sons and four daughters. The elder three sons were boarded at Ananda College hostel during the stewardship of P. de S. Kularatne and the other three sons were boarded at Trinity when Rex Fraser was the principal. The eldest daughter was boarded at Musaeus College, Colombo while her three sisters were boarded at a school in Matale.
Whenever John came to Colombo in his personal vehicle, an Austin, he stayed at Nippon Hotel, which was then a well-known establishment patronized by the likes of P.D.S. Kularatna and Rex Fraser (Principal of Ananda and Principal of Trinity) .
John Perera's third son Henry turned out to be a leading sportsman at Trinity, excelling in both rugger and cricket. He later followed a veterinary course in India on a government scholarship. Before he completed his studies, the then Maharaja of Uttar Pradesh employed him to look after his horses and other animals such as elephants and Bengal tigers.
John's eldest daughter Louisa married J.E. Gunasekera, an Oxford-educated graduate and a member of the Donoughmore Commission. Today there is a road in Maradana named in his memory.
John Perera acquired much wealth, owning rubber plantations and paddy land. Although he was a strict disciplinarian he was a kind hearted man, spending generously on public welfare. He built a Buddhist temple for the village, a bathing place and parapet wall round the well and resting places along the road at a safe distance as there was no public road transport for people going on long journeys.
The school he built in 1912 was named after his estate and registered in 1918. He paid the salaries of teachers out of his pocket for 23 years after which he handed over the school to the government. This was in 1935. In recognition of his services, the then Government Agent, Matale conferred on him the title of Muhandiram which he declined to accept as he did not want to be under obligation to the GA.
The school is today a full-fledged educational institution with over 1000 pupils and a tutorial staff of over 30.
Although John Perera had six sons and numerous grandchildren among whom is Vajira Chitrasena, the famous dancer, of the over 20 grandsons none of them took to planting except one. He is Nihal Perera who is now the Secretary of the Ceylon Planters Society which will be celebrating its Golden Jubilee this September.