As was evident this week, the road to Asia's largest jail is sometimes paved with good intentions. The tall iron gates of Tihar Central Jail were decked in marigold and didn't look foreboding to the crowd that waited outside on August 16 for Anna Hazare, the 74-year-old crusader against corruption, to emerge.
The government had released him, but he refused to budge. Anna's supporters had been waiting there for a while, but despite the blistering sun, the mood was upbeat and infectious.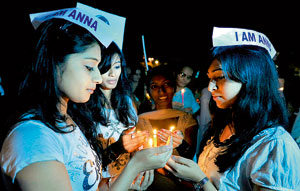 Supporters of Indian social activist Anna Hazare participate in a candlelight vigil in Hyderabad on Thursday. AFP
After all, it was the day after the 64th anniversary of independence and a team that vocally claimed the legacy of the freedom fighters was going to emerge from jail. There on, as Anna leveraged his advantage to the full and insisted on a total surrender by the government, it capped a particularly bad sequence of events for the Manmohan Singh regime, one marked by an appalling lack of judgement, tact and touch. The initial denial of permission for the August 16 fast had clearly boomeranged. As things stand, a victorious caravan of agitators will move to Delhi's Ramlila grounds for 15 days-clamouring for a "people's draft" of the Lokpal Bill that the government doesn't want to touch.
All along, there was constant TV focus on the agitation. Very young faces across the nation spoke out vociferously. They wore bandanas and Anna masks, chanted slogans, sang, painted the tricolour on their faces, carried flags, braved the monsoons. The extreme media attention to the protests and the use of bulk SMSes ensured every moment was covered. So it was not surprising that the arrest backfired and brought more out on to the streets. The sense of injury, anger and hurt spread far and wide. The government knew it had made a big mistake.
The fast unto death was now a fast till health permits. It will be for 15 days and not a month. And the government withdrew most of the conditions it laid down for the JP Park protest, including that he shouldn't fast for more than seven days and that the number of his supporters shouldn't exceed 5,000. But then who are Anna's supporters? What is it that has rattled Prime Minister Manmohan Singh? Has India's urban and rural middle class-students, professionals, unemployed youth, farmers-turned against him? Some pointers:
Scam after scam, lie after lie
The UPA government's second term is sinking under the weight of shocking cases of corruption. Be it ex-telecom minister A. Raja's 2G scam or the one involving Suresh Kalmadi and the CWG (Commonwealth Games), the scale is simply shocking. What's worse was the appalling 'image management'.
Instead of trying to even look like coming clean and making a new beginning-using the crisis to honestly put in better systems-senior cabinet ministers, including the prime minister, tried in vain to defend the guilty. That severely corroded the credibility of a government that used to make much of the fact that it was run by an honest prime minister. Which is perhaps why the influential, 250-million-strong middle class, the original beneficiary of Manmohanomics, has turned against him. Earlier, new jobs and a departure from the licence raj had brought with it the promise of an India on the fast track of economic growth. But today the same Manmohan presides over a scenario where ever-spiralling prices squeeze the middle class even as those in cosy patronage networks are seen to make off with all the loot.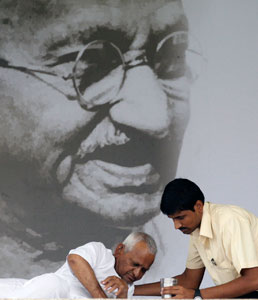 Veteran Indian social activist Anna Hazare (L) is helped by his supporter to take a drink on the 11th day of his fast at the Ramlila grounds in New Delhi on Friday. Reuters
The anger in Delhi and elsewhere, therefore, has an urban bias-it is an almost personified idea of corruption everyone's fighting, and it stems from close home. Prof Dipankar Gupta of JNU (Jawaharlal Nehru University) says traditionally all movements have been led by the middle class, whether it was the JP movement, the anti-Mandal agitation, or peasants led by Mahendra Singh Tikait. "Jobs are drying up, employment in the organised sector is shrinking, prices are going up," says Prof Gupta. "The middle class finds itself in the curious position of being the perpetrator and the victim of corruption. That explains its participation."
That there are layers to this middle class is a point hard to miss. The crowd outside Tihar largely comprised unemployed youth and college students whose parents may have tasted the fruits of an India that opened up its economy, courtesy Manmohan. But today they are a disillusioned lot. In contrast, the crowd on the lawns of India Gate comprised well-heeled professionals-doctors, engineers, lawyers and techies-who had come to express solidarity with Anna after a day's work.
The turnout is impressive too. "I can't recall the last time people came out in such large numbers to protest," says V. Krishna Ananth, lawyer and former fellow of the Nehru Memorial.
"In the past two decades, the middle class has stayed away from protesting. Such activities were left to the organised working class and the peasantry. Once again, the middle class is on the streets and it is a welcome sign. A robust democracy, I will say. Of course, you will not see the unorganised sector participating here because a day off from work will cost them their daily bread. The middle class can afford to agitate," he said.
According to social justice activist Aruna Roy, one must not forget liberalisation has also come with high prices and high aspirations. "The middle class has a car, but petrol prices have gone up, they have a house, but its mortgaged and offering a bribe has become a done thing," she says.
Doctor-activist Binayak Sen hastens to add that too much should not be read into the urban-centric nature of the movement. "I feel people across the countryside are protesting more against the salting away of our scarce public resources and they are angry that the resources they need to get by are out of their reach. We can no longer be blind to the huge disparities between the rich and the poor," he says.
Young, old and angry
Eighteen and restless, science undergrads Akshay, Shefali and Aditi bunked classes for a day to express solidarity with Anna. They have not read the Jan Lokpal bill which Hazare wants to be put up for debate in Parliament. But they know it addresses corruption. They say degrees are bought, coveted courses are offered for a price. The solution? Anna's bill. Incredulous as the response may appear, the Jan Lokpal bill has become the rallying point for everyone. Everyone believes it's a panacea.
"He has become the focus of the angst felt by all of us," say Pramod Kapur and his wife Purnima. A former public sector employee, Kapur is agitated that the government has incarcerated Anna with the scamsters in Tihar. "Is that a fair thing to do?" he asks, and wonders when good sense will prevail. Indeed, for the last couple of months, a simple man from Maharashtra, wearing a white topi, has become the Mahatma for the young and the old. It is not uncommon to hear them say that it's his simplicity and austerity that have endeared him to them. "He doesn't even own a house," they say admiringly.
Let's fight. That's the mood
Delhi is under siege, though not for the first time. There have been bigger movements in the past with larger participation. The farmers' agitation of the late 1980s saw more than 400,000 farmers descend on the Boat Club lawns pressing for higher support prices and free bijli-pani. The then Rajiv Gandhi government had to bow to their demands within a week. The anti-Mandal agitation of the 1990s that made former PM V.P. Singh a villain for scores of upper-caste students was played out forcefully in Delhi and radiated everywhere.
These were movements led largely by the middle class, rural and urban. Anna's movement may not have their numbers or their reach but in the post-liberal 24/7 digital age, one has to give credit to Anna & Co for giving currency to the C-word by making canny use of information technology. Bulk SMSes, campaigns on Facebook and Twitter, some started on people's own initiatives, have helped spread the word nationwide. And the electronic media became a force multiplier through wall-to-wall coverage.
In Calcutta, there were signature campaigns and protests took over the busy Esplanade Metro Channel. Such scenes were visible elsewhere too. In Hyderabad-Secunderabad, it was a colourful combination of youth, the salaried middle class, mahila mandals, social activists and elderly Gandhians who came out to the streets to register their support for Hazare. Elsewhere, around the state, 400 students of the Government Junior College in Mahboobnagar organised a meet to support Anna. Social activist Shyam Sunder, who addressed students, said, "Fight for your future, a corruption-free one."
In Mumbai, Azad Maidan, in the heart of the city's main business district, is the focal point for several protests and rallies. Young and old, men and women, professionals and students trooped in here on a continuous basis, the numbers swelling and ebbing depending on the turn of events in Delhi around Hazare's arrest.
Pro-Anna protesters wearing the familiar Gandhi topi with the declaration "I am Anna" and a telephone number became a common sight at other venues too, mainly suburban railway stations where small groups of people met and raised slogans. Mumbai's famous dabbawallas too joined the agitation, curtailing their work days and threatening a day off on August 19 to support Anna's movement.
Saffron or secular?
Right from the time Anna & Co camped and fasted in Jantar Mantar, the idioms used by the protesters, the bhajans during sunset and the invocations to a pop-art Bharat Mata were viewed with increasing suspicion and alarm.
The presence of yoga guru Ramdev only added to the discomfort of some sections. The eagerness displayed by the BJP to support Anna lent credence to such fears. Says historian and commentator Dilip Simeon, "Why are political forces that despise the basic structure of the Constitution in full cry when it comes to the demand to 'oppose corruption'?
This matter is related to the very meaning of corruption and how it may be combated. Right-wing politics specialises in emotions and symbolism, whereas the left tends to focus on specific demands around social and economic justice. The right has not created this movement, but is jumping onto the bandwagon because it senses power."
In Bangalore, shops in the busy Chickpet, Balepet and Avenue Road shut shop in support of Anna Hazare. Interestingly, these areas are controlled by Marwari traders, who form the core constituency of the BJP.
Former chief minister B.S. Yediyurappa, who had said he would sit on dharna, finally did not turn up at the venue. Apparently, the BJP high command had advised him against it, given the cloud he is under. His announcement of support was itself seen as an embarrassment.
Can the movement become bigger?
Yes, it can. Perhaps it's this potential that has led activists like Medha Patkar and Sandip Pandey to join hands with Anna and his team. "Corruption is just a symbol, a rallying point," says Arundhati Dhuru, of the National Alliance for People's Movements. "We must address the cause of corruption too. Land acquisition, tribals, displacement, forceful eviction-these issues need a platform too."
In fact, she fears the movement may turn anti-poor: "The middle class did not raise an eyebrow when 20,000 people were displaced by the Commonwealth Games. Yet, it convulses with rage when the money siphoned off is mentioned."
She also cautions against symbolic participation and urges that people have to become aware of many other causes of corruption. Adds Simeon, "If the agitators refuse to debate what corruption means for poor and deprived Indians, their agitation will become more symbolic, less realistic. Right now, it is about the right to protest. It is easier for the middle class to make a Lokpal Bill the focus of their aspirations than to work for the unionisation of informal workers or the punishment of those who foment communal violence.If these matters were discussed, the symbolism might evaporate."
There were displays of a fascist streak too. Some people wearing Rahul Gandhi masks and nooses around their necks walked about while others symbolically pulled the nooses!
The political price
The Congress and the UPA will pay for the manner in which they turned a blind eye to scam after megascam. They will also have to pay for showing deep-rooted intolerance to a democractic protest. While one may argue that the fallout of Anna Hazare's campaign is still too early to gauge since elections are only in 2014, the government has certainly alienated voters across the class divide. And it has also earned the wrath of young men and women-voters of the future.
Courtesy Outlookindia.com
Threat to democracy: Rahul slams Hazare fast
NEW DELHI, Aug 267 (AFP) - Rahul Gandhi, widely seen as India's prime minister-in-waiting, warned Friday that a fasting activist's popular anti-corruption campaign posed a threat to India's democratic "life force".
Breaking his silence on a high-stakes standoff between activist Anna Hazare and the government, Congress party leader Gandhi praised Hazare's campaign, but challenged efforts to force his version of a new anti-graft law on parliament.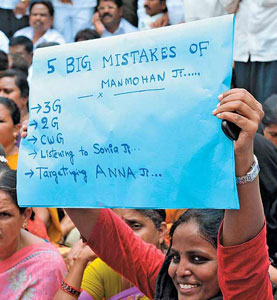 An activist in Hyderabad carries a placard that talks about a 5G scam. AFP
"Individuals have brought our country great gains. They have galvanised people in the cause for freedom... however we must not weaken the democratic process," Gandhi said.
"A process divorced from the machinery of an elected government, that seeks to undo checks and balances created to protect the supremacy of parliament, sets a dangerous precedent for our democracy."It was Gandhi's first public statement on an issue that has snowballed into a full-blown crisis for the government, with huge protests across India in support of Hazare's campaign.
The 74-year-old Hazare has said he will fast until parliament adopts and passes his version of a new anti-corruption bill that would create the post of a national ombudsman to monitor senior politicians and bureaucrats.
The giant groundswell of public support for Hazare shook the government which was already on the defensive over a series of multi-billion-dollar scandals that have implicated top officials. In his speech, Gandhi, 41, argued that allowing any campaign -- no matter how popular its target -- to dictate legislation to parliament would set the country on a slippery path.
"Tomorrow the target may be something less universally heralded. It may attack the plurality of our society and democracy," he said. "India's biggest achievement is our democratic system. It is the life force of our nation," he added.
The timing and tone of Gandhi's intervention was significant. In recent days, Prime Minister Manmohan Singh, who sat beside Gandhi as he spoke, has sought to reach out to Hazare with a series of conciliatory gestures aimed at bringing the hunger strike to an end.