TRIPOLI, Aug 27 (AFP) - Libyan rebels captured the Ras Jdir border post on the frontier with Tunisia, which it was feared Moamer Gaddafi might use to escape, as the hunt for the fugitive strongman continued today.
While fighting was still under way on various fronts, with the insurgents working to consolidate their hold on Tripoli, focus increasingly turned to a post-Gaddafi era, with calls for reconciliation and a peaceful transition.
The rebels claimed late on Friday a new military success with the capture of Ras Jdir. A Tunisian official said loyalists fled as more than 100 rebels arrived and raised their flag. As one potential escape route for Gaddafi was closed off, Egyptian state news agency MENA quoted a rebel source as saying a motorcade of six armoured cars that could be carrying Libyan officials, even Gaddafi, crossed into Algeria.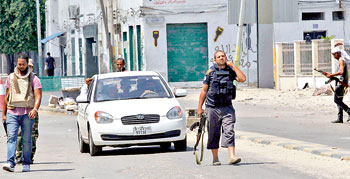 Rebels walk with their weapons at a checkpoint in a street in Tripoli. REUTERS
The source was quoted as saying the column of vehicles had been escorted by pro-government troops until it entered the town of Ghadames in Algeria. Rebels had not been able to pursue them as they lacked munitions and equipment. "We think they (the cars) were carrying high Libyan officials, possibly Gaddafi and his sons," the source said.
Algeria declined to recognise the NTC on Friday, insisting it would adhere to the policy of "strict neutrality" adopted since the start of the conflict. A foreign ministry statement sent to AFP was the first official comment from Algiers since the NTC took control of the capital in neighbouring Libya, even as other countries in the region have been quick to endorse the rebels.
The rebels want to find Gaddafi so they can proclaim final victory in an uprising that began six months ago and was all but crushed by government forces before NATO warplanes gave crucial air support.
As insurgent leaders moved into Tripoli to begin a political transition, the African Union called Friday for that process to be "inclusive", while the UN human rights chief warned against assassinating Gaddafi, who has a $1.7 million rebel price on his head.
Speculation that Gaddafi might have found refuge in his hometown of Sirte, 360 kilometres (225 miles) east of Tripoli, has not been confirmed. Regime forces in Sirte have been regularly targeted since the start of the campaign, an official said, but now "it's one of the last places he (Gaddafi) has control of".
Jalils return
NTC official Ali Tarhuni said their leader, Mustafa Abdel Jalil, would arrive as soon as the security situation permitted. Abdel Nagib Mlegta, head of operations for the takeover of the capital, said on Friday his fighters now controlled 95 percent of Tripoli, with just a few pockets of resistance left. They hoped to control Tripoli fully and capture Gaddafi within 72 hours.
Mlegta alleged that forces loyal to Gaddafi killed more than 150 prisoners with grenades in a "mass murder" as they fled the rebel takeover. But Amnesty International said Friday that both sides had been guilty of abuses.
South African President Jacob Zuma said after an AU meeting in Addis Ababa that the rebels were not yet legitimate. The African Union declined Friday to recognise the NTC and instead called for the formation of an all-inclusive transitional government.
The United Nations, the African Union, the Arab League and the European Union urged both sides in Libya to avoid reprisals, EU foreign policy chief Catherine Ashton said after talks of the so-called Cairo Group.
"Colonel Gaddafi must avoid further bloodshed by relinquishing power and calling on those forces that continue to fight to lay down their arms and protect civilians," she said. In Geneva, the UN human rights chief warned bounty hunters who may be seeking to kill Gaddafi, with spokesman Rupert Colville saying assassinations are "not within the rule of law".
With fighting continuing in a conflict that the NTC chief says has killed more than 20,000 people, the horror of the situation was highlighted at a hospital in Tripoli. As the rebels worked to consolidate their gains politically, they were still desperately in need of funding.