A bizarre photograph album filled page to page with pictures of Condoleezza Rice has been found at the compound of Colonel Gaddafi. As citizens ransacked the sprawling lair, for the first time discovering the extent of riches enjoyed by their bloodthirsty tyrant, a number of unusual items have been looted.
Perhaps the most surprising, however, was the album, filled with glossy pictures of America's former Secretary of State.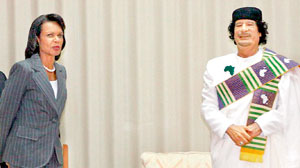 In person: (above) Gaddafi met Condoleezza Rice in 2008 and insisted on calling her 'leezza'
Bizarre: (above) Rebels show off the album featuring former Secretary of State Condoleezza Rice, found in Colonel Gaddafi's residence, Bab Al Aziziya
Colonel Gaddafi had previously hinted at a serious admiration for Miss Rice. In an interview with Al-Jazeera television in 2007, where he hinted that then-President George W. Bush's top diplomat wielded considerable influence in the Arab world.
'I support my darling black African woman,' he said at the time. 'I admire and am very proud of the way she leans back and gives orders to the Arab leaders. ... Leezza, Leezza, Leezza. ... I love her very much. I admire her, and I'm proud of her, because she's a black woman of African origin.'
The following year, Gaddafi and Rice had an opportunity to meet when the secretary of state paid a historic visit to Libya - one that made steps toward normalising relations after the United States went decades without an ambassador in Tripoli.
She said during the trip that the U.S. 'doesn't have any permanent enemies.' Gaddafi welcomed Rice in his home -- one that President Ronald Reagan once ordered bombed in retaliation for Libya's attack on a German disco -- for the traditional meal that ends the daylight fast during the Muslim holy month of Ramadan.
Once again, he repeatedly addressed Rice -- known as 'Condi' to her friends - as 'Leezza'. During the visit, he presented Rice with a diamond ring, a lute, a locket with an engraved likeness of himself inside and an inscribed edition of The Green Book, a personal political manifesto that explains his 'Third Universal Theory for a new democratic society'.
Together, the haul was worth $212,000. Three years later, at Gaddafi's compound today, Libyan rebels found the photo book. Rebels leafed through the album on Thursday after finding it as they rummaged through Gadhafi's Bab al-Aziziya compound.
Rice did not immediately respond to requests for comment about the discovery of the photos. In Washington, State Department spokeswoman Victoria Nuland was also asked about the album.
'I don't need to see the photos,' she said. 'But bizarre and creepy are good adjectives to describe much of Gadhafi's behaviour. So (it) doesn't surprise me. It's deeply bizarre and deeply creepy, though, if it is as you described.'
Photographer Sergey Ponomarev was with the rebels as they looked through the album. 'There were lots of rebels celebrating their victory,' Mr Ponomarev said. 'It was still unsafe - loyalists were shelling the compound from time to time - but rebels were celebrating the seizure of the Gaddafi compound. They believe the victory is in their hands. Some of them even brought their children to the scene.'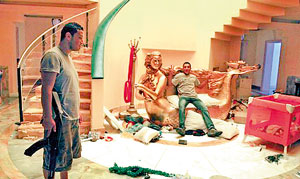 Sofa so good: A rebel fighter poses for a photo as he sits on a two-seater couch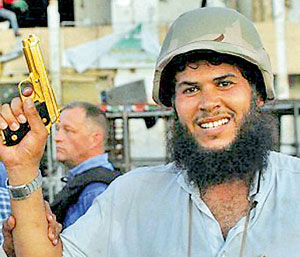 The man with the golden gun: This man seized the prized weapon from Gaddafi's compound
Looters were shocked at what they found at the compound. One group of young men chose to tour Bab al-Aziziya in the dictator's preferred mode of transport -- the very same electric golf buggy he rode in to rest his 72-year-old legs.
Even as they made their way through the shattered buildings, they could see for themselves sufficient remnants of the bizarre Michael Jackson-style Neverland park, complete with fairground and zoo, that Gaddafi constructed in the heart of the capital city.
In one of his palaces, expensive murals and art work hung from the walls and rooms were filled with replica 14th century furniture. Vast bathrooms with bidets and sunken baths adjoined most sleeping quarters.
At the centre of the compound is the 'House of Resistance', Gaddafi's former residence which was partially destroyed by a U.S. bombing raid in 1986. Now it is a mausoleum, its furniture preserved untouched for 25 years within glass casing as a reminder of the attack.
If there was any morsel of sympathy to be gleaned for Gaddafi, it was from the ghostly bedroom of his adopted daughter Hana, who was only a few months old when she was killed in the raid. There also appeared to be a shrine in honour of the little girl - a set of missiles 'hung', perhaps inappropriately, from the ceiling as though just fired from American jets.
Not far from a cluster of buildings used by Gaddafi's family as sleeping quarters was a cinema where he would join his family to watch the latest western movies. The most outlandish sight in this whole bizarre fantasyland was the fairground in the gardens.
It featured an old-fashioned carousel, with children's seats on chains, and a roundabout decked out with a cartoon-style teapot and spinning cups for youngsters to play in. Some rebels could not resist posing for pictures in the giant teacup rides and laughing with incredulity that the dictator had taken flight from his own compound.
But one could only stare in disbelief at this theme park within a warzone. He snorted: 'Libyan children have no childhood, their lives are destroyed by Gaddafi. But his children, his family, have everything.'
As if all this wasn't enough, Gaddafi had also used some of the estimated £300billion he has plundered from the country to build a zoo, stocked with animals supplied by fellow African dictators.
Amid chaotic scenes, as snipers loyal to Gaddafi took pot shots at the looters from high buildings around the compound, people grabbed at anything they could get - sheets, bedding, curtains and whatever else was once owned by Gaddafi.
Rebels at the gate implored them not to pillage or destroy the palace, saying it should be kept for the Libyan people. But they could not resist stripping the compound of everything they could carry, including Gaddafi's home cinema system, his table football games and a stereo.
A boy of ten struggled under the weight of his raided booty - a replica gun, a satellite television receiver and other spoils he carried in a suitcase he had taken. A soldier yelled at him to stop, but others shouted him down, saying: 'Let him take what he wants, it belongs to him.'
Others proudly held aloft the dictator's 'blingy' artefacts, including jewellery and a gold-plated gun.
They also tore down a massive Bedouin tent, where the tyrant liked to sleep during the hot summer months (and before NATO started raining bombs on his compound).
It had been erected in world capitals during trade visits after supposedly renouncing violence in 2003. While one tent was torn down, another - even bigger in scale - was set on fire and razed to the ground.
Some spat on the ground as they entered the previously-forbidden zone, but others simply wanted to rejoice at their symbolic victory over a man who had brutally controlled their lives for so long.
University student Nidal, 20, said: 'I never thought I would see inside this place. I will tell my grandchildren of this day.' Holding up one of Gaddafi's personal photo albums, a group of women flicked through the pages of Gaddafi alongside world leaders.
'I can't believe we are here!' cried Falima, 23, whose father disappeared almost a decade ago after being caught speaking out against the regime. 'He had everything he needed - and you people, from the west, helped him stay in power until you saw sense.'
© Daily Mail, London