NEW YORK, Aug 27 (AFP) - Tens of thousands of people along the US East Coast were on the move today, fleeing their homes and vacation spots ahead of massive Hurricane Irene, which has shut down airports, transit systems and scores of businesses.
New York Mayor Michael Bloomberg has ordered an unprecedented mass evacuation and the closure of the subway while US President Barack Obama cut short his summer vacation and returned to Washington.
The Category Two hurricane, packing winds of 100 miles (160 kilometers) per hour, was set to slam into the coast of North Carolina today before churning up the eastern seaboard towards Washington, New York and Boston.
The densely populated corridor, home to more than 65 million people, was under the threat of flooding, storm surges, power outages and destruction that experts said could cost up to $12 billion.
Bloomberg told a news conference Friday he had ordered the first-ever mass evacuations from low-lying areas across the densely populated city that are home to some 250,000 people, calling it a "matter of life or death."
"We have never done a mandatory evacuation before, and we wouldn't be doing this now if we didn't think the storm had the potential to be very serious," Bloomberg said. Authorities had earlier announced that New York's massive transit system would begin to shut down midday today in another rare move that could hinder transport into Monday's rush hour.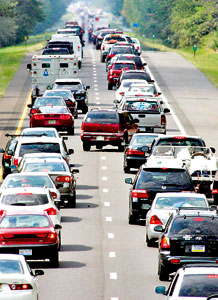 Cars pack the westbound lanes of the Atlantic City Expressway, as thousands of people evacuate the barrier islands along the Southern New Jersey coastline ahead of the landfall of Hurricane Irene. Reuters
All major New York area airports will close today at noon (1600 GMT), officials said. New York state meanwhile said major links into the city would be cut if winds exceeded 60 miles per hour, as predicted, and authorities called up 900 National Guard troops and 2,500 power workers to prepare for emergency repair work, the largest ever deployment.
Neighboring New Jersey on Thursday ordered 750,000 people out of the Cape May area. Early today, Hurricane Irene was around 140 miles (225 kilometers) south of Cape Lookout, North Carolina, where rain and tropical storm-force winds were already pummeling the coast, the Miami-based National Hurricane Center said.
It said Irene had weakened slightly and would lose strength once it hit land today, but would remain a hurricane as it passed over or near the mid-Atlantic tonight before churning north towards Canada.
Irene's approach stirred painful memories of Hurricane Katrina, which smashed into the Gulf Coast in 2005, stranding thousands of people in New Orleans and overwhelming poorly-prepared local and federal authorities.
The popular North Carolina beach resort of Kill Devil Hills was a ghost town Friday, as forecasters predicted up to 15 inches (38 centimeters) of rain in some places and the first power outages were reported.
"We haven't seen a hurricane threat like this in quite a few decades," Chris Vaccaro, a spokesman from the National Weather Service, told AFP.