MJ changed Suleman Mirza's life. When Suleman first walked onto the stage at Britain's Got Talent and told them he was a lawyer, he got booed by the disapproving crowd. But jeers changed to riotous applause when Suleman got moving – you see, there's a reason he's been dubbed the 'World's No.1 Michael Jackson dance tribute artist.' Suleman moves like the man and looks like the man – and he's got a partner who really ups the ante. Madhu Singh brings the energetic Indian folk dance known as the bhangra into the mix. Together the two men have created a signature performance – and it's wonderfully entertaining. Suleman was thrilled when Michael himself put his seal of approval on the show. "I like what you do," he told Suleman.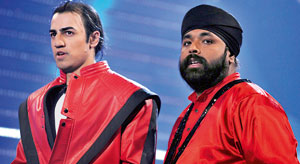 Suleman Mirza and Madhu Singh performing on Britain's Got Talent

By that meeting, Suleman and Madhu were an established act. The duo would be invited on to the Oprah Winfrey show and travel to the Seychelles, Las Vegas, Shanghai and New Zealand and India to perform. They dubbed their duo 'Signature' and the now infamous Billie Jean bhangra was a key segment. Remembering its creation, Suleman says they put on Madhu's CD and "instantly started dancing. It was a very natural reaction/interaction and the concept was born within 10 to 15mins."
Suleman doesn't see what they do as impersonations – in part because he sees Michael as simply inimitable. "My opinion is that impersonating MJ 'verbatim' (as flattering and sincere as it may appear) will always do MJ an injustice as you can never replicate/impersonate something so perfect and unique," he wrote in an email to the Mirror Magazine, adding "to this day no one has ever been able to create magic like that on stage (and I don't think there probably ever will be)." Despite incorporating many signature moves, Suleman says he builds on what he borrows from his idol: "I use MJ's style and technique to build up my arsenal of MJ moves and/or similar moves," he writes, emphasising, "Anyone in the world can go to a costume shop where a white glove, black fedora, do a MJ kick or pelvis thrust...I am not an MJ impersonator as I do not see the challenge in this."
But how does one become the world's top tribute artist? "I guess performing MJ Tribute shows for 20 years and above all being a "superfan" of MJ's music and his message of global unity," says Suleman who is now based in London and New York city.
Michael first registered on a five year old Suleman's radar when his neighbour lent him and his brother a VHS tape with the music video for 'Thriller' on it. His neighbour assumed they would enjoy what she thought of as a horror film, but a befuddled Suleman couldn't quite figure out why there was more music and dance than gore in his 'horror film.' Plus it was only 15 minutes long! "But after the short film there was a documentary featuring MJ working and performing Billie Jean with the moon walk for the first time and needless to say that did it for me...I was an MJ fan after that...for life."
Watching Michael do the moon dance inspired Suleman to give it a shot, and he says he started dancing like his idol that same year. To keep his edge, 32-year-old Suleman says he still practices daily and wants to bring some of that intensity to his own performances. A key part has been creating a wardrobe to complement his stage persona. He gets his costumes tailor made in India, Thailand or America and says he has a real admiration for Michael as style icon. "He was so innovative in his style and I am lucky I have some amazing outfits that are authentically replicated just like MJ's.
I wish I could wear them all the time because I love the style," he confesses but adds that he's sure the sequin belts and military jackets would earn him more than his fair share of weird looks. His favorites items are the jackets that Michael wore, such as the white sequin number the pop star wore to the Grammy's in 1993.
But an indispensable part of his wardrobe are a pair of shoes that allow him to recreate one of Michael's most iconic moves – the 45 degree lean he used to such effect in Smooth Criminal. "I have to wear special shoes for that illusion and it's sometimes difficult to make sure your feet are in the right place at the right time on stage for this wonderful illusion," says Suleman.
Suleman is such an ardent fan, that it was perhaps inevitable that he would meet Michael. Though he would catch glimpses of him, Suleman says his 'main meeting' was on March 9th 2009 at his London's 02 Arena Press Conference where MJ was announcing his comeback 'This Is It Tour.' Suleman and Madhu were on a UK tour and were to perform to a sold out arena that night.
When the two met, Michael complimented Suleman on his circular moonwalk. "He was so nice and humble and told me he liked the SIGNATURE logo (on our merchandise as I was wearing one of the hoodies)."
Suleman quickly got emotional. "My voice started cracking and I kept saying thank you for being you and choosing London as your next tour destination. He finished by saying 'God bless you, Suleman and see you soon.'
I never thought it would be the last time I see him alive. I miss him every day," says Suleman. There's no replacing Michael in his heart. "There has never been anyone like him since time began and there will never be another Michael Jackson." Learn more about 'Signature' at www.signatureofficial.com