Writing a book is no easy feat and it's taken Sashi Mariathasan eight years to complete the soon-to-be published 'Battle in Time'.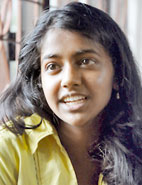 Sashi: Took up the challenge
The storyline for the fantasy novel was thought up by Sashi M's older sister, Anjani- she was eight years old at the time and had only penned the first chapter before she met with a fatal car accident while on holiday in Sri Lanka. That was back in 2003. At the time Sashi was seven but she was determined to complete her sister's book as a tribute.
Now at the age of 15, Sashi who lives in Britain with her family, is in Sri Lanka on holiday and for the launch of 'Battle in Time'. "I think overall, I'm quite pleased with the book," shares Sashi.
"I mean when I look back there's always going to be some areas which I wish I'd approached differently but I based it on the contents of the first chapter, the prologue, that Anjani wrote and the brief notes which she'd made."
The story, Sashi says is about two oppressed orphans Rosy and Oliver who come in possession of a thaumaturgic cube that has the power to transport them through time and space. "Meanwhile, within a chamber constructed out of the fabric of time itself, a dark shadowy creature named Zirikbin, is plotting his dominance over the universe.
All he needs to fulfil his ambitions is this cube," she explains. "The book was about the two children's struggle, to stop Z and understand this strange world around them," she adds, saying that the magical cube on which the story is based, was inspired by a Rubik's cube that Anjani had been gifted.
Sticking to her sister's storyline was quite a challenge, she admits. "I feel at first it was quite hard because she told me how she meant for the story to end. But at the time, I was a seven- year-old with a sieve kind of memory and therefore I couldn't remember what she actually wanted to happen."
She first took a direct approach of writing it as the story flowed but after some time she scratched that and wrote out her sister's plot so she could stay true to her sister's imagination. "It was soon after (she passed away) that I started writing it. It was all quite intermittent; I worked on it on holidays," Sashi says explaining why it took her 8 years to complete.
Publishing house, Stamford Lake will make Battle in Time available to the public in early September. All the proceeds received from the sale of the book will go to the Anjani Mariathasan trust fund for disadvantaged children in Sri Lanka.