"I have loved shawls for as long as I can remember," says 20-year- old Haiza Mazhim. Adorned in a bright red pendant scarf, the enthusiastic Haiza is a partner of 'Affrizante', a shawls and accessories line that has drawn quite a lot of attention lately. The store was founded after much research with the goal of being something far removed from the traditional view of scarves and shawls.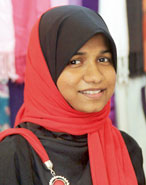 Haiza Mazhim
"My uncle, Murshid Munzeer and I are partners. He is mostly based in Britain and wanted to invest in Sri Lanka. So we did some research and came up with the idea of shawls and scarves. He is the one funding the project and I am overlooking the operation," says Haiza.
She explains that their research showed that shawls and scarves are a huge hit with the youth in other countries. "It has a massive market. That is why we wanted to bring it to Sri Lanka. We wanted to create a trend. I wanted Affrizante to be known for something different too. Not the usual designs we find here, but something funky and fashionable. Something that will stand out from the rest."
A past pupil of Methodist College, Haiza was offered a teaching post at the school as a Special Needs Teacher. It was about a year later that Affrizante was launched. The showroom at 16/2 Atapattu Road, Kalubowila, Dehiwala opened at the beginning of this year and received a good response for their unique and vibrant collection. It includes the pendant scarf, Hijab, stoles, inner-cap, head-band, pin, brooch, sleeve shawls and those made of lycra, crepe and pashmina.
The name 'Affrizante' derives from the Italian word 'Frizzante' meaning sparkling or opulent. An 'A' was added to give it that personalized touch.
Affrizante was the first to introduce the pendant scarf to the Sri Lankan market, says Haiza. A pendant scarf is a thin scarf that holds one pendant or more. It can be worn as a necklace, a waist adornment, a head scarf or any other way you want. There are a variety of pendant scarves with middle pendants, two end pendants and movable pendants.
The line also launched the 'One Collection', which is custom-designed one-of-a-kind shawl or scarf. "Each scarf has a unique range of colours, designs, styles and accessories. It is limited but we custom-make them as much as we can. If you own a scarf from the One Collection, you can be assured that you are the only one with that particular scarf. It is very exciting designing and stitching for the One Collection because you know it is unique," says Haiza.
She also stresses that the collection at Affrizante is for both Muslims and non-Muslims. The designs cater to any style or personality.
There are elegant flowing shawls for evening wear and bright bold scarves that can give the perfect twist to a chic ensemble. Eastern geometric prints can be found adorning sheer soft fabric, or as solid fills on thick heavy garments.
The array of colours ranges from deep tones and earthy hues to pastel shades and soft tints. At Affrizante you can also purchase chunky scarf necklaces that are worked in metal adornments.
For now the showroom hours are limited and Affrizante could be visited by appointment only, mainly because the store is located at a residence and space is limited. There are plans to shift to a proper store in the near future and throw garden sales. "I want to get away from the store concept and approach the customers more interactively. For now you can visit our website at http://www.affrizante.com and reserve any shawl you like or call me or email and fix up an appointment to visit the store," she says.
Haiza believes she is blessed to have a supportive family and wonderful friends. "My family really helped out. Even when we had stalls at exhibitions and sale conventions my dad carried all the heavy boxes and drove me around. My mum stayed with me at the stalls and helped me out. And since the start my cousins and friends have pitched in. From modelling the scarves to printing business cards, family and friends were always there and that means so much to me," she says.