The gleaming facade of the United Nations headquarters in Vienna, welcoming hundreds of young delegates who had gathered from more than 40 countries is what Senel Wanniarachchi recalls of his experience at the Vienna International Model United Nations (VIMUN) 2011.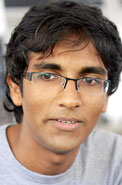 Senel Wanniarachchi
"We lived the life we wanted to live," he says speaking of his experience as a Sri Lankan delegate at the event. Organised by the United Nations Youth and Student Association of Austria - Academic Forum for Foreign Affairs (UNYSA-AUSTRIA-AFA), this global event was held recently in Vienna, Austria.
Senel was awarded the Best Delegate Award for representing Sri Lanka at the Human Rights Council, where he addressed the issue of refugees and political asylum seekers. Holding discussions in halls where international treaties were discussed and dining in rooms where world leaders had met, these young men and women were part of an unparalleled experience.
It was a wonderful opportunity and we built a lot of connections and friendships with people from all corners of the world. "It was fun," says Senel, recalling how he became the best dancer at the after party.
Senel was adjudged the Best Delegate for representing Bangladesh in the Human Rights Council at the Sri Lanka Model United Nations. In addition, he has served as a chairperson at the Model UN in Rajasthan, India, and participated at the International Convention of Quality Control Circles in Turkey. He has also attended the Young Reporters Training Camp in Singapore.
Senel's ambition is to work for the UN or the Sri Lankan Foreign Service and will start studying International Relations at the University of Colombo later this year. He is also hoping to follow an external degree in Law. Adding that "people don't take you seriously if you don't have the qualifications."
As a student at D. S. Senanayake College, Colombo, Senel captained the debating team and served as the president of the English Literary Association. He was involved in the Shakespeare Drama Competition, Dreams and Teams (a voluntary service project organised by the British Council) and the school Media Circle.
"Believe in yourself. If you really want to do it, you can." advises Senel encouraging other young people to "think big". Senel, who studied English, French and Political Science for his Advanced Levels, believes that many students do not "utilize the options in the curriculum".
Many Sri Lankans believe that "arts is something girls and kids who fail do," Senel adds with a laugh. A majority of the students, who study Mathematics or Science for Advanced Levels, have "no time to be concerned about anything else. He also adds that his family has been very supportive and encouraging, and never pressurized him.
Discussing why many young people are oblivious to current issues, Senel says that many think that it is just "not cool" to be concerned about the world. "Some just don't care or they just don't know. They have access to information but they decide not to access it".
Helping the world doesn't mean you have to study International Relations, explains Senel, who believes that you can make a change in any field or career you are interested in, be it medicine, journalism or the entertainment industry.
These days he is busy getting ready for the Sri Lanka Youth MUN, which is to be held in Colombo in March 2012, which he hopes will serve as a platform for Sri Lankan youth to "make the world a better place."