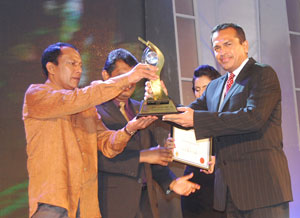 Wild Holidays Inward Bound clinched the Award for Best Host Adventure Resort presented by Sri Lanka Tourism recently. Ella Adventure Park of Wild Holidays Inward Bound won this award while Eco Adventure Hub, Thotupola with their purpose built adventure sports centre was the only other nominee for the award.
Surrounded by pristine jungle, Ella Adventure Park nestles on the banks of Kirindi Oya, 240 km from Colombo at the edge of the Dry Zone, a one hour drive from Bandarawela. Team dynamics, adventure sports and yoga oriented spiritualization are conducted by Inward Bound here.
Picture shows Wild Holidays (Pvt) Ltd., Chairman Major Vijith Welikala receiving the award from Deputy Minister Lakshman Yapa Abeywardene.
Pen Drive Poetry Competition to be launched at Park Street Mews
The Pen Drive Poetry Competition, a literary outreach venture to discover new talent in Sri Lankan creative writing in English, will be launched at the Park Street Mews, on Tuesday, June 28. The launch event will be a literary evening with discussions by Herman Gunaratna, author of the fast selling novel 'Suicide Club' and Chandran Rutnam who will speak on his own script now made into a movie starring Ben Kingsley. Poems by H. L. D. Mahindapala, a Pen Drive competition panel judge, will also be read. More details of the Pen-drive competition will be announced in the media, with entries being entertained from July onward. For information, please contact Chanika Mallawarachchi on 0773059421 or Nilanga Jayawickreme on 0776 548 886.
'Those were the days': Stories that Nihala de Silva loves to tell
Nihal de Silva launched his book, 'Those were the days', a memoir he describes as 'an autobiography of sorts' on Friday.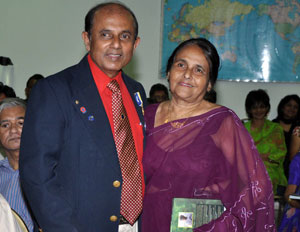 Mr. de Silva with the first buyer of the book

The book is filled with the stories that Mr. de Silva loves to tell - anecdotes from a life lived in interesting times. Covering the years from 1951 to 2009, the book makes reference to the likes of J.R Jayewardene and Ranasinghe Premadasa, along with several other noteworthy political figures.

Living through the J.V.P insurgencies and having served as a Captain in the Ceylon Planters' Rifle Corps Volunteers, Mr. de Silva saw more than his fair share of action in over two decades spent as a planter. The foreword to the book is penned by the late American Ambassador to Sri Lanka - James W. Spain, a close friend.

'Those were the days' is available at Godage International Publishers Ltd Maradana, Vijitha Yapa Bookshops and Odel.

Photography exhibition on poverty and development

The Centre for Poverty Analysis (CePA) will showcase professional and amateur photography on development-related themes at 'Spectrum: Alternative Views on Development'. The exhibition is scheduled to be held from July 1-3 from 10 a.m. to 6 p.m. at No. 29, Gregory's Road, Colombo 7.

The public showcase runs parallel to CePA's 2011 Colloquium on Poverty Research titled 'Current Imperatives in Understanding Poverty', which is part of the celebration of their 10-year anniversary researching and dialoguing on poverty in Sri Lanka.

The exhibits will feature photographs and photo essays on the themes of environment, post-crisis recovery, ageing, inequality, leisure recreation and inequality linkages as well as others and the organisers hope that the exhibition will stimulate discussion on poverty and related issues "in an alternative, more creative way, providing the space for a wider range of actors to engage on these issues".

The exhibition will be used as grounds for "initiating further discussion on the subject of poverty and development", and will feature interactive sessions on "photojournalism, social media and the art of professional photography". More information is available at cepa.lk/colloquium or from 0112676955 and exhibition@cepa.lk.

Auntie netta takes on Dr. Harsha

"Put a Chat with auntie netta on ETV" is a satirical chat show based on the character of 'auntie netta' created by Nimmi Harasgama. It is produced by ETV in partnership with Nimmi Harasgama and Heshani Sothiraj-Eddleston. The one-on-one chat show features well-known Sri Lankan personalities and is a first in Sri Lanka where a satirical chat show features a fictitious character as its host.

This week auntie netta will be chatting with economist and National List MP, Harsha de Silva.
Catch Dr. de Silva on June 29 @ 8 - 9 p.m., June 30 @ 10.30 - 11p.m., July 1 @ 10 - 11a.m. and July 2 @9 - 10 p.m.