Soho Bistro (Park St. Hotel):
The first new opening. This bistro's interiors exude chic worthy of Paris with contemporary tableaux in deep red, emphatically modern lamps and plush plum-upholstered velvet chairs. The thespy enclave lures top film stars and directors. If you don't fancy people-watching then a glass-encased façade frames an enrapturing terrace that lazes by stunning stretches of turquoise pool. Dine al fresco in an embrace of white pillared verandhas embowered in Araliya trees hung with globes of ethnic coir lamps. A guest told me Soho Bistro has a "fusion menu", a term loosely used in Lanka, because fusion food is technically a fusion of disparate cooking traditions, typically East-West.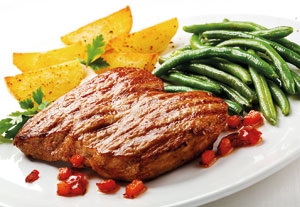 82 Barnes will soon have Colombo in a tizzy
Soho Bistro's menu is essentially an eclectic melange of modern European and American dishes. The already famous paneer and tofu balls (marrying Indian paneer and Chinese tofu) comprise the only "fusion" item-- a wonderful innovation, although it's unfathomable why it should be bedded on a ridiculously sweet sauce.
Potato ravioli (slices of potato encasing mushroom pate) is another innovation. Classic lasagne is amazingly light -- one is spared that over-enthusiasm of cheese, white sauce and sugared tomato puree. Salads are crisp, not slouching in mournful vinaigrettes, and exemplify the excellence of ingredients, notably balsamic vinegar, thick and sweet, as it should be, unlike the runny excuse even five-stars mock you with.
Desserts are quite marvellous: arak-drenched passion fruit sorbet and Affagato served with a shot of espresso and liqueur (Grand Marnier, Baileys or Kahlua). Young new chef Asanka just introduced his new weekly-rotating lunch menus (Thai, Indian, Italian etc) showcasing his experiences in Phuket, Dubai and Yorkshire.
Hotel manager Nishantha is vigorous and vivacious although service can trail--but all the more time to relish the setting and the menu which, incidentally, was created by Chef Charles from NYC. The new trend around Asia is to announce American chef consultants on restaurant menus.
82 Barnes:
This classy number opened rather surreptitiously on Barnes Place. The restaurant will soon have Colombo in a tizzy because already word-of-mouth alone has ensured that it's packed, even on a week night. Do reserve! Dimuthu Gamage, who conceived the decor and the menu, is among Colombo's most exciting young chefs.
His charming interiors exhibiting elaborate statues of horses and a variety of pretty chandeliers evoke an Italian villa. Think lofty burgundy ceilings trimmed in 22 carat gold paint. However, the main restaurant, Rafaella Giovanni, suggests warm intimacy, while the private dining room (with bathrooms containing ornate Italian soap dishes) has the elegance of Sophia Loren whom the enclave is named after.
I wouldn't usually try Italian food not prepared by an Italian because foreigners rarely manoeuvre the subtleties of Italian cuisine. Yet, Dimuthu understands al dente and Mamma-in-the-Cuccina cooking. He has certainly mastered homemade breads (fresh and fluffy) and those incredibly slim-crusted Peppino pizzas which, baked in a wood-fired oven, I doubt not are the best in town. Soups are delightfully rustic while the melanzane is among the finest I have had outside Italy.
Dimuthu's pesto and pastas like ravioli and fettucini are homemade as is the casata studded with fruit and nut-- an absolute must-try. Tiramisu attains the ideal coffee-liqueur-sodden softness and not only does Dimuthu serve Lavazza coffee but his staff even knows how to make it.
Several Colombo establishments boast about their Italian coffee but 82 Barnes is perhaps the only place where the espresso is not barbarically denatured by inept staff. Now, Dimuthu is passionate about his creations and is alert and attentive, so leave no unfinished morsel or you will have to explain if something was amiss!
Zaza (Casa Colombo):
I said it when they first launched and now everyone is saying it: That Casa Colombo is Colombo's most stunningly designed hotel. Rose-petalled paths lined with earthen pots blowing fire led Colombo's A List celebs and "It" crowd to felicitate Sheikh of Chic Lalin Jinasena, the imagination behind the daring design, as he displayed his just-won Bloomberg International Hotel Award for 'Best Hotel Interior in Sri Lanka'.
The hotel's inspired design element is reflected in culinary craftsmanship which no doubt contributed to its numerous other prestigious international awards, notably the Trip Advisor Excellence Award which is strenuously encouraged by cuisine quality. And now, Colombo can go gaga over the new tapas menu at Zaza, perhaps Colombo's most glamorous outdoor restaurant that looks like something out of the French Riviera, but dashed with exotica as water bodies and fountains spectacularly erupting fire are poised amidst swank seating (crimson egg chairs and vibrantly-lit cracked glass tables).
Lalin, one of the co-creators of the new menu, reminds that they were the first to introduce the tapas concept to Colombo. Their original tapas menu, after a long siesta, has been re-vamped and re-introduced in grand style, ever the operative word at Casa Colombo. And Zaza actually serves "fusion" tapas, cosmopolitan fashion finger food merging Italian, French and American culinary styles with Sri Lankan and Thai influences and infusions. Expect baked clams, passion fruit prawn ceviche and marinated grilled baby octopus.
Guests at the launch exhibited greater restraint than their European counterparts at such events. However, one couldn't ignore that it was those chunky sesame chicken lollipops served with coriander and ginger remoulade and cheese patties lathered in oil that seemed to most please the Colombo palate. If the décor is tongue-in-cheek then the artily presented tapas are tongue and cheek and all that's chic!