How nice to find a place to stay that has all the attributes of a boutique hotel but without the pretension and inflated prices.
Hotel Susantha's, adjoining the National Holiday Resort in Bentota, began life 40 years ago as the Susantha Batik Factory, a low-walled compound where brilliant batiks were produced for sale to tourists. Gradually it became a simple restaurant, expanding in 1982 to a guesthouse with seven rooms.
As more rooms and facilities were added it became known as Hotel Susantha's, blossoming successfully along with the flowers and trees in its glorious central garden in place of the batik factory.
Today it has 22 rooms including two new and fully equipped self-catering apartments.
The self-catering concept has been slow arriving in Sri Lanka, possibly because the infrastructure of supermarkets and specialist shops where tourists can buy their supplies, took time to spread beyond Colombo.
The two apartments have compact kitchens so guests can cook for themselves, order room service or have meals at any time in the hotel's tropical garden restaurant. The upstairs apartment has two balconies and sea-views; the lower a patio for sunbathing.
Each apartment has an air-conditioned master bedroom for two and a smaller bedroom for children, with screened four-poster beds and a shared, attached bathroom. There is also a parlour with flat screen satellite television, and a dining area.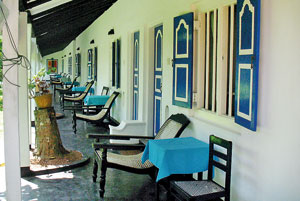 The rooms that adjoin each other off a gallery
The original seven rooms adjoin each other off a gallery, while other rooms overlook the garden. All are immaculately maintained, with flashes of colour in décor, and offer the basic facilities tourists require, some even have hot water and a mini-bar. The flourishing foliage creates an ambiance of gentle relaxation, and a charm that regimented boutique properties strive for.
Yet Susantha's has the personalised service that boutique hotels boast about, by staff members who care about their guests through passion, not because that's what they've been told to do. They work together like a family. The result is an atmosphere of camaraderie among staff and guests, and that's probably why 90% of the hotel's guests are repeaters, and many stay for several months.
At Susantha's, guests feel they are having a special Sri Lankan experience, while being able to please themselves. The restaurant is open to non-residents and there is usually a happy mix of Sri Lankans and foreigners who have popped in from the beach to enjoy a cool beer, lunch or dinner.
Meals can be taken at any time during the day; there is a bar, a fair wine list, and a pizzeria. Tables are set up in the shade of trees or in the restaurant, which is partly open to the elements. The food is prepared freshly on demand from an extensive menu of snacks and main dishes with such novel items as Snake Gourd Salad, Crab Omelette and Baked Fish Pie, at local – not tourist – prices. There is espresso coffee and cappuccino to add a dash of café sophistication.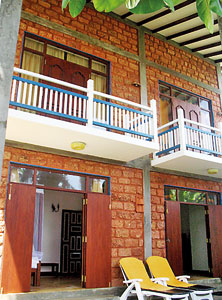 An apartment at the hotel
The hotel also has a popular Ayurveda Treatment Centre under the direction of consultant specialists in a purpose built cottage at one side of the garden. It is one of the easiest hotels in Sri Lanka to reach by train from Colombo or Galle as access from the beach side is from the Bentota railway station. By car, access is by a side road off the Galle Road, behind the Bentota police station.
While most of the guests are from overseas, Sri Lankans are just as warmly welcomed and there are special room rates for Sri Lankan residents. Currently, room rates start at Rs. 4,200 for a standard room for two, with breakfast; rising to Rs. 7,250 for two, with breakfast, for a suite. The apartments cost US$120 a day. The only extra on rooms or meals is a 10% service charge.
Perhaps the secret of the hotel's success (as well as its garden setting, friendly service and good food at sensible prices) lies in its roots. It has not suddenly opened to cash in on the awaited tourist boom, but has matured over decades into a pleasant, unpretentious place to stay.
Hotel Susantha's, National Holiday Resort Road, Pitaramba, Bentota; Tel: 034 2275324; Email: susanthas@sltnet.lk