Entering Senarath Attanayake's stationery plant, the first thing that hits you is the unmistakable aroma of cinnamon and tea. The smell and trace of tea and cinnamon drift at the entrance but all you see is stationery. And what's the bet that you'd want to eat the pencils at this factory at Ratmalana? Yes eat them – especially those made of cinnamon twigs.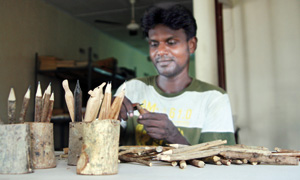 Making the pencils. Pix by J. Weerasekera
The second thing that'll sway you is that it's never too late to 'think' green. Going through the range of stationary products you aren't surprised that his company is aptly named as 'Back to Earth'. Senarath says that they make maximum use of what's thrown away, hence this name.
Senarath, a lawyer by profession tells me that the beginnings in this company dates his schoolboy days and the company really started just after his A/Ls. "I remember it was the late 80s and I had completed my secondary schooling at Royal College, by which time I had my own printing press- (which is another story). I used to scribble some drawings and jot down ideas. At the time I did not see myself forming such a company, but having been brought up close to nature at Bibile, Moneragala, I was a nature freak and this I guess is a natural progression," he smiles.
Then it turned out that with his creative streak coupled with his penchant for the natural environs made him take up a job for a friend who wanted to launch her lifestyle store way back in 1997.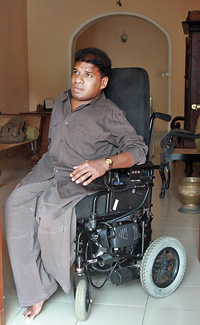 Senarath Attanayake
Artistic obsession
"A friend, who wanted to launch her lifestyle products, approached me and I did her entire launch. It was a success," he smiles, hinting that there was no turning back since. Going through his product range one can see that he's obsessed with modern, eco-friendly stationery. Every design, say of a pencil or a pencil holder is exclusive, brings a current point of view and is made with 100 % recycled items.
"We attended the Paper World Fair in Frankfurt, Germany six years ago," Senarath says, adding that this fair spurred him to add to the quality of his products, while expanding the stationery range. "We were selected by the Export Development Board to participate in this fair and they helped us a lot in terms of finding markets," he says, adding that his products are exported to Japan, India, Germany, Netherlands, etc.
His wife Lasanthi, also a lawyer is equally passionate about the business. Taking a rest from her law profession, she says that they set out to create stationery which makes an impact for its modern design, for its premium quality and for the message of sustainability that it embodies – all after participating at Paper World.
Hearts' calling
The duo has clearly found their hearts' calling as they are fully into this business and thus non practicing lawyers. They unanimously agree that green business owners would have the joy of running a business that cares about the environment while helping others care about the environment too. When I remark that this is a distinct departure from the typical job, both agree that they aren't conventional at all.
"We are really into this business as it's more challenging," Lasanthi smiles. Added to this Senarath has been wheelchair bound since he was almost two years old. "I never felt that I was handicapped as my parents didn't let me feel that way. Also I always had a great support system from my friend who didn't let me feel that way. To cut a long story short, they never leave me behind for a big match," he says fondly. As a result he says that he doesn't feel put ou
of action. "I do all my work, by myself," he says, when Lasanthi interjects, "ask him what he can't do."
Added to this, he's a Provincial Council Member as well. "I was into politics at a young age and I am the first wheelchair bound politician as well as the first such lawyer to take oaths," he smiles.
Art at B'fast
Lasanthi says that maximum use of what's thrown away is made use of. "Post consumer recycled paper mixed with tea and cinnamon waste is used to make paper while tea twigs are used to manufacture pencils," she says, adding that they have a good supply network from around the country. She says the twigs are sourced mainly from plantations (cinnamon, tea, orange, etc,) when their trees are pruned. "For some of the wooden products such as candle stands, pencil holders, paper dispensers, foot rulers, etc we use this wood," she added. She says that Senarath's artistic impressions mostly stem at the family breakfast table. "More often than not he scribbles an impression which comes out as a product," she says.
Also one can't ignore the strong corporate social responsibility element in this business. "We always outsource many jobs in this stationary making process to families in the Bibile area. Now we are drawing up a plan to marry this business with providing jobs for physically challenged people," Senarath explains. He says that he had met with an organisation working with physically challenged people early this year at Paper World Fair. "They are quite interested and we are discussing the modalities of this project. This year we also want to employ physically challenged people and distribute part of the profits for their well-being," he says.
Eco is hot
After all, many entrepreneurs these days are focused more on merely surviving a protracted recession rather than on saving the planet. But it turns out that for many entrepreneurs such as Senarath, the possibilities for green businesses are plentiful. Back to Earth makes Rs 1.5 million a month in earnings. According to this 'eco friendly' couple, eco friendly entrepreneurship is a movement so 'hot' that not even a deep recession could kill it and it is starting to show signs of sustainability.
Senarath says that as a start up business, making green decisions in the creation of your business and its subsequent products, will yield a reputation for you and your business that will attract this environmentally sound demographic and assist in building a wider customer base.