The challenge facing Sri Lanka tourism is to retain its identity while increasing the numbers. "At one point if you aim for the mass market it will start to destroy the unique culture across the country and then you are fighting on price with other destinations that will be competing on an equal manner like Hainan in China or Goa in India where you have many similar properties that are being built," says Thai-based Six Senses Resorts & Spas founder and Chairman Sonu Shivdasani.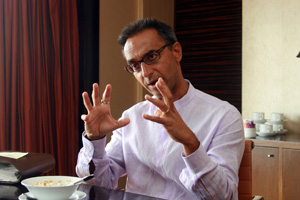 Sonu Shivdasani
In a wide-ranging interview with the Business Times last week, Mr Shivdasani – during a visit to Colombo - spoke on the future for Sri Lanka tourism, the need to ensure that the product is sustainable and his plans for the region and China. Excerpts:
What are you doing in Sri Lanka during this trip?
A couple of things. There has been peace at the end of the war and the prospects for tourism have changed. We have been very keen on Sri Lanka. Our first resort started in Maldives in 1995 and our first trip here was in 1997-98. During the ceasefire in 2003 we went to Trincomalee and were in discussions with John Keells on a project but that didn't happen. We then had a joint venture with Aitken Spence which started about five years ago. We suspended it as the war accelerated and now it's at full swing.
We have spas at Kandalama hotel and the Tea Factory. We start construction in August/September on a new Six Senses property on 9/10 acres next to the Heritance, Ahungalla.
There is prime beach there. We'll build a unique Six Senses resort. It will comprise 14 residences with 2-3 bedrooms. It would be quite unique for South Asia and South-East Asia. In the Maldives we have this kind of product but it is rare here. Also there are 40 villas and a restaurant between the Heritance and Six Senses. Each villa will have a private pool. Then there is a house of 20 units of 1/2 rooms like a hotel within a hotel. It will have a house manager with small restaurant/small bar and a family looking after them; that's a husband-wife team, a very personalized service. There is also a spa which will also serve Heritance guests.
In the backwaters of nearby Madu Ganga, we'll have 15 tents on the island based on eco guidelines. We'll have electric boats, no diesel and it will be a zero carbon resort. It will be light tented structures. If necessary we could pack up and move it elsewhere. The idea is to almost ensure a zero footprint facility.
We are also looking at Galle but no decision has beent taken. Six Senses wants to bring all its South Asian assets – Soneva Fushi and Soneva Gili in the Maldives - and the Sri Lankan properties and set up a holding company here. We are also looking at opportunities in India and other opportunities in the Maldives and Sri Lanka. Colombo will be a regional hub for our South Asian investments; it will be the asset owner.
Why set up in Colombo when India is so vast, so huge and has more potential?
Our home is in the Maldives; that's where we started. We have a house in Soneva Fushi. We spent five months of the year there and four months in Thailand. With Colombo the closest capital it makes sense to open the regional office here.
From a tourism perspective, South India has more opportunity than North India. We may decide on a city hotel in Delhi or Mumbai but that would be a management agreement because real estate prices are too high there and I'm not sure what kind of yield one can get. We have some spa agreements in Delhi and Mumbai. The company is also looking at a health resort in South Asia – either the Niligiri hills in India or the central region of Sri Lanka.
How do you see tourism taking off in post-war Sri Lanka?
The answer is not as clear as one may seem. The obvious answer is that 'Oh there's going to be a boom'. Certainly tourism numbers are going to grow as the base in Sri Lanka is tiny. Tourism has been stagnant while the Maldives has gone from 10,000 to 700,000 during the same period.
In Thailand, the island of Phuket which is small just has 4-5 million visitors. I think Sri Lanka is a destination that will appeal more to the Indians and the Chinese which have similar features and is closer to home. We have many Chinese in the Maldives because the USP (unique selling point) of the Maldives is crystal, crystal clear water which you don't have here. That's what attracts the Chinese.
Why is water so interesting in the Maldives?
Well the corals are amazing. On every island you have coral reef – its stunning and it's an environment that you don't find anywhere else in the world. On the other hand the beaches in Sri Lanka are also available in China or even India. But what's interesting is that … the flying time from Chennai, Bangalore, etc is the same or less to Sri Lanka (than any other Indian city) and thus you will find a lot of regional traffic here. The numbers could go to 3 or 4 million because the base is very low.
Having said that, the European economy is slow - so the growth will come from South Asia. The South of France for example receives 30-40 million visitors a year with the majority coming from other parts of Europe.
When you look at India, 4-5 million arrivals here over the next 5-10 years is not inconceivable.
But I think the challenge would be for Sri Lanka to keep its identity. At one point if you aim for the mass market it will start to destroy the unique culture across the country. There is an opportunity to establish a character and look at the long term;not 3-5 years.
But what about a small island state like Singapore which attracts millions of visitors?
Most of the visitors there are businessmen and even the leisure market is quite affluent. At some point there must be a threshold where these visitors are contributing and not extracting and challenging resources like traffic. Also in Singapore its more short stays and in many high rise buildings.
I personally feel 5-10 million visitors would be pushing the boundary in Sri Lanka.
You need to ensure that each tourist contributes good money and helps the country develop. But the character is important because the mass market could destroy the beaches with the huge blocks of hotels. Lots of Europeans come here for two weeks and hotel owners get into a rat race of less margins, and less profit and invest less on enhancing the product. Over time it becomes a burden on the country. The visitors take the water of local people; they block the roads of local people. Prices go up – all that makes the life of the local villager tougher and they are forced to go further and further away from home'
It's important that locals benefit from tourism and that the type of tourists that come interact with the community… go and see them, meet them, go an excursion to a home. These people should be earning an income and have less stress on water and traffic. Villagers can also produce handicrafts but should not sell it cheap.
The war in a way is a blessing in disguise as its kept tourism away for 20 years. It is like putting the ice box near the freezer and nothing changes. There were many mistakes made in other destinations and it's a huge opportunity for Sri Lanka not to make mistakes, rather learn from it.
If you look at parts of Bali for example, the local population is up in arms. There is an element of mass market tourism that is beginning to scar Bali. Even if you look at Spain and the challenges of the coast, see what a mess it is. There are too many properties, there is a recession, many buildings are empty and Spain is almost a bankrupt nation.
So what needs to be done is focus on the character of Si lanka. The beaches are nice but not a fantastic water sport beach and not the kind of clear waters you get in the Maldives. You can get a diversity of experiences in such a small place, bird watching, the ecology, the environment, the literary festival at Galle which will help Sri Lanka position itself again Goa, etc.
What is your ultimate dream?
One of our big goals is to combine luxury with sustainability. We would like to de-carbolise all our resorts by 2020. The challenge is to provide the pools, the spas, the ACs, etc in a sustainable way. At Soneva Fushi, we hope to reduce consumption by 80 % (from 2006 when we consumed 200,000 litres) to 85,000 litres this year and reduce it further to 25,000 litres by the end of next year.
Is there a high cost involved?
It is a US$5 million investment with solar power installations and making sure all our hot water and air conditioning uses renewable energy and solar power. During the day the generators will be off and only switched on at night.
By 2014-2015, there would be technologies where you would be able to store energy in batteries. We are quite confident that we can make big inroads there.
On pricing of rooms
It's changing with the advent of the Internet in the last 8-10 years. The Internet has allowed younger people to make huge fortunes beyond their dreams. Sales of private jets and 35 metre and above yachts are up even during the recession. The big yacht makers have many orders just like the private jets. New jet makers still have big order books.
These businesspersons spend $50 million on a plane and $10 million to fly around and maintain it each year. Flying from Moscow or London to the Maldives they'll spend $200,000 and another $100,000-200,000 to stay. So for a 10 day holiday they spent thousands of dollars. This demand at the super end will continue despite rising oil prices rising and escalating food prices.