Brandix Mercury Asia, the business services subsidiary of the Brandix Group, has obtained ISO 27001:2005, the global best practice specification in the sphere of Information Security Management Systems (ISMS), the company said this week.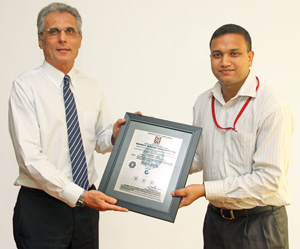 Seen here Ishan Pethiyagoda - Team Leader - Strategic Enablement at Brandix Mercury Asia (right) presents the ISO 27001:2005 certificate to Brandix CEO Ashroff Omar
Brandix Mercury Asia becomes the first member of the Brandix Group across India, Bangladesh and Sri Lanka to receive this prestigious accreditation and joins a handful of elite corporate entities in Sri Lanka that have done so to date.
The certification, issued by International Certification Services (ICS) Pvt. Ltd. of Mumbai, covers Information Security Management Systems in the operation of a 'Knowledge Process Outsourcing (KPO)/Business Process Outsourcing (BPO) centre to provide services for global apparel retailers, manufacturers, supply chain partners and associated industries.'
The company statement said this is the second milestone achieved by Brandix Mercury Asia within a period of 13 months in its progression into a driver of process standardisation, process documentation and the harmonisation of accounting standards and practices across all businesses of the Group. In March 2010 it obtained ISO 9001:2008 compliance for its processes and documentation.
Brandix Mercury's bid for ISO 27001:2005 commenced with a gap analysis in August 2010. The final audit was carried out eight months later in March this year.
The statement said Brandix is a preferred solutions provider to some of the world's leading apparel brands, including Victoria's Secret, PINK, Gap, Banana Republic, Marks & Spencer, Lands' End, Tommy Hilfiger, Hanes, Express, H&M, Old Navy, Intimissimi and Tesco. The Group specializes in casual bottoms, underwear, lounge and sleepwear, bras, textiles, knitted and woven fabrics, sewing and embroidery thread, accessories and hangers, and also offers wet processing and finishing and fabric printing.