Sri Lanka's top apparel exporter Brandix has been commended as a role model for environment and employee friendly ethical manufacture at the House of Lords, the 'Upper House' of the British Parliament, the company said last week.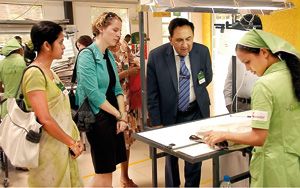 Lord Sheikh during his visit to the Brandix Eco Centre
During a debate on 'Ethical and Sustainable Fashion', Lord Mohamed Iltaf Sheikh, a Conservative member in the House of Lords, said: "I was recently a member of the parliamentary delegation to Sri Lanka, where we were taken to a factory belonging to Brandix, which makes garments for Marks & Spencer. The factory was eco-friendly, the working conditions were excellent and the staff was well paid. Such a factory is a role model for others to emulate."
He was one of 11 members of a high-profile Commonwealth Parliamentary Association (CPA) delegation that toured the Brandix Green Factory at Seeduwa during a visit to the country last year at the invitation of the Parliament of Sri Lanka.
Among the other members of this contingent were British Parliamentarians Paul Murphy – head of the delegation, Stephen Hammond, David Amess and Fiona O'Donnell. The visit was arranged due to the interest expressed by the members of the group to visit a garment factory in Sri Lanka during their visit.
"The Brandix Eco Centre is representative of the best practices and processes of the Group and therefore Lord Sheikh's statement regarding the plant as a model for the industry is more than just a commendation of that facility," Brandix Director AJ Johnpillai said in the statement. "It is an endorsement of our enterprise-wide environment and employee friendly corporate agenda. We are gratified by the commendation of a highly respected member of the House of Lords."