Mixing chemicals in beakers and test-tubes, preparing slides and keeping the eye glued to the microscopes, it was a first of its kind of workshop that was taking place at the Education Centre of the Royal Botanic Gardens of Peradeniya.
Tales that pollen tells as well as trails that it leaves behind were the subject of study of the 12 local participants at the 'Workshop on Palynology' under the able guidance of Prof. Martina Weber of the University of Vienna.
How many tales can the simple and humble pollen, the powder which is usually yellow, containing the fine pollen grains of seed plants which have the male gametes or sperm cells tell, the Sunday Times wondered.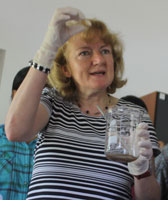 Prof. Weber: Revealing the tales that pollen can tell. Pic by M.A. Pushpa Kumara
Many a tale of relevance to many a field as diverse as archaeology and forensics, assured 54-year-old Prof. Weber who is part of the Pollen Research Group of her university's Biodiversity Centre back home in Austria.
The pollen wall that protects the sperm cells within the pollen grains also ensures its durability, the very factor which helps in forensic Palynology (the scientific study of spores and pollen) – the use of pollen and spores in crime investigations, it is learnt.
You can boil pollen in acids but the pollen wall will not get destroyed, points out Prof. Weber explaining that only fungi, bacteria, oxidative processes and bases can cause harm to it. "Pollen enclosed in mud or ice won't get destroyed and as such can be used to trace the history of ice," she says. Pollen has been an indicator that the Arctic has not been as cold as it is now but may have been a warmer area.
Prof. Weber is not just a botanist studying and teaching about pollen at her university but is also actively assisting the police in crime-solving through pollen clues, following in the footsteps of one of her teachers.
New Zealand is heavily into forensic Palynology, with Austria venturing into this crucial field about three years ago, it is learnt.
However, it was 50 years ago that her teacher, Prof. W. Klaus, made a major breakthrough in a crime investigation, when he took pollen grains off the clothes and shoes of a murder suspect and located the area in which the victim's body was buried. Prof. Klaus also isolated one fossil pollen grain, she says. It was from a hickory-nut plant, common in Europe a long time ago but now found in North America and East Asia. There was only one spot, north of Vienna close to the Danube that such plants could be found. "The match was perfect," smiles Prof. Weber, which led to the futile police search for the body at last yielding a positive result. That was the first time that pollen was used as a forensic tool in Austria.
Following in her professor's footsteps, now Prof. Weber is assisting the police in two ongoing murder cases. The first case involves the mutilation, burning and murder of two commercial sex workers within two years but suspected to be by the same killer and the other the killing of a man seen in Vienna one evening but whose carpet-wrapped body was found 150 km away.
For Prof. Weber, the very first case she helped solve is more a tragedy than a murder. The investigation had centred round the discovery of an infant girl's body wrapped in a T-shirt and hay in a tiny coffin-like box. The hay was full of pollen and linked perfectly to hay found at the home of a 16-year-old girl.
"It was very sad," she says, explaining that the teenager who was mentally ill has been sent to a facility for treatment.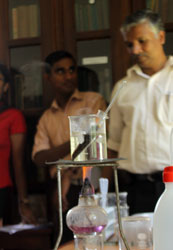 The workshop on Palynology in progress
Forensic Palynology was not the field of study that Prof. Weber was hoping to pursue. With electro-microscopy as her first love, her doctorate focused on that, but her professor was heavily into Palynology and the moment she stumbled onto it, it "grabbed my interest".
Going back to crime scenes, she says they go in teams of two to be able to spot even the minutest details because it is a matter of life and death for an accused who could very well be jailed for life. For her the first glimpse of a corpse in her line of work was an eye-opener about her ability to cope. Here was a botanist looking initially at the picture of a badly burnt commercial sex worker and then wondering what her reaction would be when they unzipped the body-bag.
Face to face with the corpse, "my brain switched to another level….I was not shocked, just got into clinical mode", she says. Her colleague who usually faints at the sight of blood, stood her ground as well. There was no swooning in the Forensic Pathology Department as professionals well-versed in handling crime, looked on curiously to see what their reaction would be. Now I know that I can deal with such a situation, she says, hesitantly adding though that gory scenes apart she just might not be able to deal with a bad smell.
Pollen, however, is not only about catching criminals, she smiles referring to the "sweet side" of Palynology. Many have been the occasions when companies have requested her team to check out the "origin claims" of those who sell honey, which they do by examining the pollen in the honey. Claims, sometimes, of pure Austrian honey have been found to be false with the product being mixed with Australian honey. They have also been called in to check claims of honey being from a particular flower such as sunflower.
Equally important in archaeology, Palynology has also come in handy when settling disputes between countries about who went where in ancient times. When the 2,300-year-old snow mummy was found in the Alps, a debate had arisen whether he had gone from Italy to Austria or vice versa. The contents of the mummy's digestive tract which included pollen had well and truly established the trail of this ancient man as being from Italy to Austria.
Pollen is a vital piece in major puzzles, be it forensic or any other, adds Prof. Weber.
Preparing the sample
Dealing with technicalities, Prof. Martina Weber goes through the steps of preparing pollen not only for forensic but also conventional Palynology.
Dust, hair, clothes or shoes, wherever it is collected from, it is initially washed with water to get a pure pollen sample. Thereafter, the sample is sometimes treated chemically to eliminate any material which is not pollen wall and specimens taken on to slides to be slipped under a microscope. Then we scan the slide meticulously, she says, like reading a book.
"We have to physically count and check 300 pollen grains under the microscope before we give our opinion," explains Prof. Weber adding that it takes about half-a-day to get pollen samples and then depending on the amount of pollen within the sample, about three hours with eye to microscope.