On November 6, it was a joyful gathering of Zonta members, Clubs 1, 11 and 111 in Colombo and the Kandy club as well as the Z club for schoolgirls and the Golden Z clubs for University students as they came together at the Women's International Club to celebrate 91 years of Zonta International.
Zonta, an organization of Women in Business and the Professions helps women globally and locally through its clubs and districts in 66 countries.
This event saw project stalls by the respective clubs, as well as trade and food stalls, including a kiddies' area. Chief Guest Mano Muthukrishna Candappa, was the Charter Secretary of the first Zonta Club of Sri Lanka chartered in 1969 and continues to be a very active Zontian.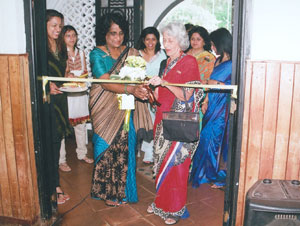 Mrs. Mano Muthukrishna Candappa (right) inaugarating the event while Dr. Marlene Abeywardena looks on
Lt.Governor of Zonta District 25 Dr. Marlene Abeywardena spoke of the work done by Zonta International and Zonta Sri Lanka. Zonta Club 1 has partnered with Women in Need (WIN) to eliminate violence against women and provides legal counselling and advice to victims of violence. A descriptive stall of their work was on display. Rehabilitation of women patients at Mulleriyawa Hospital and the halfway house to get them back to normal life prior to sending them back to their homes was also one of the projects highlighted.
Zonta Club 11 of Colombo highlighted their flagship project - to enhance skills training and improve the vocational training for the special needs women at Sukitha Vocational Training Institute in Horana. Children from the Sukitha Home performed a heartwarming song and dance for the visitors.
Dr. Sujatha Samarakoon, Head of HIV Aids Programme, a member of Zonta Club 11 spoke on the various aspects of the prevention and protection against HIV Aids and advocacy programmes carried out by Zonta Club 11.
Zonta Club 111 highlighted their Zonta Women of Tomorrow (ZWOT) Mentorship Programme to enhance and develop the employability and professional skills of young Sri Lankan women under which selected female undergraduates are mentored by top corporate professionals.
Kirulapura Zonta Hands displayed their aims to uplift the needs of women and children in a slum community. The Kandy Club highlighted their Home Garden Project advising and assisting women in rural and urban areas in growing their requirement of fruits and vegetables in their back gardens. The Golden Z Club project stall highlighted their work on the diagnosis and detection of breast cancer in the early stages and their work among women in the slums of Colombo.
The second project was on the monthly well women clinics conducted together with Zonta Club 1 of Colombo at Kirula Maternity Home after which treatment is arranged for those needing it at a government hospital. Golden Z members initiated the Mulleriyawa project with Zonta Club 1 and won second place in the Zonta International Emma Conlan Award.
The Z Club had a stall of beautiful items made by young girls in a community which was their project.