Kushini Abeysekera is a talented individual who has dared to cross the line when it comes to crazy hair cuts and colours. With years of professional experience in the field, Kushini is now getting ready for her maiden hair show 'Crossing the Line' to be held on November 27 at Ceylon Continental Hotel from 6.30 p.m. onwards.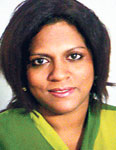 Kushini Abeysekera
Kushini who spared a few moments from her busy schedule for the upcoming event sat down with the Sunday Times for an interview to explain what her hair show is all about. "Hair is a part of our image; it highlights our personality. When we go out with a nice hair cut or a style, we can be confident and carry ourselves in any situation," she says.
'Crossing the Line' is a team effort that stemmed from her innovative thinking and Kushini is assisted by some talented beauticians and hair dressers in the field who have not held hair shows before and her students at Salon Kushi Academy to make this a reality. The show will focus on an eco-friendly theme, she says, adding that the graduation of the first batch of her students who have followed the diploma at the academy will also take place on the same day.
Kushini who is working as a freelance Consultant Technician for the well-known Keune products of RF Asia says all her creations are done using this brand. At the show will be segments of millennium cuts and colours, a segment on hi-tech teenage trends, while the grand finale will focus on fantasy hair. The themed fantasy segment will run in sequences on the formation of the world leading up to its destruction. In this segment elements such as sun, water, fire and wind will be projected by way of different hair styles.
"Though some might see crazy colours and syles in the cuts and colour segment, it is a display of how these fantasies are based on methodical formations. To do something crazy, you need to get the basics right, she stresses. "It is only when you have the basic knowledge and creativity that you are able to create fantasy. Such a technician can perform in any situation," Kushini says.
Another highlight of the show will be the second segment in which Kushini will display simple hair designs to project the elegance of a woman.
Having been exposed to beauty culture at an early stage when she was involved in her mother's salon in Colombo while doing her higher studies, she too was keen to master the art of hair styling. She trained under professionals Nayana Karunaratne, Ramani Fernando and Cheryl Gunaratne, and armed with her Advanced Hair Cutting Diploma and Advanced City and Guilds Diploma in teaching and training opened her salon at Lighthouse Hotel in Galle in 2002. After it was destroyed by the December 2004 tsunami, she restarted her venture at her residence in Galle the following year.
Kushini has taken part in international hairdressing competitions held in Singapore, Malaysia and India. She is currently running centres islandwide where she trains students in small groups.
Tickets will be available at Sari Mandir Wellawatte, Glamours Dehiwala and Bloom Room Colombo 2. More details can be obtained from 0774798456.